Food Samples - Learn How To Make Them In Asakusa, Tokyo
Ganso Shokuhin Sample-ya is a store in Asakusa where you can learn how to make life-like food samples using wax. In addition to workshops, they also provide food sample kits that you can use to make food samples at home!
Kappabashi in Asakusa is renowned for being home to numerous shops that sell cooking utensils, but this neighborhood has become a popular destination amongst visitors to Japan because of its many food sample shops.
In this article, join us as we experience the food sample workshop at Ganso Shokuhin Sample-ya.
Old School Samples Made from Wax
We visited Ganso Shokuhin Sample-ya, which was originally established in 1932. What sets this store apart from other sample shops, is that you can make your own life-like, food samples from wax. Wax was the traditional material used to make food samples for many years, but has been taken over by plastics for their durability in recent years.
Food samples are sold on the first floor of the store, while the second floor is dedicated to the sample-making workshops.
During this workshop, we made lettuce and tempura.
First, select the type of tempura you would like from seven different options. We chose the bell pepper and shrimp. Shrimp seemed to be popular amongst the other workshop participants as well.
They may look like the real thing, but these bell pepper and shrimp are samples made from wax.
Next, the instructor will demonstrate how to make tempura. The large basin on the left is filled with hot water measuring to about 42 ℃, or 108 °F. The pots next to that contain melted wax.
The wax will be added to the bell pepper and shrimp to make the tempura. The pots containing wax are extremely hot, so please take care not to burn yourself.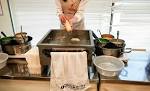 During the first portion of the workshop, we learned how to make bell pepper and shrimp tempura samples. First, put the melted wax into a paper cup. Holding it about 60 cm above the surface of the water, slowly pour it into the water-filled basin. Insert the filling (in this case, the bell pepper or shrimp) into the middle. Flip it over, and voila! The tempura looks fresh and crispy! The wax first poured into the water transformed into the tempura's coating.
It's almost like magic!
Next, we will make the lettuce.
Unlike the previous method, this process begins with the ladle. Use the ladle to spread the white wax into a thin sheet. I accidentally touched the ladle with my bare hands, which hurt quite a bit...
Next, spread the green wax to create a single, large leaf.
Roll the leaf little by little into a ball...
...and it becomes an incredibly realistic-looking head of lettuce!
It's very interesting as a head of lettuce, but it's even more interesting to cut the sample in half and see just how realistic the sample is. I used a knife that had been warmed slightly to cut the lettuce in half.
As these samples are made from wax, be sure to store them in a cool place away from direct sunlight so they don't melt. And of course, you cannot eat them!
Food Sample Kits to Take Home
Want to make your own sample, but don't have the time to do it at the store? Ganso Shokuhin Sample-ya also sells sample food kits called "Sample'n", which allow you to create your own food sample out of wax in the comfort of your own home.
You can choose from a variety of kits: the Cooking series (8 types), the Parfait series (5 types), and the Shaved Ice series (4 types). Each kit walks you through the process in detail, so you can make a realistic sample at home.
Please note that the kits typically only have instructions in Japanese, but you can learn by looking up new words as you work on the sample. If you require instructions in English, please ask the shop staff at the time of purchase.
You may spot many of these samples throughout Japan, but it is rare to actually have the chance to touch them. Kappabashi is one of the few places where you can enjoy such an experience!
Just like Ganso Shokuhin Sample-ya, which was featured in this article, there are numerous food sample shops in Kappabashi.
Also see: 4 Must-Visit Food Sample Shops In Asakusa's Kappabashi
Check out the different stores to find a sample that fits your tastes!
Information
Ganso Shokuhin Sample-ya Kappabashi Showroom
Address: Tokyo, Taito, Nishi-Asakusa, 1-5-15 Kappabashi Dogu Street
Hours: 10:00-17:30, open 7 days a week
Closed: New Years holidays
Workshops: Up to 20 persons per session (reservations required)
Other Languages: Japanese only
Nearest station: Tawaramachi Station (Tokyo Metro Ginza Line), Iriya Station (Tokyo Metro Hibiya Line)
Access: 5 minute walk from Tawaramachi Station; 6 minute walk from Iriya Station
Phone: 0120-17-1839
Website: Ganso Shokuhin Sample-ya

The information presented in this article is based on the time it was written. Note that there may be changes in the merchandise, services, and prices that have occurred after this article was published. Please contact the facility or facilities in this article directly before visiting.