A Capsule Hotel Fit for Samurai in Tokyo's Asakusa
Khaosan Tokyo: a capsule hotel encapsulating parts of traditional Japan with contemporary Tokyo.
Khaosan Tokyo, which seeks to increase fans of Japan through their uniquely designed guesthouses, recently opened up a new addition to their lineup this summer.
This new hotel, called Khaosan Tokyo Samurai Capsule, is Khaosan Tokyo's first ever capsule hotel.
Capsule hotels are a simplified type of hotel in Japan, where guests stay in a compact, box-like space. Visitors from abroad often imagine capsule hotels as unusual and unique, but also cramped and difficult to relax in.
However, Khaosan Tokyo's Samurai Capsule flips this image on its head with its stylishly polished and comfortable facilities.
1-Minute Walk from Tsukuba Express Asakusa Station - Perfect Location for Asakusa Visitors
Khaosan Tokyo Samurai Capsule is located in Asakusa, one of the most popular destinations in Tokyo amongst visitors from all over the world. Situated on the western side of the world-famous Sensoji Temple, the hotel is just a brisk 1-minute walk from the Tsukuba Express, Asakusa Station.
If you can read kanji, you can find the hotel by looking for its sign, which has the character "samurai" written on it.
Hotel reception is located on the first floor. Contrary to its appearance from the outside, the facilities are quite spacious, stretching into the back.
Japanese Tearoom-Inspired Capsules
Sleeping areas are divided into a women's only area on the 1st floor, as well as 20 capsule units on the  2nd-4th floors.
After taking the elevator to their designated floor, guests should remove their shoes at the auto-lock door that serves as the entrance to the sleeping area. This door can be unlocked only with a unique PIN code that guests receive at check-in.
Past the door, guests are greeted by an elegant modern Japanese interior. The green-colored noren* curtains mark the entrance to a one-person capsule (rate per night begins at 3,600 yen).
*Noren are cloth partitions typically used in Japan to indicate the entrance to a store or room.
Each floor has its own dedicated color. This floor is dedicated in a rich green, reminiscent of matcha green tea.
Pulling the curtain aside, guests will find a compact, but warm and inviting space. Each capsule is over 2 meters deep, so even overseas guests who are taller than the average Japanese have enough space to be comfortable.
Capsules are equipped with USB outlets to charge electronic devices as well as mirrors. You can see that this hotel really took into considerations its guests' needs.
Each guest is also assigned a locker to store their valuables. Each locker has an electrical outlet inside, so guests can charge devices like laptops or mobile phones. Also Wi-Fi available throughout the hotel.
These capsules all use black as their base color, creating a sleek impression. Each floor gives off a completely different vibe.
This unit is decorated in gold, invoking the image of a golden tearoom.
Suitcase Locks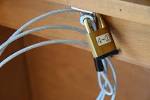 On each floor, there are cords with locks like the one pictured above. Guests can use these to store and secure any luggage that does not fit into their capsule.
Traditional Japanese Lounge Space
A lounge open to all guests is located on the fifth floor. This common area is also equipped with a refrigerator and kitchenette, so guests can store food or cook simple dishes.
Like the rest of the hotel, the lounge is decorated in a polished, modern Japanese style. Every cushion and table goes hand in hand with the other interior accessories to create a refined atmosphere.
The lounge serves as both a spot to mingle with fellow travelers as well as to use the internet, as it has internet-ready computers available for guests to borrow.
Facilities
Each floor is equipped with toilets, individual shower booths, and sinks.
Toilet
All Western-style toilets are equipped with washlets.
Men's Toilets
Shower Booth
Washroom
The shelving above the sinks are wide enough for guests to place their makeup pouches. This attention to smaller details demonstrates how much consideration was put into designing the hotel's facilities.
Laundry
The roof, located on the 6th floor, doubles as the laundry facility and smoking space.
Enjoy Asakusa, a Place where the Past and Present Come Together, at Khaosan Tokyo Samurai Capsule
Asakusa is a place where Japan's past and present converge. Therefore, perhaps Khaosan Tokyo Samurai Capsule, which puts a unique twist on the traditional Japanese capsule hotel, might be a new type of lodging most befitting of this neighborhood.
If you want to experience the unique ways that Asakusa and Japan brings tradition and modern innovation together, consider staying at the Khaosan Tokyo Samurai Capsule.
Information
Khaosan Tokyo Capsule Hotel
Address: Khaosan Tokyo Samurai Capsule, 3-16-10, Nishi-Asakusa, Taito-ku, Tokyo
Hours: (Reception) 08:00-21:00
Check-in: 15:00-21:00
Check-out: by 11:00
Free luggage storage: 08:00-21:00
*If checking in after 21:00, notify the hotel beforehand
*Housekeeping services are conducted from 11:00-14:00
Wi-fi: Yes
Credit cards: Yes
Languages: Japanese, English
Nearest stations: Tsukuba Express Asakusa Station
Tokyo Metro Tawaramachi Station
Toei Subway  Asakusa Station
Access: 1-minute walk from Tsukuba Express Asakusa Station
7-minute walk from Tokyo Metro Tawaramachi Station
12-minute walk from Toei Subway Asakusa Station
Price: Starts at 3,600 yen/night *varies depending on dates and unit type
Phone: 03-3844-0011
URL: Khaosan Tokyo Samurai Capsule

The information presented in this article is based on the time it was written. Note that there may be changes in the merchandise, services, and prices that have occurred after this article was published. Please contact the facility or facilities in this article directly before visiting.