4 Recommended Narita Airport Transit & Stay Tours: Narita, Shibayama, Tako And Sakae
The Narita Airport Transit & Stay Program allows you to use layover times for sightseeing around Narita Airport. These free tours introduce you to temples, museums, local food, and historical spots in the Narita area.
Our previous article introduced the services and the benefits of the Narita Airport Transit Program, which offers free sightseeing tours around Narita Airport which can be enjoyed during a layover.
Actually, from March 2017, this program has been released anew as Narita Transit & Stay Program, addressing now not only guests on a layover but also the travelers who stay at the hotels in the Narita Airport area.
From the eight available courses, we picked up four recommended tours which will be introduced here with original pictures.
1. Narita Course
The Narita Course includes a visit to Narita-san Shinshoji Temple. Near this austere temple are many shops where you can enjoy traditional Japanese dishes such as unagi (eel), dango (sweet rice dumplings), and other Japanese delicacies.
Walking around Shinshoji Temple
Photo by yumi .s
Photo by Nobuyo TAKAYANAGI
In Japanese, the small town or shopping district before the temple gates is called 'monzenmachi'. The Narita Course includes a walk around the Shinshoji monzenmachi. On your way to the temple you can pick up an unadon (eel rice bowl) or stop by one of the shop selling traditional items to buy souvenirs.
Naria-san Shinshoji Temple Course
Photo by 谷ぽぽ
Shinshoji Temple is one of Japans largest temples. Every year more than 3,000,000 people visit its grounds.
In the picture above you can see the main gate of the temple. The gate has an imposing stature standing at 15 meters high. It is constructed entirely from hinoki (Japanese cypress). The main structure is supported by a kaerumata, a wooden arch which is supposed to resemble the out stretched legs of a frog ('kaeru' in Japanese). On the interior of the kaerumata you can see the 12 signs of the Chinese Zodiac finely carved into the wood.
The main gate, which acts as a proverbial front door to the temple complex, always attracts a large number of visitors.
If you're lucky and your timing is good, you can even snap a picture of the monks in their ritual garb.
While visiting Shinshoji, you can clearly see the attention to detail that is specific to Japanese architecture. You can see a sample in this photograph of one of the temple pagodas - each piece of the structure is immensely ornate in its carvings and paintings. The temple grounds will bring you a truly breathtaking experience of color and of the profound.
The first floor alone is adorned with more than 19,000 square sheets of gold leaf (10.6 cm x 10.6 cm). The exterior is painted in a rich vermilion tone. The paint used to make this red tone is a combination of cinnabar, mercury, and lead. If you look carefully you can see subtle variations in tone depending on your perspective.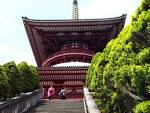 The 'Great Showa Pagoda' was built in 1984. The tower is 58 meters tall. On the first floor you can enjoy an exhibition related to the history of Shinshoji and even try your hand at shakyo, the activity of copying Buddhist sutras as an offering. Visitors are allowed to explore up until the fifth floor. Each floor has beautiful Buddhist statues on display. This pagoda is a little away from the main building of the temple, but it offers a deeply awe-inspiring experience.
2. Shibayama Course
Photo by Brian Kemper
Shibayama is a town located very close to Narita Airport and you can see the planes departing and landing. This a great spot for taking pictures of the planes flying at low altitude.
Museum of Aeronautical Science
Photo by Brian Kemper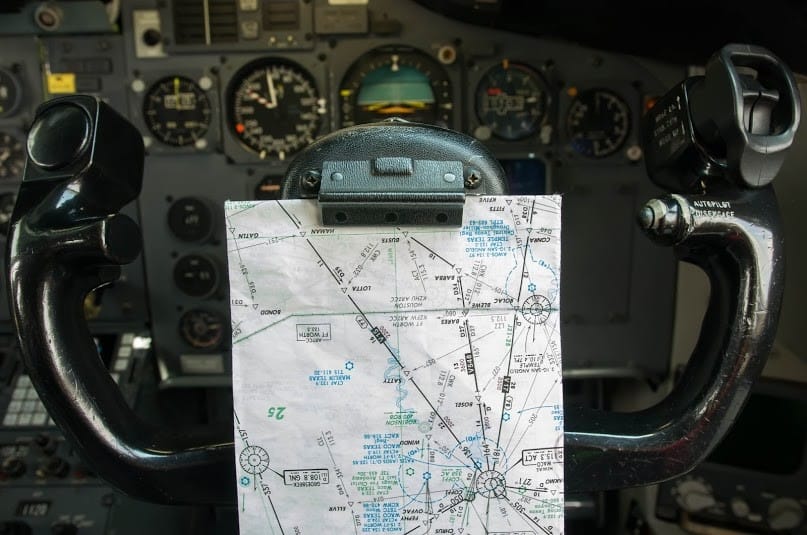 Photo by Katsuya Tanaka
The first point of interest on the Shibayama Course is the Museum of Aeronautical Science. This is Japan's first aviation museum and it opened in 1989. The greatest charm of this museum is its hands-on experiences, as it gives the visitors the opportunity to enter the cockpit of a retired plane. You can see all the various gadgets used in maneuvering a plane.
Photo by Katsuya Tanaka
You won't be just looking at the displays, but you'll be able to touch the objects and get a feel of what it is like to fly a plane.
Photo by Katsuya Tanaka
Photo by Brian Kemper
Outside, there are various airplanes on display, which you can explore one by one. If you're someone with an interest in planes, then this tour course is definitely recommended for you.
Photo by Brian Kemper
Photo by Brian Kemper
In addition to the Museum of Aeronautical Science, the Shibayama Course includes a hiking tour, dining at a buffet restaurant serving dishes made with fresh vegetables and fruit, as well as a visit to a 'michi no eki', a shop where you can buy local food products and souvenirs.
3. Tako Course
Photo by Takafumi Ooshio
Tako is a town famous for its hydrangea flowers and for its delicious rice. The rice from Tako is soft and has a delightful glutinous texture.
Tako has the atmosphere of a classical old Japanese town and is closely connected to its rich natural environment.
June, in particular, is a special time for nature lovers. During this month the gorgeous hydrangea flowers are in full bloom. The hydrangea are very large flowers (think about the size of a dinner plate) with deep colors, usually purples and blues. In Tako, you can even take a boat tour of the areas with the most beautiful flowers! (as seen in the image above)
Photo by N Koizumi
Here you can see the very first post office that was ever opened in Chiba prefecture, where Narita Airport is located. It's an impressive old building that will naturally draw the curiosity of anyone passing by, so go ahead, take a peek inside.
Photo by Takafumi Ooshio
This is one of the guides who may accompany you on your tour. These guides are very knowledgeable about the area and are great at explaining the history and relevance of the sites you are visiting - as well as making sure you don't get lost or late!
Photo by 谷ぽぽ
Photo by Yu Aoki
There are many shops offering local Japanese foods and snacks. If you find you get hungry during your tour, you should definitely try some of the local food, such as the dango (dumplings) on a stick, pictured above.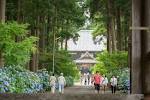 Photo by Takafumi Ooshio
Photo by Yu Aoki
Below you can see the entrance to Nichihonji Temple, also known as 'Hydrangea Temple' (Ajisaidera), which is breathtakingly beautiful in June when the large flowers are in full bloom.
Nichihonji has a history over 700 years and is a highly revered temple. The inscription with the name of the temple on the entrance gate is believed to be the work of Hon'ami Koetsu, one of the great artists of the Edo Period (1603 - 1868). When you visit the temple, take a good look at its impressive gate.
Photo by N Koizumi
As you pass through these torii gates, you will feel as if you have stepped into another world. This is definitely an integral part of experiencing authentic Japanese culture.
4. Sakae Course
The Sakae Course gives you the opportunity to visit Boso no mura, a hands-on museum that has recreated the streets of an Edo Period town. The greatest charm of this course is being able to dress up as a samurai and take photos with the historical town in the background.
The participants to the Narita Transit Tour can choose their favorite costume at the Cosplay House run by the town of Sakae. Usually, one needs to pay a fee to be dressed up by the professionals in this facility, but the participants to the Narita Transit Program enjoy this experience for free!
Men can choose from a variety of samurai and ninja costumes, while the ladies can put on a beautiful kimono of their choice.
At the time of our coverage, we were able to dress up as a member of the Shinsengumi, a samurai group that was active at the end of the Edo Period (1603 - 1868). Walking the streets of the museum, it felt as if we had slipped two centuries back in time. With the wonderful town as a backdrop, we were able to take many pictures.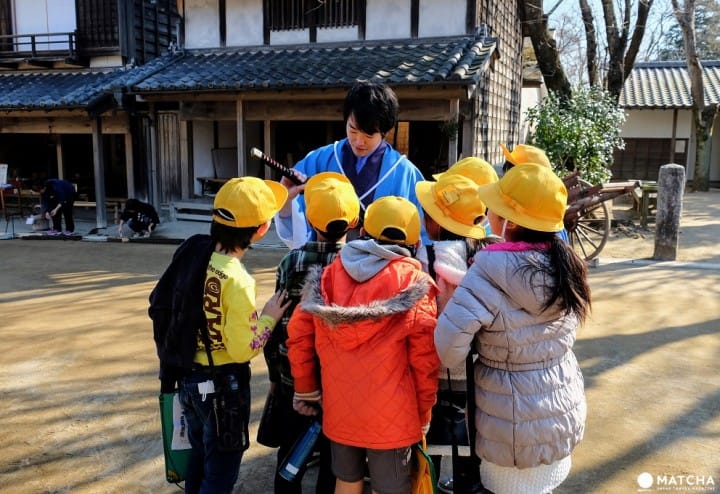 These kids seem to have liked the samurai appearance of our model so they approached us. If you walk around in a costume like this, you'll enjoy feeling like star.
In Boso no mura, you can take part in workshops of traditional crafts such as coloring Japanese masks and objects, as well as designing the patterns of Japanese candles. You can, of course, also enjoy savoring the local food. Even is it's only for a few hours, those who would like to learn more about Japanese culture should definitely take this tour.

We have introduced in this articles four courses available within the Narita Airport Transit & Stay Program. Each of these tours gives you the opportunity to experience a different side Japan. They are all charming tours that can be enjoyed free of charge, so we highly recommend them.

If you would like to take part in the tours offered by the Narita Transit & Stay Program, make your reservation HERE!

Official website: NARITA AIRPORT TRANSIT & STAY PROGRAM

* This information in this article has been updated in March 2017. In addition to the Narita Course, Shibayama Course and Tako Course, the new Sakae Course is also introduced here.

The information presented in this article is based on the time it was written. Note that there may be changes in the merchandise, services, and prices that have occurred after this article was published. Please contact the facility or facilities in this article directly before visiting.