Asakusa Hanayashiki, Japan's Oldest Amusement Park
In Asakusa, you'll find Japan's most conspicuous amusement park. This time around, we'll be introducing Hanayashiki, said to be Asakusa's oldest amusement park.
If you're looking for a place that's sure to please family or a significant other, there is no better place than an amusement park.
Japan has countless amusement parks countrywide, but there is one in Asakusa that stands out among them. We would like to introduce Japan's oldest amusement park, "Asakusa Hanayashiki".
In service for over 160 years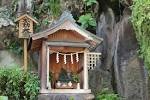 Hanayashiki's history spans from 1853 to the present day. However, it was started not as an amusement park, but as a botanical garden. They say that the name "Hanayashiki" (lit. Flower Mansion) is a relic from that time. Apparently, it was initially used as a place of recreation by masters of the tea ceremony and Haiku poets, and, outside of a swing-set, had nothing even resembling the rides it has today.
It was forced to close at one time, but was reopened in 1947 as an amusement park, and has since been loved by visitors. Inside, there are attractions and exhibits that let you feel its history from wall to wall.
Its Greatest Attraction is the Retro Rides
Because of the park's long history, the attractions also have their own long histories and tales. The roller coaster is the oldest still in operation in Japan, and is thrilling even today.
Hanayashiki's symbol, as well as a good way to spot the park from afar in Asakusa, is the Bee Tower. It's popular for it's ability to give riders a glance at Asakusa from above. For more information about Hanayashiki's attractions, check out the article below.
Reference Article: Top 8 Attractions for "Hanayashiki", Amusement Park in Asakusa
There is also a stage show, where seasonal plays and pro-wrestling events, as well as rock-paper-scissors tournaments are held. Check out Hanayashiki's homepage for schedules and details - it's easy to plan your trip around a show.
The Park is Filled with Flowers
Hanayashiki still possesses many of its old attributes. It has countless flower beds and pots that carry plants to this day, all of which makes the atmosphere of the park so much more vivid.
There are also ponds and Japanese bridges which give the park the tasteful feel of a Japanese garden.
There are also stores set up inside the grounds, which we highly recommend to anyone looking for a unique souvenir. For a look at the items available here at Asakusa Hanayashiki, have a look at the article below. You can enter any of the stores with no charge.
Reference Article: Souvenirs to Look out for at Asakusa Hanayashiki
When you come to Asakusa, the chance to experience this Japanese amusement park is waiting for you.
Information
Asakusa Hanayashiki
Address: 2-28-1 Asakusa, Taito-ku, Tokyo-to,
Hours: 10:00-18:00 (subject to change depending on the season and weather)
Entrance Fee: ¥1,000 (¥500 for young children and those above 65 years of age, toddlers free)
Free Pass: ¥2,300(¥2,000 for young children, and ¥1,800 for those above 65 and toddlers)
Language Accessibility: Japanese, English, Korean, Chinese
Nearest Station: Tsukuba Express Asakusa Station
Access Route: 3 minute walk from the Tsukuba Express Asakusa Station
5 minutes from Ginza/Asakusa/Isesaki Line Asakusa Station
Phone Number: 03-3842-8780
Official Homepage: http://www.hanayashiki.net/
Official Facebook: https://www.facebook.com/asakusahanayashiki

The information presented in this article is based on the time it was written. Note that there may be changes in the merchandise, services, and prices that have occurred after this article was published. Please contact the facility or facilities in this article directly before visiting.