See Asakusa By Bus: The Megurin Sightseeing Tour Bus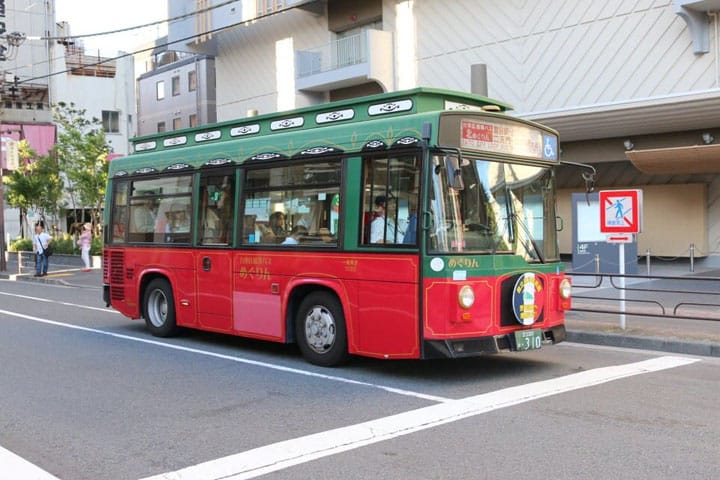 The Megurin is a circulation bus in the Taito Ward. At the low price of 100 yen, it's a convenient way to get around Asakusa.
What Is the Megurin Bus?
Using a bicycle or taxi to maneuver through the tourist hotspot that is Asakusa is certainly convenient. But taxis are expensive, and going by bicycle requires a lot of energy. For those looking for an easier trip, we recommend taking a Megurin tour bus.
Megurin Tour Bus is a sightseeing bus that will take you all around the Taito ward of Tokyo, comes every 15 minutes, and operates year round, which make it an attractive ride for travelers no matter when you are visiting Tokyo.
They use low-floor buses which are easy to use for the elderly, those with disabilities, and people in wheel chairs or with strollers too, so it is really an ideal way to see the area.
It Only Costs 100 Yen!
The fare is the same across all lines. Both adults and children pay only 100 yen, no matter how far you ride. But be careful, they don't accept IC cards such as PASMO and Suica.
They also offer tickets that allow repeated rides, as well as specialty tickets like:
Repeater Pass (1000 yen): Allows you to ride 11 times.
All-Day Pass (300 yen): Allows you to ride any of their buses as many times as you'd like for 1 day.
Monthly Pass (3000 yen): A commuter pass that is good for a month.
Asakusa Shitamachi Pass: A special ticket that allows you to use both Megurin and the Tobu Railway. For details check here: Tobo Railways Homepage (Japanese)
They Have a Retro Look!
The design of the bus is different for each line, but each is an Asakusa retro style that is fun even to just look at.
North Megurin is green and red, South Megurin is yellow and green, and East-West Megurin is a deep red and orange coloration. Each of them has a base of black and red.
For more details, check the Taito Wards's homepage.
Taito Ward also has several other buses outside of Asakusa, so make sure you're on the correct bus!
Easy for Anyone! How to ride the Megurin
There are doors on both the front and back ends of the bus. You get on from the front (blue arrow), and exit from the back (yellow arrow).
Pay Upon Boarding
When you board, there is a machine next to the driver where you insert you money. You must pay before you ride. In case you don't have change, you can exchange bills into coins on the bus.
If you have an all-day pass, just show it to the driver. Drivers do not provide receipts or change from any fares, so make sure you have the exact fare ready.
What Do I Do When I Want to Get Off?
When you want to exit the bus, you have to let the driver know.
As seen in the picture above, there are buttons placed near the handles and windows. Press them just before your stop.
When the bus reaches your stop, the back door will automatically open.
Main Routes
Megurin buses circulate in a single, predetermined direction. Here we'll discuss each of the 3 routes, and where they will take you. A bus heading for each route takes off every 15 minutes.
Route 1: North Megurin
North Megurin circles the east and north sections around Sensoji Temple. It passes by Asakusa Station, Minowa Station, Uguisudani Station, near Iriya Station, and then to public facilities, and region public facilities (like city halls). A full trip around takes 45 minutes.
Its main stops include Asakusa Station, Sumida Park, and South Uguisudani Station, which makes it convenient for those on the move towards Ueno.
For a detailed map of the route, check here.
Route 2: South Megurin
South Megurin runs counterclockwise from the southern end of Taito, and connects Asakusa and Ueno. It passes by Ueno Station,  Tawaramachi Station, and regional public facilities. One trip will take 20 minutes.
Its primary stops are Ueno Station and Kappabashi. It's great when you're going from Tawaramachi towards Ueno or Kappabashi.
Route 3: East-West Megurin
East-West Megurin covers the widest area of all of the routes. It runs past Sendagi Station, Asakusa Station, and public facilities. One trip takes 75 minutes.
Its main stops are Ueno Station/Ueno Park, the Tokyo National Museum, the Tsukuba Express Asakusa Station, Asakusa Station, Kaminarimon Gate, and the Toei Asakusa Station. Due to the inclusion of Asakusa Station and Ueno Station in its route, it makes for a convenient ride from Asakusa to Ueno, or from Ueno to Asakusa.
For a detailed map of the route, check here.
Asakusa is crowded with tourists year-round, so Megurin's delightful tour bus might be just  be a slightly more comfortable way for those with any kind of disability or for older tourists to get around.

The information presented in this article is based on the time it was written. Note that there may be changes in the merchandise, services, and prices that have occurred after this article was published. Please contact the facility or facilities in this article directly before visiting.