8 Souvenirs From Asakusa's Nakamise-Dori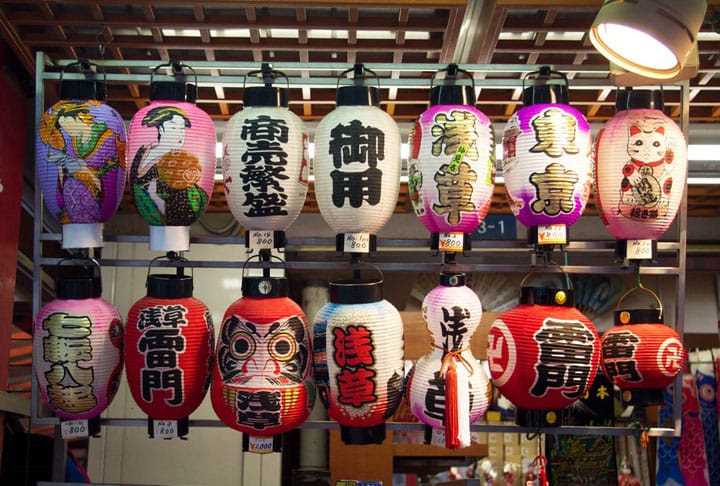 Nakamise-dori, located close to Sensoji, is bustling with visitors day-in, day-out. Today we'll recommend some carefully selected shops from that street.
250m long and lined with over 90 stores and eateries, Nakamise-Dori houses several souvenir shops. A tourist spot with such variety of Japanese accessories is rare even within Japan, and as a result it is always packed with visitors. Today we will introduce 8 great souvenirs you can find along Nakamise-Dori.
(1) Mini Lanterns
There are lanterns everywhere in Sensouji Temple, from the main hall to the Kaminarimon Gate. You can find small lanterns that you can carry with you that are themed after the main gate.
You can conveniently fold and stow them away, which makes them very popular.
(2) Charms with Bells
This is a strap which brings together a bell, which is in itself an tool for Buddhist worship, and a charm. There are charms for specific purposes, such as protection for the well-being of your family, and the realization of ambitions.
The straps can have more than just bells and charms; some have miniature lanterns or Sensouji Temples. An item that brings good luck like these are great for gifts.
(3) Wind Chime
Every summer, you can hear the invigorating sound of bells ringing in Nakamise-Dori. This sound is symbolic of Japan's summer: that is the wind chime. Before Japan had air conditioning, people would feel coolness in the sound (the sound was believed to make one feel cooler). Additionally, during the "Hoduki ichi" at the beginning of summer, they are handed out to ward off evil.
Reference Article: Summer Has Arrived and The Ground Cherry Market in Sensoji is Here!
(4) "Tabi" Socks
Next up, we have socks with the front end split into two, styled after "tabi". They are popular for their Japan-esque design and comfort.
(5) Chopsticks
Chopsticks are a necessity for Japanese cuisine. "Morita,", a chopstick-maker in Nakamise-Dori decorates their chopsticks with elegant images. Chopsticks are something you come to love the more use you them, and are indispensable everyday items for Japanese.
You can also have your name put onto your chopsticks for¥100. Head on down and get a pair of your own!
(6) Furoshiki and Washcloth
Furoshiki was initially made as a cloth to wrap things, but its uses are limitless. You can even turn it into a cute hand-bag by tying it around handles.
In much the same way, the washcloths have several uses as well. They are long-lasting, fast-drying, and can be used not only as towels, but also to wipe down kitchen surfaces, or even to wrap up small luggage.
(7) Horifuda
For friends and couples who want a matching memorial items, try getting your names engraved in horifuda. You can get your name translated into Japanese characters.
The attractive wood-grain texture will make you want to carry it with you everywhere.
(8) Katana (both real and fake)
The toys designed to look like Katana are what draw the most attention from boys visiting Nakamise-Dori. These will give them a taste of what it's like to be a ninja or a samurai, and make them popular with the other kids.
Next to the children's toys are the real deal. They are sold as art, and draw the attention of the adult male visitors.
After you visit Sensouji Temple's main hall, head on down to Nakamise-Dori to eat the food and check out the souvenirs. Between the goods unique to the Sensouji Temple and the items made using traditional Japanese techniques, you are sure to find something fascinating.
Information
Asakusa Nakamise-Dori
Address: 2-3-1 Asakusa, Taito-ku, Tokyo-to
Business Hours: Hours vary from shop to shop (Check here for details)
Scheduled Holidays: None
Wi-Fi Availability: None
Nearest Station: Asakusa Station (All lines)
Access: 5 minutes on foot from the Tobu Skytree Line, Asakusa Station
5 minutes on foot from the Tokyo Metro Ginza Line, Asakusa Station
5 minutes on foot from the Tsukuba Express, Asakusa Station
5 minutes on foot from the Toei Asakusa Line, Asakusa Station Exit A4
Official Homepage: Asakusa Nakamise-Dori

The information presented in this article is based on the time it was written. Note that there may be changes in the merchandise, services, and prices that have occurred after this article was published. Please contact the facility or facilities in this article directly before visiting.