Japanese Legends in New Fiction! Read Three Short Stories by Young Writers
Rediscover Japan through short stories written by young contemporary writers! The stories, available in English, are set in Awaji Island, Fukushima, and Hokkaido, respectively. They are based on local legends and feature traditions and local scenery that you might have encountered in your travels.
Stories From All Around Japan
Picture from Wikipedia "Heiwa Kannoji." Photo by Matsuoka Akiyoshi
The Short Shorts Film Festival & Asia, an international festival dedicated to short films, is being held this year within the frame of Japan Cultural Expo, a large scale event celebrating Japan's manifold cultures and traditional arts.
One of the festival's projects involved inviting three young writers to create contemporary short stories based on legends from various regions of Japan. The three stories are available in English online from December 1, 2020, on the official website of the Short Shorts Film Festival & Asia. Also featured is a video in which the writers explain the background of their stories and what inspired their writing. The video can be viewed with English subtitles.
It's a chance to encounter treasured Japanese stories and legends in a new form! Through new fiction steeped in local traditions, these stories will help you rediscover places that you might have visited in the past, such as Hyogo, Fukushima, and Hokkaido.
Read the Three Short Stories Online
Picture from Wikipedia "Akashi Kaikyo Bridge." Photo by Tysto
Awaji Island, easily accessible from Osaka and Kobe, and the Akashi Strait (pictured above) are featured in the short story "You Lot" by Takahiro Ueda, winner of the prestigious Akutagawa Ryunosuke Literary Award.
"You Lot" is the story of a man in his late thirties who comes to Awaji on vacation after quitting his former job and divorcing his wife. He has an unusual encounter with the island's famous puppet theater (ningyo joruri), and with an old play that has been loved for many centuries.
Photo: ©kenkou hoshi/©JNTO
Ao Omae, a rising star of gender-conscious literature since the 2020 publication of "People who talk to stuffed animals are nice", takes part in this project with a story set in Fukushima. "The Old-Woman Skin" starts with a scene featuring the picturesque Tadami River Bridge (pictured above). The story is based on a local legend about a woman who hid her beauty by wearing a magic skin that turned her into an old woman.
The story features an old craft with a long tradition in Fukushima: kokeshi dolls. In the past, these dolls were used in shamanism as representations of people.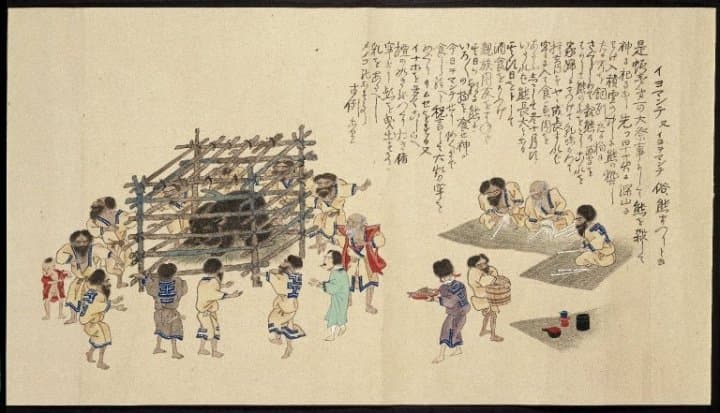 Picture from Wikipedia "Iomante." Online Collection of Brooklyn Museum. Photo: Brooklyn Museum
"A Sunlit Table" is a story by Hokkaido author Yuta Takano, winner of the Botchan Literary Award. In this story, the main character repeatedly dreams of being turned into a bear. The story draws on an ancient Ainu (*1) ritual called Iomante (illustrated in the photo above) performed as a prayer for good crops.
*1 The Ainu are an indigenous people of Japan. Ainu communities can be found mainly in Hokkaido. Read more about the Ainu in this MATCHA article.
The three writers have also taken part in a panel discussion where they talk about the legends that inspired their stories. The panel discussion can be viewed below with English subtitles (*To see the subtitles, click the subtitle mark below the video).
This video is an excellent way to learn about Japanese aesthetics and contemporary literature, as well as about the less-known sides of Awaji Island, Fukushima, and Hokkaido. These regions are popular travel destinations, but also hide deeper charms than beautiful scenery. The three short stories, now available in English, each provide a glimpse into the rich cultures of these regions.
To learn more about the other projects within the Short Shorts Film Festival & Asia, please browse their project website.
Main image: ©kenkou hoshi/©JNTO
Written by Ramona Taranu
sponsored by Committee for ShortShorts
The information presented in this article is based on the time it was written. Note that there may be changes in the merchandise, services, and prices that have occurred after this article was published. Please contact the facility or facilities in this article directly before visiting.