Akihabara's AKKY: Find Overseas-Compatible Electronics Here!
The AKKY stores in Akihabara have all the overseas-use products you can't find anywhere else in Japan. Cellphones, computers, household goods, and much more!
You could possibly say that Akihabara is the most prominent Electric Town in the world. It's really fun to walk around and check out the various electrical goods in Akihabara. Most Japanese electrical appliances though, use the 100V electrical current, and therefore cannot be used without a converter in other countries.
There are even cases where people have gotten back to their home countries only to discover that they cannot use the appliances that they just purchased. AKKY, a store specializing in electrical goods aimed for overseas use (which also features a duty-free counter), is the perfect store for electronics shoppers.
This is also a popular shopping spot for Japanese who are looking to buy electrical appliances as souvenirs for their friends, or even appliances to use themselves on overseas trips.
Here we'll introduce all the AKKY stores in Akihabara, just what sets these stores apart from other electronic stores, as well as how to get there.
3 floors Dedicated to Overseas-use Items: AKKY's Head Store
AKKY's computers, cameras, and other electric goodies all feature multi-lingual support, and can all be used overseas. In addition, you can also find travel suitcases and folk/hand-crafted goods all neatly gathered in this one store.
Information
AKKY Head Store
Address: 1-12-1 Sotokanda, Chiyoda, Tokyo
Hours: 9:30-20:00
Credit Cards: Most major cards, including Union Pay
Closed: Open Year Round
Phone Number: 03-5207-5027
The Largest AKKY Store: AKKY ONE Akihabara Store
The AKKY ONE Akihabara Store is the largest of the AKKY stores. In addition to its prime location (just a 1 minute walk from Akihabara Station), it's also popular for housing the latest overseas-use digital devices, as well as Japanese souvenirs. Starting with household electrical appliances, this stores has overseas-use smartphones, and PC's that are hard to come by in Japan. Catering to the needs of overseas tourists, the store also features multi-lingual staff.
Information
AKKY ONE Akihabara Store
Address: 1-15-3 Sotokanda, Chiyoda, Tokyo
Hours: 09:00-19:30
Credit Cards: Most major cards, including Union Pay
Closed: Open Year Round
Phone Number: 03-3252-4790
Searching Made Easy: AKKY II
AKKY II is not easily matched by other stores, as it manages to pack a variety of items onto one sales floor, and also has the largest amount of English version PCS on display. Aside from PC's, this store also sells overseas bags, perfumes, cell phones, and even souvenirs. Yet another part of this store's appeal is that the store also features experienced, multi-lingual staff, which are ready to answer any of your questions at a moment's notice.
Information
AKKY Ⅱ
Address: 1-10-5 Sotokanda, Chiyoda, Tokyo
Hours: 09:30-20:00
Credit Cards: Most major cards, including Union Pay
Closed: Open Year Round
Phone Number: 03-5297-6191
How to Get to the AKKY Stores
All of the AKKY stores located in Akihabara are located extremely close to JR Akihabara Station, and can all be found on Chūō-dōri (Chūō street). Here, we'll show you an easy way to get to the store from JR Akihabara Station.
Immediately turn right upon exiting the JR Akihabara Station Electric Town Exit ticket gates.
After that, you'll see the exit; once you exit the station, turn left.
Straight ahead you'll see Chūō-dōri; as that's where you're headed, just keep going straight.
Once you've reached Chūō-dōri, there's one of three paths that you can take. If you're headed for the AKKY head store, take the blue route. If you're going to the AKKY ONE store, take the pink route. Finally, if you're trying to get to AKKY II, cross Chūō-dōri, make a right, and go along the green route.
First, is the blue route: you can immediately see the AKKY head shop sign, walking down the street. Let the large "DUTY FREE SHOP" sign be your guide.
And you have arrived at the head shop.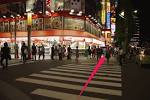 Next is the pink route. You can get to AKKY ONE Akihabara by turning left at the Chūō-dōri intersection (as shown by the pink arrow above), and then just go straight.
With that, you've now reached the AKKY ONE Akihabara Store. Unfortunately, the day we were here, the shop was closed for a photo shoot. Please keep in mind though, that AKKY ONE closes 30 minutes earlier than the other AKKY shops.
Finally, we'll take the green route. Once you cross Chūō-dōri, make a right, and then you'll start to see AKKY II on your left hand side.
All the AKKY stores in Akihabara are located fairly close one another and to the station, so you should be able to find the stores, as long as you make it out the right exit.

The information presented in this article is based on the time it was written. Note that there may be changes in the merchandise, services, and prices that have occurred after this article was published. Please contact the facility or facilities in this article directly before visiting.