Ueno-Exclusive Sweets: Handmade Pandamas by Funawa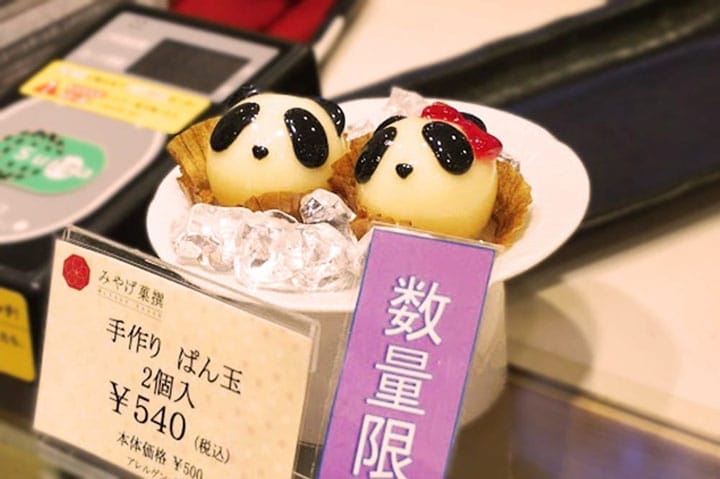 For over 100 years, Funawa has remained a popular Japanese "wagashi" sweets shop. Read to find out which cute product you can only get in Ecute Ueno!
With fans across the nation, Funawa is a classic Japanese "wagashi" sweets shop with quite the reputation. Established in Asakusa in 1902, Funawa has protected and thrived off the traditional flavor of its products; Funawa's most popular products, "Potato Yokan Jelly" and "Ankotama", sell out instantly when sold in department stores. While Funawa's main store may be in Asakusa, did you know that they also sell Ueno-exclusive products?
Only at Ueno Station: Funawa's "Handmade Pandama"
Staring at you lovingly from the Funawa display case are the adorable Handmade Pandama (2 for 540 yen), Funawa's limited-edition product that you can only find in Ecute Ueno. The Pandamas, named after the pandas for which Ueno is famous, are lovingly hand-crafted much in the same way as Funawa's famous Ankotama red bean balls.
While the outside looks almost too cute to be eaten, the red bean surrounding a cool layer of agar makes for an exceptional flavor combination, enough to make anyone nod their heads in approval to the "Taste of Funawa".
You will probably want to buy lots of Pandamas to take home, but in order to preserve the handmade quality of the sweets there is presently a restriction on how many you can purchase. Since they often sell out on the spot, we recommend stopping in at Miyage Kasen on the third floor of Ecute Ueno as soon as you arrive in Ueno.
What's more, is that since Ecute Ueno is located inside Ueno Station, you can easily stop by Miyage Kasen if you forget to pick up souvenirs while in Ueno.
Don't you think that handmade Pandamas, with the fusion of cuteness, Funawa's quality and signature flavor, would make an excellent Ueno souvenir?
Information
Ecute Ueno 3F: Miyage Kasen
Address: 7-1-1 JR Ueno Station 3F , Ueno, Taito-ku, Tokyo (inside ticket gates)
Hours: Mon-Thur, Sat: 8:00-22:00
Fri 8:00-22:30
Sun/Public holidays: 8:00-21:00
Access: JR Ueno Station, 3F inside ticket gates
Telephone: 03-5826-5663
Official Website: Ecute Ueno Miyage Kasen (Japanese only)

The information presented in this article is based on the time it was written. Note that there may be changes in the merchandise, services, and prices that have occurred after this article was published. Please contact the facility or facilities in this article directly before visiting.