The Best Dorayaki In Japan! Usagiya In Ueno
Usagiya in Ueno is a historical store that sells some of the best Dorayaki in Japan. Today, we'll to take a look at the types of dorayaki they offer.
What is Dorayaki?
Have you heard of dorayaki? One of the most famous sweets in Japan, dorayaki is made with an azuki bean paste- which is a little like jam- sandwiched between a special dough, which is similar to a pancake, but is more moist, and has a distinctive yellow coloring. The dorayaki dough, is just a little sweet, in order to match the sweet bean paste.
Many Japanese associate dorayaki with the famous children's anime, Doraemon. Doraemon is an anime watched by children across the country, about a cat-like robot who loves Dorayaki.
The Exceptionally Popular Usagiya Dorayaki Shop
Usagiya is a long-established popular dorayaki store located in Tokyo's Ueno district.
It was established in 1940. Among its many famous products are the especially famous "Tokyo Big 3" dorayaki, which are three different types. First off, there's the plain Dorayaki. The second is known as Asakusa's Turtle、and the third is Higashijujo Sougetsu.
It's just a short 4-minute walk from the Ueno Hirokouji Station (Ginza Line). As a well-established store, it has a very tasteful but distinctive look.
Here is their first specialty- plain dorayaki! One costs 205 yen. It's labelled as "different from regular dorayaki" and indeed, the smell of the sweet beans is especially fragrant and the dough has a smooth texture. According to the shop, the dorayaki is best eaten as soon as possible.
In addition to the different specialties of Dorayaki, the shop has its own unique sweets.
At first glance this looks like a candle, but it is actually a sweet. Of course, it's edible. Such a delicate, dainty sweet would make for a good present for friends or co-workers.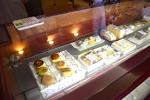 The store also has sweets such as a bun (1*) and jelly (2*). Since they can all be bought separately, you might want to buy them one at a time to slowly find your favorite!
(1*) The bun is made from wheat flour, steamed, and has bean paste inside.
(2*) The jelly is made from sweet bean paste and solidified with agar.
This is some dorayaki that Japan can take pride in! How about having some next time you visit?
Information
Usagiya
Address: 1-10-10 Ueno, Taito-ku, Tokyo
Phone: 03-3831-6195
Access: 193m from the Tokyo Metro Ginza Line, Ueno Hirokoji Station
Hours: 09:00 to 18:00 (You must reserve your visit if it's after 16:00)
Closed: Wednesdays
Website: Usagiya

The information presented in this article is based on the time it was written. Note that there may be changes in the merchandise, services, and prices that have occurred after this article was published. Please contact the facility or facilities in this article directly before visiting.