Make Rice Crackers At Yamako Senbei's "Soka Senbei Garden" In Saitama!
These tasty rice crackers of Japan come in a wide variety of flavors. Here's where you can make some yourself like a pro!
In Japan, there is a food called senbei which are made from steamed rice that is pressed into a round shape and then baked (though sometimes they are fried instead of baked).
Senbei are a popular snack all over Japan, but one particularly popular senbei is the Soka Senbei, a speciality of Soka City in Saitama Prefecture.
Soka Senbei drew global attention when they were displayed as one of the feature foods of Japan at Expo Milano 2015.
Soka City is known as the birthplace of senbei, and is probably the best place to eat them. Today we'll show you a workshop in Soka City where you can make your own senbei.
*Soka City is believed to be the birthplace of senbei.
"Soka Senbei Garden", In the Homeland of Senbei
The place of the workshop is a senbei themepark called "Soka Senbei Garden". It is run by a senbei business in Soka City called Yamako Senbei.
No Need to Book! Make Senbei Like A Pro!
You can try making senbei at Soka Senbei Garden for 324 yen without having to make prior reservations. You carefully cook the senbei one by one on your own gas stove in an outdoor undercover area.
If you don the senbei happi (a light jacket), which are on loan for free, you too can look like a professional senbei maker!
What to Do Afterwards? Visit Japanese Gardens and Go Shopping!
There is a large Japanese garden inside the facility, so you can pass the time by taking a relaxing stroll through the garden after you've made your senbei.
From the garden you can also check out the workers char-grilling their senbei by hand. Our amateur senbei-flipping ability was nothing compared to theirs!
You can buy souvenirs at this shop.
Inside the shop, there are glass pots containing uruchimai (the non-glutinous type of rice that serves as a base for mochi), kuromai (*1), wheat, and gokoku (*2), so you can learn about the base ingredients for making senbei and okoge.
*1 Kuromai: (黒米) is a type of rice with a characteristic black kernel.
*2 Gokoku: (五穀) is a blend of five grains. In Japan, this normally includes rice, wheat, seeds and different types of millet.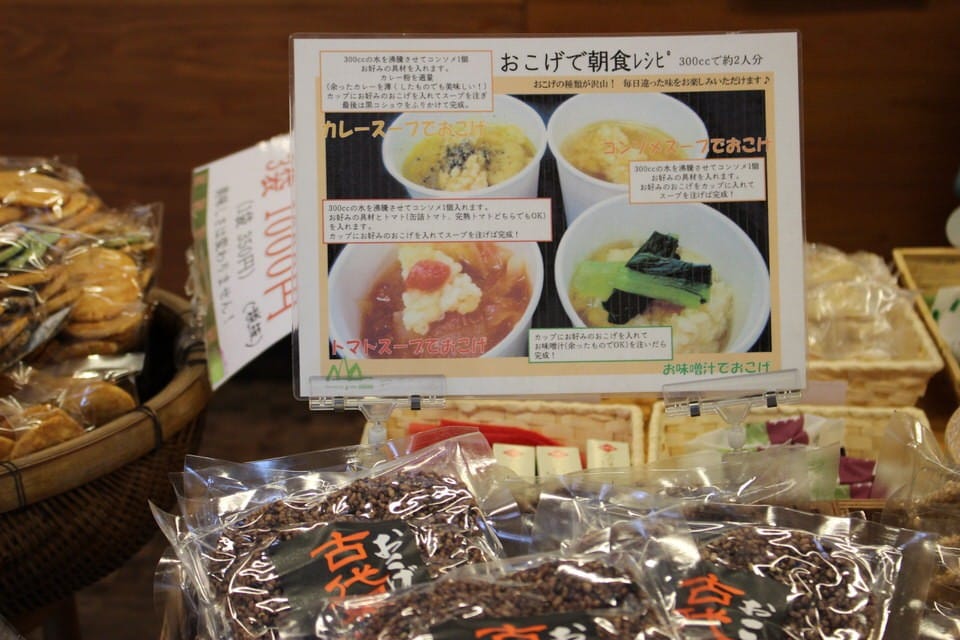 On that note, okoge is a dish made of freshly cooked rice fried in rice oil. You can eat it by itself, or make it even tastier by combining it with soup.
This shop sold some interesting flavors of okoge including curry and monja (Japanese pan-fried batter).
So come on down to Saitama Prefecture, put on your senbei happi and try experiencing some senbei-making for yourself!
Information
Soka Senbei Garden by Yamako Senbei

Address: Saitama, Soka, Kinmeicho 790-2
Hours: 10:00-19:00
Nearest Station: Shinden Station (神田駅), Tokyo Skytree Line
Price Range: Senbei-making workshop 324 yen (tax included)
Reservation: None
Phone Number: +81-4-8942-1000
Website: Soga Senbei Garden by Yamako Senbei

The information presented in this article is based on the time it was written. Note that there may be changes in the merchandise, services, and prices that have occurred after this article was published. Please contact the facility or facilities in this article directly before visiting.