Kyoto BAL - Stylish Japanese Souvenirs And Elegant Shops
Kyoto BAL, a commercial building in Kawaramachi long loved and familiar to the people of Kyoto, was renovated and reopened as a shopping spot for travelers both domestic and international. Let's check it out!
The Re-Opening of BAL, A Famous Building in Kyoto
On August 21st, 2015, a new exciting facility was born in Kawaramachi, the main street of Kyoto.
Kyoto BAL is a commercial building that has been long loved and familiar to the people of Kyoto, as a trend and culture hot spot.
This beloved Kyoto landmark was completely renovated and opened once again as both the epicenter of trends in Kyoto, as well as a shopping center that both domestic and international visitors can enjoy to the fullest.
An Established Commercial Building that Has Kept Its Novelty
Kyoto BAL was originally a longstanding commercial building, having been established in the city in 1970.
Thanks to its 40 year plus history, three generations of locals have frequented this shopping center, and thanks to their fastidious dedication to high quality products, this center has been a step ahead of its time and has been supported by its patrons faithfully.
Kyoto BAL is also adjacent to some of the more traditional areas of Kyoto, like Kiyamachi and Pontocho, making it an ideal place to experience both the past and present of Kyoto all at once. Before its renovation, this shopping center was also well visited by travelers to Kyoto too.
Three Recommendations For International Travelers
1. A Spacious Kyoto-like Area
The sixth floor RH CAFÉ
One of the first things you will notice upon entering Kyoto BAL is the spaciousness of the facility. Each of the floors offers plenty of room to look about and stroll through, making this a comfortable place to shop at a leisurely pace. In the photo above you can see the RH Cafe, an annex of the Ron Herman shop also found on the sixth floor.
Thanks to the spacious atmosphere of Kyoto BAL, visitors are able to slow down and enjoy their shopping experience, having a Kyoto-like sense of time as opposed to a frantic, harried excursion.
2. Appreciate Unique Brand Concepts and Freedom in Shop Creation
The entire sales area in the renovated Kyoto BAL covers approximately 12,045 square meters. If this were one of Japan's standard shopping complexes, this space would typically house about 100 different shops.
However, just 33 shops have been carefully selected to be the tenants of this building. As such, the area of the sales floor for each individual brand is magnified.
Not only has the size of each shop been greatly increased, but much more freedom has been granted in the overall shop design and construction. It became far easier for each individual brand to conceptualize their own space - which makes shopping at Kyoto BAL an interesting, exciting experience as well.
If you would like to fully feel the charms of a brand, then definitely please try visiting Kyoto BAL.
3. Carefully Selected Domestic and Foreign Top Brands
The 33 tenants that were carefully selected include Ron Herman, TODAY's SPECIAL, MUJI, and DAVID OTTO JUICE. This is a center where you'll find many of the top domestic and international brands under one roof.
What this means is that Kyoto BAL is not only a great place to find Japanese souvenirs from Japan-based brands, but also for taking a luxurious look at international brands as well. Window-shopping here is a fun and different type of sightseeing to enjoy in Kyoto.
Three Brands Recommended For Travelers
1. KOTOSHINA and Kotoshina
Upon entering the first floor entrance to Kyoto BAL, you will find this shop, which sells Japanese-style general goods and cosmetics.
KOTOSHINA is an organic cosmetics brand that was founded in Kyoto in 2012. Their product lineup places importance not only on its quality, but also its Japanese and Kyoto-like qualities. They do this by utilizing components of green tea harvested in Kyoto in their products, and by other local partnerships.
By the way, the KOTO in KOTOSHINA means "ancient capital." In other words, it is a reference to Kyoto itself.
On the other hand, Kotoshina is a Japanese general goods shop. Though the reading of its name is the same as the cosmetics brand, it is a different shop altogether. In Kyoto BAL both stores share their own shop space. The shop has continued to place care in the traditional Japanese goods they have assembled in store, with a specific focus on Kyoto, so you will not only be able to find Kyoto souvenirs, but also general Japanese souvenirs as well.
2. MUJI / Café and Meal MUJI
The fifth floor is entirely occupied by the Japanese brand MUJI.
The store efficiently uses this large space to beautifully exhibit its MUJI products.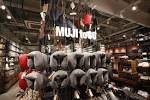 There is also a special area for MUJI to GO, a collection of products only related to travel or moving, set up on this floor.
Here is the MUJI Labo area; all of the clothes are made domestically in Japan, with particular care placed on the feel and comfort of their clothes. Wouldn't something from here make for an excellent souvenir?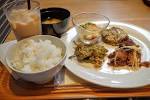 Café & Meal MUJI is a restaurant on the fourth floor sponsored by MUJI. Absolutely no preservatives are used in any of their foods; this is a restaurant where you can enjoy the flavor of ingredients that are easy on both the mind and body.
This buffet restaurant is where customers choose their own meal with three to four dishes from their seasonal menu. Although the menu changes regularly, the dishes served here are made using the best of both Kyoto and domestic Japanese ingredients. Depending on when you visit, you will find dishes such as fried manganji pepper and white sesame sauce (*1), or Yose tofu made from domestic white soybeans (*2).
*1 Manganji peppers: a specialty pepper from Kyoto, characterized by its large size and sweetness.
*2: Yose tofu: a type of tofu made without packing into a mold box. It has a distinct flavor.
There are not only extensive table seats, but balcony seats that are great for viewing the city around you as well.
This is the milk and matcha kuzumochi (450 yen), which is a menu item that is exclusively available at the Kyoto BAL store. Kuzumochi is a type of Japanese confectionery that uses kuzu, a plant in the Fabaceae family, as an ingredient. Its charms are its smooth texture and pleasant chewiness.
On top of there being two flavors of kuzumochi, the dish is served with gentle whipped milk and strongly scented matcha on top, as well as chestnuts with just the right amount of sweetness mixed in, giving this dessert a pleasantly soft and crunchy texture at the same time.
As this is a menu item that can only be eaten at this location, definitely stop and give it a try if you happen to pass by Kyoto BAL.
3. Ron Herman
The sixth floor is where Ron Herman, an American fashion and general goods brand, is situated. This is the largest Ron Herman store in the world, which makes it quite special for fans of the brand.
As this shop covers its own floor, visitors can find different products with ease thanks to the spacious arrangement of their goods.
There is also a display where you can envision a Ron Herman lifestyle, and a kid's corner is set up inside the store too, which is sure to make parents and their kids happy as well. This is a store that expertly meets the needs of its consumers.
Kyoto BAL is a Kyoto-like center where you can leisurely shop in a spacious and relaxing atmosphere. Why not join the locals and take part in a high quality shopping experience as you take a break from visiting the old townscapes, shrines, and temples of Kyoto? A visit to Kyoto BAL is sure to leave a lasting impression of your time in Kyoto.
Information
Kyoto BAL
Address: Kyoto, Nakagyo, Kawaramachi-Sanjo Sagaru, Yamazakicho 251
Hours: 11:00-20:00 (only MARUZEN is open until 21:00)
Closed: January 1st
Credit Cards: Accepted (Union Pay and duty-free not available in all stores)
Nearest Station: Kawaramachi Station (Hankyu Line), Sanjo Station (Keihan Line)
Access: 5 minute walk from either station
Phone: 075-223-0501 (Representative)
Website: Kyoto BAL (Japanese)

The information presented in this article is based on the time it was written. Note that there may be changes in the merchandise, services, and prices that have occurred after this article was published. Please contact the facility or facilities in this article directly before visiting.