Aomori's Miroku Yokocho: Tasty Food And Friendly Locals!
Today we introduce Miroku Yokocho in Aomori prefecture's Hachinohe city. It's a street crammed with little food stalls, serving a variety of cuisine using local ingredients. Here you can enjoy tasty dishes and chat with the residents of Hachinohe.
Miroku Yokocho: The Best Spot to Try Hachinohe Cuisine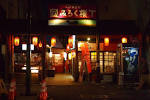 The prefecture of Aomori is located at the northernmost tip of Japan's main island of Honshu (*1). Aomori prefecture's Hachinohe city attracts countless visitors every year, many hoping to take in the beautiful scenery of the coastline and sample the delicious local seafood.
If you have the opportunity to visit Hachinohe, we recommend visiting Hachinohe Yatai Mura-Miroku Yokocho (here on referred to as Miroku Yokocho), a narrow street lined with various food stalls.
Miroku Yokocho's eighty meter long street is crammed with many of these tiny shops, most with a maximum capacity of about ten customers.
There are a total of twenty-six stalls, serving up a wide variety of cuisine including sushi and western-style dishes, kushi-yaki (grilled food on skewers), oden, ramen, and Korean food.
*1 Honshu: Japan's largest island. Many of the country's main cities such as Tokyo and Osaka, are located here. In addition to Honshu, there are other large islands including Kyushu, Shikoku and Hokkaido.
Though the type of food differs from stall to stall, all shops use ingredients from the Hachinohe area. This is because shop owners in Miroku Yokocho have all agreed to use only local foods and ingredients.
So for those who would like to sample Hachinohe cuisine, the fastest and surest way is to simply visit Miroku Yokocho!
Miroku Yokocho - An Area with a Showa-Like Atmosphere
The food stalls along Miroku Yokocho are usually open for business around five pm. By 6 PM all shops are open, and by eight in the evening most shops are completely full of customers-both locals and visitors alike. For this reason, if you already know which shop you'd like to try, it's best to arrive a little early.
Here and there along the narrow street, there are old fashioned mail drop-off boxes and wooden telephone poles, giving the area a distinct Showa period (the period after the Second World War in which Japan experienced rapid economic growth) kind of feeling.
Making use of the food pictures on the menu, it's fun to go into the various shops that look interesting and sample all the different fare. By one o'clock in the morning most of the shops close, so it's a good idea to make extra sure you have a method of transportation home.
Communication Naturally Occurs in These Cozy Spaces
Within the cozy confines of the small food stalls, which only accommodate about eight people, the conversation with other customers just naturally seems to flow. Also, many of the customers are locals, who are usually more than happy to give you sightseeing suggestions, souvenir recommendations and other useful information.
It's not just the close quarters, but probably also the relaxing, lighthearted atmosphere and the care and attention paid to the customers by shop staff, that makes it so easy to chat with the other customers.
Cuisine That Uses Hachinohe Ingredients
At Miroku Yokocho, where local food culture gets showcased, the various kinds of cuisine that are served all use ingredients from the Hachinohe area.
The attractive feature of Miroku Yokocho is that you can enjoy many local favorites including freshly caught seafood from the port of Hachinohe, horse meat sashimi (basashi) from the neighboring town of Gonohe, and Hachinohe ramen to name just a few.
By the way, Hachinohe Senbei-jiru (*2), Hachinohe's hometown specialty, is served in almost all the shops in Miroku Yokocho. Each shop has its own unique version of this locally-loved dish, so comparing the taste at a handful of places might be a fun way to spend your evening.
*2 Hachinohe Senbei-jiru: A traditional hot pot in which senbei rice crackers are added to a mix of various kinds of vegetables and meat, often with a shoyu (soy sauce) taste.
By all means pay a visit to Miroku Yokocho and have a unique experience. Here you can taste the local food, and also get to know the local people!
Information
Yatai Mura-Miroku Yokocho (Hachinohe city)
Address: Aomori, Hachinohe, Muikamachi 10
Hours: Depends on the shop
Information in Other Languages: Japanese only (but most shops have menus with food pictures)
Nearest Station: 10 minutes on foot from JR Hachinohe Station
Access: 3 minutes on foot from Hachinohe Chushingai Bus Terminal (Chuo dori street). Hachinohe City Bus (Japanese), Nanbu Bus (Japanese).
Phone: 0178-29-0815
Official Website: Hachinohe Yatai Mura-Miroku Yokocho (Japanese)

The information presented in this article is based on the time it was written. Note that there may be changes in the merchandise, services, and prices that have occurred after this article was published. Please contact the facility or facilities in this article directly before visiting.