Dive into Ancient Japanese Sprituality at Yamagata's Mount Haguro
Mount Haguro is one of the "Three Mountains of Dewa", sacred sites for worshipping mountains. Mount Haguro is open all year round. Let's take a look!
The Heartland of Mountain Worship: Mount Haguro
Today we'll show you around Mount Haguro, a mountain in Yamagata Prefecture in Japan's Tohoku Region.
Mount Haguro is one of the "Three Mountains of Dewa", sacred sites for worshipping mountains. While the other two mountains, Mount Gassan and Mount Yudono, are only open for short periods (July thru September and April thru November, respectively), Mount Haguro is open all year round.
Mountain worship is a faith with roots in Buddhist and Japanese Shinto religion. People who partake in mountain worship are known as "Yamabushi" and are characterized by their seasonal training pilgrimages into the mountains. Trainees wear white robes like those in the photo. The object in his hands is called a "Horagai", or trumpet shell, and is used to give orders by sound.
Mount Haguro is a 40-minute bus ride from Tsuruoka Station.
The entrance to the Mount Haguro district is marked by a giant red Torii Gate. This is to show that the area beyond the gate is a sacred zone. Getting off at the "Suishinmon" bus stop will land you right next to the entrance.
Now, Let Us Venture Forth...
This is "Suishinmon", at the entrance of Mount Haguro. Once you pass this gate, you are officially on mountain grounds.
As soon as you pass through the gate, you will see the Haraigawa River. It is said that long ago, visitors to Mount Haguro would first cleanse themselves in this river.
Take In the Michelin Guide View
It is said that the cedar trees lining both sides of the path are 350–500 years old. These cedar trees received three stars in the "Michelin Green Guide Japan".
This five-story Pagoda has been designated as a Japanese National Treasure. It is said to be the oldest in the Tohoku Region.
In front of the pagoda is the "Jijisugi", or Grandpa Cedar. This tree is over 1000 years old.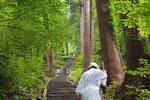 There are several trails through the mountain, known as the Ichinozaka, Ninozaka, and Sannozaka Trails.
There are 2446 stairs total spread throughout these trails.
A Quick Break with Green Tea and Mochi
Along the way on the fastest route, Ninozaka, is a tea house called "Ninozaka Chaya".
Their specialty, Chikara Mochi, comes in anko, kinako, or natto flavors. These flavors make for an outstanding combination with the slightly bitter green tea. Take a breather while viewing the sprawling landscape before your eyes.
Arrival at the Summit!
It takes approximately one hour to get from Suishinmon to the summit.
On the summit is the primary Dewa Shrine, where all of the gods of the Three Mountains of Dewa (Hagawa, Gessan, and Yudono) are enshrined.
Even in Japan, it is unusual to have multiple gods enshrined in the one shrine. This tradition seems to have originated for the sake of pilgrimagers wishing to visit the gods of Mount Gessan and Mount Yudono, as their opening times are restricted.
If you're interested in the mountains of Japan, we recommend taking a few days to explore the other two mountains as well. Even if you're an inexperienced hiker, you can climb Mount Haguro with ease. It's a great hike if you want to experience some of Japanese history and culture firsthand.
Information
Mount Haguro
Address: Haguromachi Touge, Tsuruoka-shi, Yamagata
Nearest Station(s): JR Tsuruoka Station
Access: Suishinmon Stop, 40-minute Bus from JR Tsuruoka Station by Shonai Koutsu Bus (Haguro/Gessan Line)
Phone Number: +81(0)235-62-4727 (Haguro Tourist Association)
Official Website: Haguro Tourist Association
The information presented in this article is based on the time it was written. Note that there may be changes in the merchandise, services, and prices that have occurred after this article was published. Please contact the facility or facilities in this article directly before visiting.