Warehouse Kawasaki - Kowloon Walled City Gamer's Paradise To Be Closed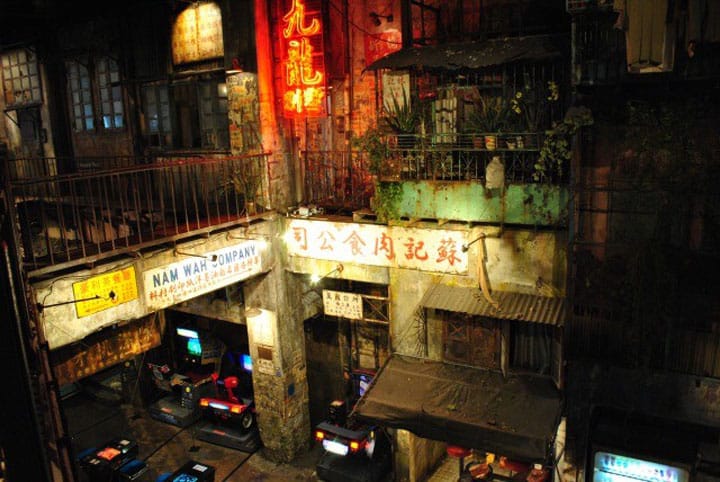 In Kawasaki, there is a unique arcade game center that recreated the city streets of Kowloon Walled City from Hong Kong. Warehouse Kawasaki is a place full of excitement that is worth at least visiting! Unfortunately, it will be closing in November 2019 so be quick!
A Game Center Inspired by the Kowloon Walled City
Kowloon Walled City was once known as the slums of Hong Kong. Now, there is a video game arcade that recreated those city streets in Kawasaki, Kanagawa prefecture. This arcade game center is called Warehouse Kawasaki.
Many tourists and video game fans visit Warehouse Kawasaki to see the quality of the recreation along with their great selection of arcade games. Lately, it has been filled with many fans not only from Japan but from the world. Let's head to the Warehouse!
Huge Metallic Walls Towering over the Main Street
After walking about five minutes from JR Kawasaki Station, we came across this ominous looking building with suspicious writing on the walls. It seems rather unwelcoming, but let's take a step in!
You've Never Seen a Door Like This!
This is the entrance to the building. It doesn't look a thing like the usual entrance-way to an arcade, which is pretty exciting. This is actually the entrance from the parking lot. Even if you don't arrive by car, we still recommend checking it out. Once the automatic doors open, you find yourself standing before...
An eerie blue-green lake. It almost feels like there are assassins hiding around every corner inside. You won't be able to experience a video game arcade with continuous entertainment like this anywhere else. It makes you feel like the main character of a video game even before you get started.
After stepping out of a tunnel lit with red lights, you will find yourself standing on a dimly lit city street. If this was a video game, this would definitely be where zombies would come out.
Did They Bring the Kowloon Walled City Here?! The Amazing Replica
When you look down from the third floor, you can enjoy an accurate view of Kowloon Walled City. From the signs, the posters on the walls, the plants growing out of rusty balconies and the platform roofs, everything makes you think someone has lived here for many years. With an atmosphere like this, it almost seems surreal that you are actually standing in an arcade. It really puts you in an atmosphere that makes you forget you aren't in a video game arcade. It is quite amusing when you look over and see someone actually playing video games around.
According to the staff member we interviewed, apparently someone from Kowloon once visited and shed tears at the accuracy of this reproduction of the lost city.
Everything you see has been artificially recreated using modern techniques, right down to the half-rusted appearance of the metal.
The signs are all hand-written. The interior here is handled by one of Japan's best interior model designing company, Hoshino Group, Ltd. To make the space as realistic as possible, they went all the way to Hong Kong for supplies or had people living there ship them materials, and at times even had garbage and junk mailed to them.
Within this intricately crafted environment, you can see customers here and there busy playing video games. Playing video games in an atmosphere like this must make them even more enjoyable.
The Proudly Presented Men's Restroom
"After taking a good look around the arcade, please stop by here!" Said the staff who lead me to the men's bathroom. But, I was in utter shock when I saw it!
You can see just how far they went to remind you of the atmosphere of Kowloon Walled City at Warehouse Kawasaki, even in the bathrooms. Thanks to the expertise of the replication techniques, the bathrooms are very clean in spite of their appearances.
The Intricate Details in the Nooks and Crannies
The attention to detail here extends even to the areas that are often overlooked by passers-by. These mailboxes were obtained after convincing the local owners in Hong Kong to send them over, and when you turn the doorknobs here they make sounds, so if you see them, please give it a try.
The grungy texture is also extends to the vending machines, giving an even more realistic feel of life in Kowloon Walled City.
Play With Old-School Games in the Old-Fashioned Entertainment Facility
We interviewed Mr. Ito who works here. According to Mr. Ito, all the franchise locations, including Warehouse Kawasaki, have been designed with the theme "a fun date spot for adults" in mind. Therefore, people under 18 years of age may not enter.
Mr. Ito also recommends playing some of the old-school games available here so that you can more deeply appreciate the retro feel of Warehouse. You can even play some rare games, such as one that is the last of its kind in the world. This is the only place in Japan where you can play in such an environment. Many video game lovers consider this place as a must-go-to spot.
Lately many magazines, photographers for CD covers and even people doing wedding photos come here after learning about the unique interior of this place.
High-End Relaxation Environment for Adults! The Internet Floor
Aside from the game floor, there are other spots that Hoshino Group designed, so please check them out too.
This is the Internet cafe where a well-dressed gentleman will welcome you. A red carpet spreads across this floor, giving it a luxurious look.
An area with massage chairs is also available, so you can comfortably make use of this space.
A Unique Experience is Comming to an End
If this article sparked your interested in this unique game arcade you have to be quick! Sadly they recently announced that the facility will be permanently closed from November 17th, 2019.

The information presented in this article is based on the time it was written. Note that there may be changes in the merchandise, services, and prices that have occurred after this article was published. Please contact the facility or facilities in this article directly before visiting.