Flying... Penguins? Many Unique Exhibitions at Asahiyama Zoo!
If you like animals, and you like penguins, then you should read on to find out about Asashiyama Zoo, in Hokkaido, where you can watch the penguins "flying".
Raise your hands if you like animals! We have to confess, we love cute animals, so we thought we'd introduce you to one of our favorite zoos in Japan, Asahiyama Zoo.
Asahiyama Zoo is located in Asahikawa, a city in the midst of the grand nature of Hokkaido. This zoo is famous for having things that you can't do at other zoos. As such, it appeals to visitors from far and wide, and it is so popular that you'll find people lining up before the zoo opens, even on weekdays.
First off, let's get a ticket!
There are several different entrances to Asahiyama Zoo, but today we'll show you how to purchase a ticket at the Main Gate, which is the most popular gate as it is most convenient for visitors arriving by bus.
You can purchase tickets at a counter much like this one, right beside the Main Gate.
If the ticket counter is too busy, you can also try purchasing a ticket from a vending machine. The machines support various foreign languages including English and Chinese. You can also get a foreign-language guide map from the ticket counter if you ask the attendant.
Entry fees are decided based on age and number of people in the following fashion:
Middle school-aged children get in for free, and it is 820 yen for anyone high school-aged or older. If you happen to be in a group of more than 25 people though, you can get slightly discounted entry, at 720 yen per person. In addition, there are other tickets such as the Asahikawa Resident Discount Pass and various other zoo passes which provide discounted zoo entry. For more information, visit their website.
Let's go meet the animals!
When you pass through the main entrance, you are greeted by a statue of a polar bear! All you have to do is wander around the entrance and you will already encounter many animals.
If you make it in time for Mogumogu Time (the animal feeding sessions, they vary by animal), you can see the animals at their most energetic. Factor this in when figuring out what order to visit the animals.
Today's focus is the penguins! To make it in time for the penguins' Mogumogu Time, we decided to go around the zoo in a counter-clockwise direction.
The creatures of Asahiyama Zoo
Well then, before we visit the penguins, let's take a quick look at some of the other residents of Asahiyama Zoo.
There are animals who like to lazily wander about above your head...
And there are others who also like hanging around above the pathways. Instead of wandering though, they just like to take nice, long naps.
There are also lots of signs and other fixtures constructed to look like the animals in the zoo.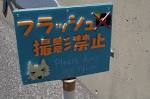 Oh that's right! Do not use your flash when taking photos of the animals in their homes. Respect the animals when you're taking pictures of them.
A chance encounter with penguins that fly sky-high
So we've just finished meeting lots of the zoos animals, and what good timing! The penguins' Mogumogu Time is about to start, so let's head on over to the penguin pen. Due to the recent typhoon, even Hokkaido, which is normally much cooler than the rest of Japan, broke 30 degrees, making it a super hot day. Yet in spite of the overwhelming heat, many of the penguins didn't break a sweat when it came to getting their snacks.
There were lots of penguins, but their keeper explained that since they all get fed at pre-determined times and places, they don't fight over food.
Once done watching the penguins from outside, let's take a peek inside the aquarium.
In the penguins' aquarium, there is an underwater tunnel. If you look up and around while walking through this tunnel, it looks like the swimming penguins are actually flying in the sky!
That's right. Asahiyama Zoo is famous because "you can see penguins flying in the sky".
Asahiyama Zoo makes use of a lot of these gimmicks in their exhibits. For example, take a look at this photo. This viewing window for watching the polar bears is set low in the ground so that you can get an idea of how a polar bear looks to small animals, such as rabbits.
Let's go see animals from Hokkaido!
Besides Mogumogu Time, Asahiyama Zoo also holds many events and talk shows that let you meet and learn more about the animals that live in Hokkaido.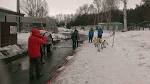 Photo Credit: Asahiyama Zoo Breeding Blog
In winter, when it snows a lot, there is an event called the Penguin Walk, where, you guessed it, you can walk alongside the penguins. If you're a penguin-lover, this event is a must!
They also have a live camera set up so you can see the animals whenever, wherever you are.
Check out Asahiyama Zoo's website for more details.
Of course, you can't forget souvenirs!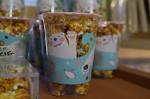 If you're looking for a souvenir to take home, you can find lots of the animals you met in the zoo immortalised in adorable merchandise form.
Our recommendation is these limited-edition straps, which you can only find in the zoo.
So how was your glimpse in to Asahiyama Zoo? Lots of animals and many great experiences await you!
Make sure to stop by when you visit Hokkaido!
Information
Asahiyama Zoo
Address: Kuranuma, Higashi Asahikawa-cho, Hokkaido
Hours: Varies by Season
Closed: New Years' Period (Dec 30-Jan 1)
Wi-Fi: Available
Credit Cards: Not Accepted
Language Support: Japanese
Foreign Language Information: English, Chinese (Simplified and Traditional), Korean Pamphlets Available
Closest Station: JR Asahikawa Station
Access: 40 minutes by Asahikawa Denkikidou Bus from Asahikawa Station
Phone: 0166-36-1104
Website: Asahiyama Zoo
The information presented in this article is based on the time it was written. Note that there may be changes in the merchandise, services, and prices that have occurred after this article was published. Please contact the facility or facilities in this article directly before visiting.