Ueno Sakuragi Atari, Tokyo - Discover Retro Japan
Come to Ueno Sakuragi Atari, a short distance from the major sightseeing destination of Ueno in Tokyo. At the remodeled traditional Japanese houses here, you will find charming cafes, Japanese craft beer, and unique shopping with a retro flair.
All About the Ueno Sakuragi Area
Ueno Sakuragi in Ueno, Tokyo, is where you can get an idea of what daily life in Japan was like long ago. A rich history and culture has been passed down here from the Edo period (from 1603 to 1868). It is a pleasantly quiet area, with Tokyo University of the Arts and Yanaka Cemetery nearby. There are three historical houses built in 1938 in Uenosakuragi, which have been renovated and remade into an area of shops and art studios known as Ueno Sakuragi Atari. Let's take a visit to Ueno Sakuragi Atari!
An Antique Hand Pump - A Rare Sight in Modern Japan
The well above is probably an unfamiliar sight to us all. This is a water well used for pumping ground water. In a modern era where we simple open the tap to get water, the need to pump groundwater from wells is unimaginable.
The film "My Neighbor Totoro" by Studio Ghibli features the characters of Satsuki and Mei, using this type of charming water pump.
Kayaba Bakery: The bakery of Kabaya Coffee, Uenosakuragi (Closed For Business May 6th, 2018)
Please note that as of May 6th, 2018, Kabaya Bakery in Ueno Sakuragi Atari has closed and is no longer in business. Please see the official Ueno Sakuragi Atari website at the end of this article for more details.
Above is Kabaya Bakery, the sister store to Kabaya Coffee, a famous cafe in Uenosakuragi opened in 1938. Kabaya Coffee operated for 70 years and closed temporarily in 2006. It was reopened in 2008 due to a non-profit organization and demand from people wanting to the coffee shop back. They kept the original exterior design, signs, chairs, and even dishes, and succeeded in opening the shop again. Let's take a look at Kabaya Bakery, the sister shop of Kabaya Coffee's.
Kayaba Bakery buns have all different kinds of fillings, like sesame anko (sweet red bean paste) and custard cream. The buns are small, which makes them very cute. They use a low temperature, long fermented method which makes the buns moist and super soft. They also try to put a Japanese taste in it using sesame and mattcha (powdered green tea). The most popular one is the one on the left in the picture above called Sakura Dainagon Anpan, which has sweet bean paste with whole beans, wrapped in a soft dough.
Salt and Olives at OshiOlive
This is a shop with olive oil and salt available for purchase. You can sample the olive oil and salt before you buy merchandise here, which is sold by weight. There are many products inside the store imported from European countries such as Italy, Spain, Croatia, Turkey, and Greece. The bottles are adorable and would be suitable for parties and giving as gifts.
Olive oil here is mainly divided into two types: one made from the green olives gathered at the start of the harvest season, and the other oil from ripe olives. In addition, each olive oil has a different taste depending on the production area and type of olive. so definitely try different oils first before you buy.
Taste Beer You Can't Drink Anywhere Else at Yanaka Beer Hall
Yanaka Beer Hall, inside of Ueno Sakuragi Atari, sells specially-brewed beer that visitors can only drink here.
Yanaka beer is a refreshing and easy-to-drink pilsner beer with added smoked malt flavor in it. It has a dark brown color, reminiscent of the wood grain from traditional historic Japanese houses.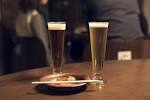 Picture courtesy of Ueno Sakuragi Atari HP(http://uenosakuragiatari.jp/photo.html)
Buy Unique Clothes at But I'm Only 5hours Yusuke
On the second floor of Yanaka Beer Hall is But I'm only 5 hours Yusuke, a small shop which sells clothes and art objects. The name of the shop is truly unique, isn't it?
You can buy clothes, toys and art objects imported Europe here. The shop is divided into two sides. One side is a shopping in a Japanese-style room and the other side is an exhibition.
Visit Ueno Sakuragi Atari
Each shop in Ueno Sakuragi Atari has its own unique concept. In addition to the places mentioned above, there is community space called Minna no Zashiki, where you can take various lessons, and attend events and community exchange gatherings. There's also Minna no Roji, which is an alley that is used for markets selling handmade crafts and goods.
If you are in the Ueno area of Tokyo or nearby, we highly recommend stopping by Ueno Sakuragi Atari to add to your experience in Japan.

The information presented in this article is based on the time it was written. Note that there may be changes in the merchandise, services, and prices that have occurred after this article was published. Please contact the facility or facilities in this article directly before visiting.