Souvenir Shopping At Don Quijote - 5 Reasons To Visit This Discount Store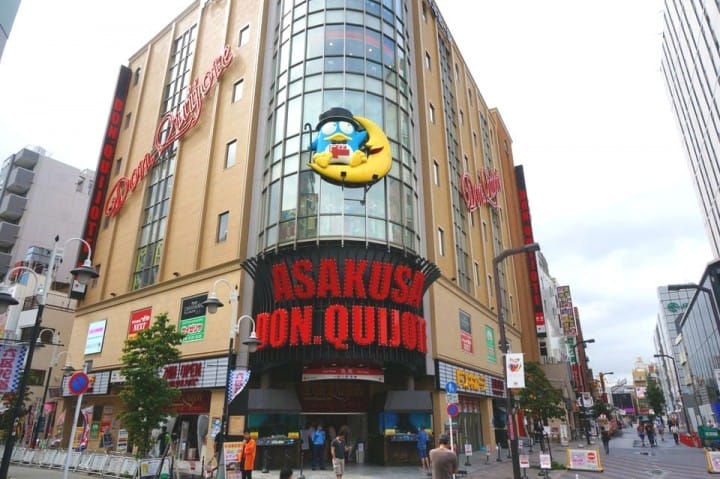 Don Quijote is a Japan-wide discount chain with souvenirs, matcha and Japanese sweets, cosmetics, clothing, and more at inexpensive prices. Ideal for shopping for souvenirs and saving money, this article introduces international-customer friendly aspects of Don Quijote so you can shop smart.
Don Quijote - One-Stop-Shop with Low-Cost Options and Convenient Services
Where do you usually go when you want to buy souvenirs in Japan? Most people probably would shop for theirs in places such as train stations and shops near famous sightseeing spots, but if you want to purchase souvenirs easily and at affordable prices, then a trip to Don Quijote is in order!
Continue reading this article to learn about why you should shop at Don Quijote and recommended branches in Tokyo.
5 Reasons Why Don Quijote is Great for Travelers
Don Quijote is a famous discount shop in Japan with locations nationwide. Along with their food and drink, they sell daily necessities such as clothing and cosmetics, everyday items, and interesting products like party goods and cosplay supplies, furniture, and even brand name bags and jewelry. There isn't anything they don't have in stock at Don Quijote.
In addition to its large selection and low prices, many stores are open 24 hours, making it convenient to drop in if there's anything you've forgotten.
1. Airport Delivery Service
Don Quijote locations offer airport delivery on goods and souvenirs purchased in these stores. By using this helpful service, you can relieve yourself from the burden of having to carry about a lot of shopping bags while traveling.
2. Foreign Currency Payments
Customers can pay not only in Japanese yen but also with American dollars, Euros, Chinese yuan, Taiwan dollars, Korean won, Thai baht, and Hong Kong dollars. With this service, you can buy souvenirs without having to bother to convert your funds to Japanese yen.
3. Duty-Free Service
In Don Quijote, except for some goods, all items are exempt from duty taxes, which makes this a better place to shop than a regular store. There are usually specific cash registers where you can apply for tax-free services at the Don Quijote shops, so look for signs.
4. Free WiFi
If you're looking for something specific for someone, but you need to get in touch with them, or want to look up something you're not sure of online, then you're in luck. There is free WiFi available in all Don Quijote stores, so if you have your smartphone or tablet with you, you can easily get online and look up what you need. The terms of service for their wi-fi is clearly explained in multiple languages too.
5. Multi-Lingual Support
Their official website is available in multiple languages, and here you will find reviews and introductions to many of their popular products, which makes it easier to find your favorite items and shop smart.
4 Best Don Quijote Stores in Tokyo for International Visitors
Of all the many Don Quijote locations around Japan, here are the four most convenient locations for visitors coming to the Tokyo area.
1. Shinjuku Kabukicho Branch
The Shinjuku Kabukicho branch is visible as soon as you head out of the east exit of Shinjuku Station. The largest Don Quijote in Tokyo, they have a huge selection of products, as well as duty-free services, airport delivery, and can take payments in foreign currency too.
2. Akihabara Branch
Akihabara's Don Quijote is a huge location with its own theater where the popular idol group AKB 48 performs. It is also known for its wide variety of anime, manga, and otaku-related goods. This location also offers duty-free services and has airport delivery as well.
3. Asakusa Branch
Don Quijote Asakusa is located in the popular sightseeing area, historical Asakusa. They have duty free, airport delivery and foreign currency payment services. Pay them a visit on your way back from seeing Sensoji Temple.
4. Ikebukuro Higashiguchi Branch
Ikebukuro Higashiguchi is located in the immediate vicinity of the east exit of JR Ikebukuro Station. They also have duty free, airport delivery and foreign currency payment services.
Shop at Don Quijote
Don Quijote has many useful services and great merchandise that make it a popular store with all customers. After you've made your memories sightseeing in Japan, be sure to visit Don Quijote to pick up your souvenirs before heading back home. No matter what you find there is sure to be a big hit with your friends and family!

The information presented in this article is based on the time it was written. Note that there may be changes in the merchandise, services, and prices that have occurred after this article was published. Please contact the facility or facilities in this article directly before visiting.