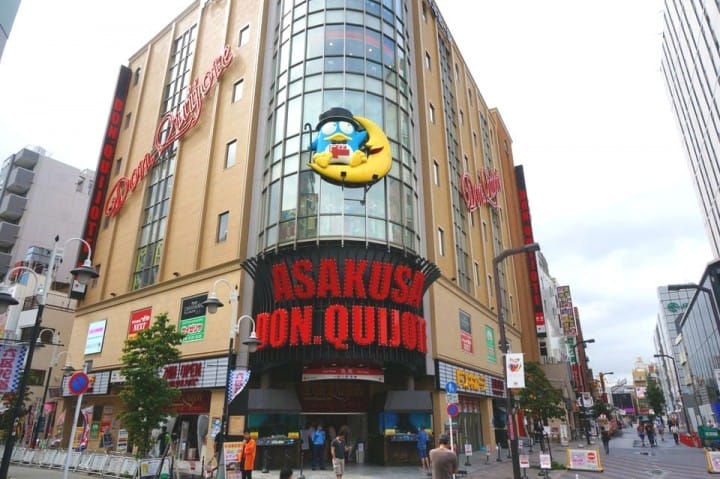 Shopping For Souvenirs At Don Quijote - 5 Reasons To Choose This Store
While many may purchase souvenirs from shops and train stations near sightseeing spots, those wanting to make bulk purchases should head to Don Quijote and shop smart!
Where do you usually go when you want to buy souvenirs in Japan? Most people probably would shop for theirs in places such as train stations and shops near famous sightseeing spots, but if you want to purchase souvenirs easily and at affordable prices, then a trip to Don Quijote is in order!
The 5 Reasons Don Quijote Is Popular with Tourists
Don Quijote is a famous discount shop in Japan. Along with their plentiful food and drinks sections, they sell daily necessities such as clothing and cosmetics, consumable goods like disposable diapers and tissues, interesting products like party goods and cosplay supplies, furniture, and even brand name bags and jewelry - it is often said, that there isn't anything they don't have in stock.
Not only is Don Quijote loved by the Japanese, but it is also becoming a popular shop with tourists, thanks to the many convenient services that they offer.
Reason 1: Airport Delivery Service
As of September 2015, 35 Don Quijote locations offer airport delivery on goods and souvenirs purchased in these stores. By using this helpful service, you can relieve yourself from the burden of having to carry about a lot of shopping bags while traveling.
Reason 2: Foreign Currency Payments
At of 20 stores (as of September 2015), customers can pay not only in Japanese yen, but also in Chinese yuan, Taiwan dollars, Korean won, Thai baht, Hong Kong dollars, US dollars, and in euros. With this service, you can buy souvenirs without having to bother to convert your funds to Japanese yen.
Reason 3: Duty Free Service
In Don Quijote, except for some goods, all items are exempt from duty taxes, which makes this a better place to shop than a regular store.
Reason 4: Free Wi-Fi
If you're looking for something specific for someone, but you need to get in touch with them, or want to look up something you're not sure of online, then you're in luck. There is free wi-fi available in all Don Quijote stores, so if you have your smartphone or tablet with you, you can easily get online and look up what you need. The terms of service for their wi-fi is clearly explained in multiple languages too.
Reason 5: Multi-lingual Support
Their official website is available in multiple languages, and here you will find reviews and introductions to many of their popular products, which makes it easier to find your favorite items and shop smart.
4 Best Don Quijote Stores for Tourists
Of all the many Don Quijote locations around Japan, here are the four most convenient locations for visitors coming to the Tokyo area.
1. Shinjuku Higashiguchi Branch
The Shinjuku Higashiguchi is visible as soon as you head out of the east exit of Shinjuku Station. The largest Don Quijote in Tokyo, they have a huge selection of products, as well as duty-free services, airport delivery, and can take payments in foreign currency too.
2. Akihabara Branch
With its own AKB theater dedicated to Japan's popular idol group AKB 48, Akihabara's Don Quijote is known for its wide variety of otaku (geek) goods. This location is also duty free, and has airport delivery as well.
3. Asakusa Branch
Don Quijote Asakusa is located in the popular sightseeing area, historical Asakusa. They have duty free, airport delivery and foreign currency payment services. Pay them a visit on your way back from seeing Sensoji Temple.
4. Ikebukuro Higashiguchi Branch
Ikebukuro Higashiguchi is located in the immediate vicinity of the east exit of JR Ikebukuro Station. They also have duty free, airport delivery and foreign currency payment services.
In Conclusion
Don Quijote has many useful services and attractive products - it's no wonder that this shop is beloved by both locals and visitors to Japan. After you've made your memories sightseeing in Japan, be sure to visit Don Quijote to pick up your souvenirs before heading back home. No matter what you find there is sure to be a big hit with your friends and family!
Information
Don Quijote Shinjuku Higashiguchi Branch
Address: Tokyo, Shinjuku, Kabukicho 1-16-5
Hours: 24 Hours
Closed: None
Wi-fi: Available
Credit Cards: All Major Cards Accepted
Other Languages: Multiple
Nearest Station: Shinjuku Station (most major lines)
Access: 2-minute walk from East Exit
Phone: 03-5291-9211
Website: Don Quijote Shinjuku Higashiguchi Branch
Don Quijote Akihabara Branch
Address: Tokyo, Chiyoda, Sotokanda 4-3-3
Hours: 10:00-05:00
Closed: None
Wi-fi: Available
Credit Cards: All Major Cards Accepted
Other Languages: Multiple
Nearest Station: Akihabara Station (JR Yamanote, Sobu, Keihin-Tohoku and Tokyo Metro Hibiya lines)
Access: 3-minute walk from Electric Town Exit
Phone: 03-5298-5411
Website: Don Quijote Akihabara Branch
Don Quijote Asakusa Branch
Address: Tokyo, Taito, Asakusa 2-10
Hours: 24 Hours
Closed: None
Wi-fi: Available
Credit Cards: All Major Cards Accepted
Other Languages: Multiple
Nearest Station: Asakusa Station (Tokyo Metro Ginza, Toei Asakusa, Tobu SkyTree and Tobu Nikko lines)
Access: 2-minute walk from Exit A3
Phone: 03-5826-2511
Website: Don Quijote Asakusa Branch
Don Quijote Ikebukuro Higashiguchimae Branch
Address: Tokyo, Toshima, Minami Ikebukuro 1-22-5
Hours: 24 Hours
Closed: None
Wi-fi: Available
Credit Cards: All Major Cards Accepted
Other Languages: Multiple
Nearest Station: Ikebukuro Station (most major lines)
Access: 1minute walk from East Exit
Phone: 03-5957-3311
Website: Don Quijote Higashiguchimae Branch