Even Japanese People Don't Know? What's the Best Way to Eat Yakitori?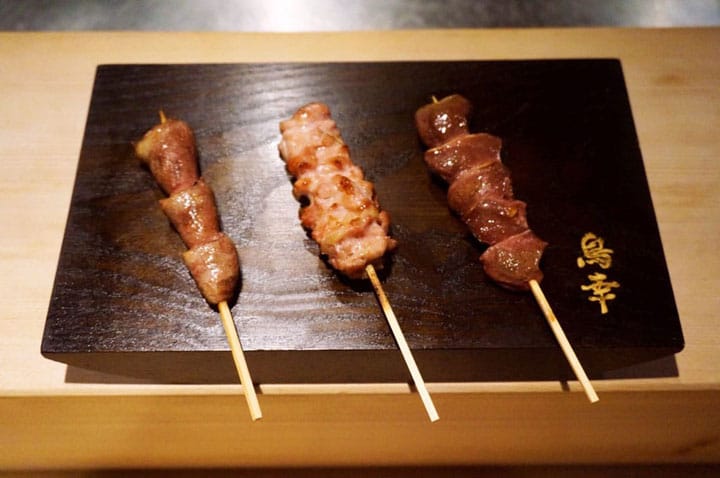 Yakitori is a famous Japanese food that many visitors look forward to trying in Japan. What's the best way to eat it? What about manners? Read on to find out!
Yakitori is one those Japanese foods that boasts quite a lot of popularity amongst foreign visitors.
Yakitori goes well with alcohol, and most yakitori places have a good ambiance, so it's the perfect place to take your friends, or even that special someone. For those of you thinking "I want to eat yakitori in Japan!", then pay close attention, because today we'll let you know "yakitori etiquette", as well as how to fully enjoy eating yakitori. This information might also be useful for Japanese people, not just foreign visitors to Japan, so definitely check it out.
Yakitori etiquette: what to do while your yakitori is cooking
The methods used to cook yakitori really vary according to each restaurant, but the most commonly used cooking methods are gas, and charcoal.
In addition, there are also some restaurants that use "binchotan", or high-grade charcoal made from ubame bark.
Charcoal can get hotter than gas, so it can keep the yakitori insides juicy, while giving the outside a nice brown layer, as well as adding a subtle charcoal scent. This is probably "bichoutan" charcoal's most prominent characteristic.
Make sure to keep this in mind when choosing yakitori places.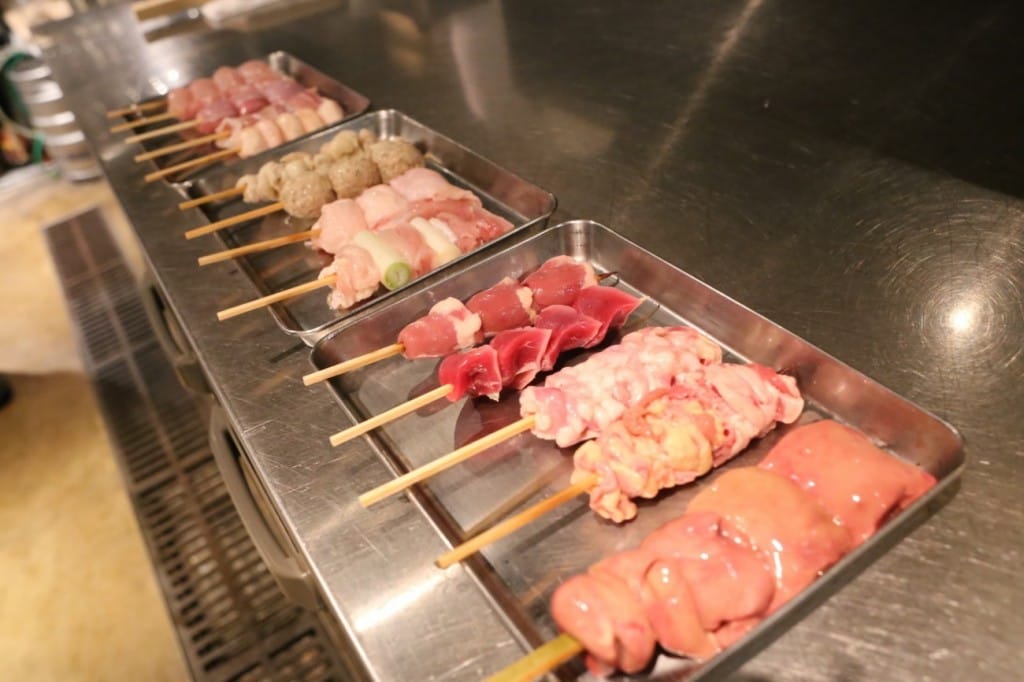 Pictured above are the yakitori that will be cooked. They're all lined up, and ready for the charcoal.
Before cooking, the cook lightly sprinkles salt over the yakitori.
Yakitori's flavors are pretty much broken up into two: shio (salt), and tare (a shoyuu based sweet/spicy sauce).
There are some stores where certain products already come prepared with a sauce, but there are others where you can choose your own sauce. Generally, cuts such as "heart", which have a strong flavor on their own, are made easier to eat using tare. If you're looking to enjoy the flavor of the meat on its own though, we recommend seasoning with just salt. Shio yakitori goes well with alcohol, as well as white wine.
Now they put the yakitori on the charcoal. In this store, they don't use a net grill. The sound of the meat cooking is stirring up everyone's appetites.
The cook quickly flips each yakitori stick, taking a real careful look at how they're browning.
Well, they're finished!
By the way, the cook really wanted us to try the "tsukune", or meatballs. The meatballs take more time to prepare than most other items on the menu, and and the mix varies according to each store, so you can really get a 'taste of the restaurant' from this particular menu item.
If you go to a yakitori restaurant, you should definitely order this item.
Best way to eat yakitori 1: Start from the least rich in flavor, and work your way up
The cook will line up the finished yakitori in several plates on the counter. You should first move your yakitori onto the plate in front of you.
When eating yakitori, it's best to eat the cuts with the lightest flavor, and work your way on to those with richer flavors. For example, start with light meat (or chicken breast), and then work your way to the richer-flavored cuts (such as heart), and finally onto the fatty, rich cuts.
Of course, there's no problem in you starting from what you'd really like to eat.
Best way to eat yakitori 2: Eat it off the skewer
It's said that biting onto the yakitori skewer is the best way to eat yakitori. The cooks carefully put the meat on the skewer, one by one, everyday. Because of the extra preparation, and consideration, it's said that you can get the most from yakitori by eating it straight off the skewer.
We got a view of the cook doing his daily preparations. The cook looks carefully, as he quickly moves about stuffing the skewers.
Once you're finished eating, put the skewers in a receptacle for used skewers. If you're not sure where the receptacle is, make sure to ask the store staff.
Ettiquete for when eating yakitori
While yakitaori restaurants don't have nearly as many manners as, for example sushi shops do, they still have some manners that you should abide by to help make your yakitori experience all the better.
The first thing we'd like you to keep in mind, is that you shouldn't immediately put "shichimi" (a blend of seven spices), sanshou (Japanese pepper), or other seasonings on the just-finished yakitori.
The cook wants you to first experience the yakitori just as he cooked it. First, take a bite, and then add seasoning, if you still feel the need to add some flavoring. But, it's important to first try out the yakitori as it is.
Also, as we had explained earlier, the yakitori is already seasoned. It seems that there are lot of visitors who are unaware of this, and immediately put on a lot of soy sauce. In doing this, you not only lose the original flavor of the yakitori, but you also take away from its aesthetics.
This next one is also frowned upon when eating yakitori.
This is something that a lot of Japanese people do. That is, they remove the meat from the skewers.
Exactly because it is yakitori though, it should be eaten directly from the skewer. As we had mentioned earlier, that is considered the best way to eat yakitori.
It might be good to take the meat off the skewers if you're sitting in a table with a large group during a "nomikai", or drinking party. If you can though, it'd be best to eat it from the skewers, as that would also please the cooks.
Yakitori is one of those foods that can become even more delicious, depending on how you eat it. If you come to Japan, please use this article as a reference when going to eat yakitori.
Related Article:
ssHow Well Do You Know Yakitori? Let's Find Out!
For more details:
How to Eat Yakitori/ Best Yakitori in Tokyo 乃木坂 鳥幸
The restaurant that helped bring you this article
Nogizaka Torikou
Address: 9-6-30, Akasaka, Minato-ku, Tokyo Nogizaka Place 1F
Hours:
Lunch 11:30 am – 2:00 pm (L.O. 1:30 pm)
Dinner 5:00 pm - 11:30 pm (L.O. 10:30pm)
Closed: Sunday
Wi-Fi Available: Not yet confirmed
Credit cards accepted: All credit cards accepted
Multi-lingual support: English menu available
Nearest station: Tokyo Metro Chiyoda Line Nogizaka Station
Access: 3-minute walk from Nogizaka Station Exit 2
Price Range: 1,000 yen- 6,000 yen
Religious Considerations:
Telephone: 050-2018-0449
Official Website: Nogizaka Torikou

The information presented in this article is based on the time it was written. Note that there may be changes in the merchandise, services, and prices that have occurred after this article was published. Please contact the facility or facilities in this article directly before visiting.