Masterfully Made Omelets at Yamachō in Tsukiji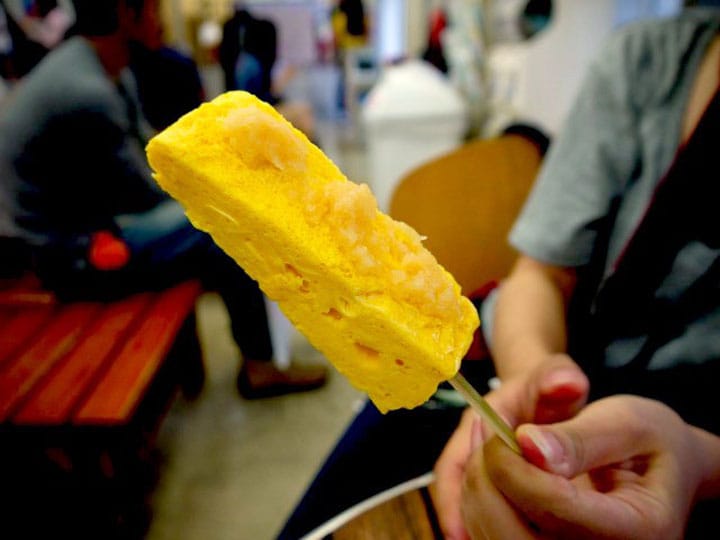 Upon visiting the famous Tsukiji market, watch as delicious tamagoyaki omelets are made by the skillful masters of Yamachō.
Tsukiji market is known for their fresh fish and even as a major tourist attraction for their delicious sushi, but did you know that egg dishes are also famous as a Tsukiji specialty?
There are ten Tamagoyaki omelet shops in Tsukiji that each have their own unique cooking methods and selective ingredients, but today we would like to introduce to you Tsukiji Yamachō. At this shop, you can watch the chef's grilling skills up close in their glassed-in area.
A tamagoyaki omelet is a Japanese dish made from scrambled eggs (chicken eggs of course) mixed with sugar and broth. The thin sheets of grilled egg are layered like a mille-feuille or crepe cake and then folded into a tube-like shape.
Due to the difficulty of controlling the temperature, it is said that those who can't make a perfect tamagoyaki cannot be considered a master in sushi restaurants. The visual appeal of the omelet is just as important as the cooking technique and taste when it comes to tamagoyaki though.
First, control the heat level without burning the thin layer of egg while also removing any bubbles, then carefully roll the lightly cook egg... The chef repeats this process many times. Lastly, the tamagoyaki is pressed on a wooden plank gently to remove any small bubbles for an overall smooth, mouth-melting texture.
It is worth watching the delicate movements of the chef as he rapidly and skillfully prepares the tamagoyaki.
The Gentle Taste of Dashi in Tamagoyaki
The tamagoyaki is made carefully by skilled chefs using fresh eggs delivered every morning and a strong dashi (broth) extracted from Sōda bonito flakes (*1). They sell easy-to-eat sized tamagoyaki omelets on a stick. Not only can you eat them on the spot, but this old-time favorite is reasonably priced at 100 yen a piece. For these two reasons the queues at Tsukiji Yamachō often run out the door and down the road.
*1 Sōda bonito flakes: dried, preserved bonito that has been sliced paper-thin; Sōda bonito flakes are made from good quality Sōda bonitos and are used frequently as toppings and broth. They contain inosinic acid which brings out the "umami" or savory flavors of different dishes.
The time in the queue passes pretty quickly while you watch the skillful moves of the chef. But now it's time to have a taste of the freshly made tamagoyaki. There is an option of "sweet" and "not too sweet" versions of the tamagoyaki. When you take a bite, the dashi from the bonito flows out. The harmony of the delicate texture and slight sweetness creates a lovely, gentle taste.
Upon request, you can have it topped with shredded daikon radish (*2) as well. Please note though that they may not have the shredded daikon radish during lunch time and at the end of the year. When you eat tamagoyaki with daikon radish, the slightly spicy taste mixes with the soy sauce and creates another appealing flavor variation.
*2 Shredded daikon radish: otherwise known as daikon oroshi in Japanese, is daikon radish that is grated and used as toppings on soba noodles, saury and other Japanese dishes.
Next to the stand that sells the on-the-go tamagoyaki, there are some you can take away as well. There are also tamagoyaki that have crab, shrimp, eel, scallions and scallops added to the omelet as well.
Putting seafood in tamagoyaki was something originally done by chefs, which later became a tradition. If you try the different types and compare them, you are sure to enjoy the different flavors and textures.
Tamagoyaki omelets made by time-honored, careful techniques truly bring out the traditional taste of this dish. Why not try one during your next visit to Tsukiji?
Information
Tsukiji Yamachō
Address: Tokyo, Chūō, Tsukiji 4-10-10
Hours of Operation: 6:00-15:30
Closed days: None (Please confirm for end of the year dates)
Wi-Fi: Not Available
Credit Cards: Not accepted
Other Languages: English
Menu Languages: -
Nearest Station: Tsukiji station (築地駅) on the Tokyo Metro Hibiya Line, Tsukiji shijō station (築地市場駅) on the Toei Ōedo Line.
Access: 3 minute walk from Exit A1 of Tsukiji shijō station, 4 minute walk from Exit 1 of Tsukiji Station
Price Range: From 100 Yen
Phone number: 03-3248-6002
Homepage: Tsukiji Yamachō

The information presented in this article is based on the time it was written. Note that there may be changes in the merchandise, services, and prices that have occurred after this article was published. Please contact the facility or facilities in this article directly before visiting.