Shibuya's RAKERU: Try Their Home-style Omurice!
Omurice is popular among Japanese people for its home cooked taste. Today we introduce you to RAKERU, a shop specializing in omurice in Tokyo's Shibuya district, and give you all the details regarding the food and the atmosphere.
What Exactly Is This Popular Dish Called Omurice?
When you hear the word washoku (Japanese cuisine), what do you usually think of? There are all kinds of famous washoku dishes such as sushi and tempura, but in the Japanese home, a dish called omurice is also very popular.
Omurice is essentially stir-fried rice containing pieces of chicken and vegetables, all wrapped up in an egg omelette. The flavoring for the rice differs from shop to shop, but ketchup is the most commonly used. Your sauce of choice is poured on top of the omelette and this can include ketchup, demi-glace sauce and white sauce just to name a few. A popular item found on most menus in Japan, omurice is also a big favorite in the home.
It's generally acknowledged that the birthplace of omurice is in Tokyo's Ginza district at a yoshoku (western-style) restaurant called Rengatei. While there's also a western influence, this is a decidedly Japanese dish, born and developed right here in Japan.
By the way, the naming of omurice comes from the combination of two words, omelette and rice.
Get a Taste of Real Omurice in Shibuya!
If you want to eat the ever popular Japanese dish omurice, then you need to head over to RAKERU in Tokyo's Shibuya district. This is an omurice specialty restaurant, with a long and distinguished history of 52 years.
We recently visited RAKERU and today we bring you a full report on the food's taste and the shop's many attractive features!
The shop can be found part way up the sloping street in Shibuya's Miyamasuzaka area and is conveniently located right in front of Shibuya Station. With its red sign serving as a marker, the shop has a cute looking facade.
In the shop's showcase, the plastic food samples feature a great variety of omurice dishes! Even though omurice is a simple dish, there are countless variations based on the kind of rice inside, the sauce used and also the method of preparation. With so many kinds available, making your choice will be part of the fun!
The entrance sits right at the bottom of the shop's narrow staircase. Once inside, it feels like you've accidentally wandered into the scene of a picture story book, and your anticipation starts to build.
Shortly after, a waitperson wearing a cute uniform comes to welcome you.
By the way, this staff person is wearing a RAKERU original apron dress called a Rachel Dress. Due to its popularity, this apron dress has apparently become synonymous with the shop's name.
The photo above shows you the shop's interior.
The shop owner wanted to create a restaurant with a relaxing atmosphere amid the crowds and noise of the Shibuya area, resulting in this oasis-like mood. Once you step inside this comfortable and cozy kind of place, you'll soon forget that you're even in Shibuya.
With an antique chandelier hanging from the low ceiling, you can't help feeling that you've entered a secret hideaway. Now far away from the hustle and bustle of the outside world, this space seems even more attractive.
The waitperson has brought us the menu so now we can place our order. Even just counting the ones inside the showcase, there are so many different kinds of omurice that our expectations have risen!
All items on the menu come complete with pictures and are also written in English. So visitors to Japan can place their order worry free.
However, if there's still something that you don't understand, no need to worry. Just point to the picture on the menu and the friendly staff will kindly take your order.
The first meal to arrive at our table was RAKERU's number one favorite, the KUKU hamburger and omurice set (1180 yen plus tax). This is a full sized portion with the omurice, a hamburger patty, salad, bread roll and potato!
All menu items starting with the word KUKU come with a bread roll and a potato, in addition to the main course. The bread roll is a shop original called RAKERU bread that has a slightly sweet accent, and is popular with many of the customers.
If you have a chance to visit RAKERU, we highly recommend ordering something from the KUKU menu list.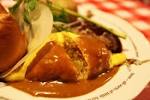 The omurice is stuffed full with rice. When you order the KUKU hamburger and omurice, the rice inside has a curry flavor.
Of course, omurice filled with ketchup rice is also available on the menu, so you can choose according to your personal preference.
Omurice dishes are covered with RAKERU's own demi-glace based original sauce. This is a perfect match for the curry flavored rice. After you take a bite, the egg and rice and the sauce all mix together, creating a taste sensation in your mouth!
After our meal, we ordered the shop's most popular dessert item, the strawberry french toast (980 yen plus tax). The dish came with plenty of whipped cream and ice cream, so I felt full and satisfied! Strawberry slices were piled high on top, making this quite the luxurious treat.
The french toast, and the rich sweetness of the ice cream and whipped cream combined with the tartness of the strawberries, gave the dish a refreshing taste.
What's the Secret to This Delicious Taste?
The restaurant's cute atmosphere and the delicious, satisfying food items make RAKERU an attractive place, but in order to maintain their high standards of food quality, they are also careful about choosing the right ingredients.
The omurice and french toast dishes all use a special national brand of eggs called Yodo eggs. With their high mineral count and a characteristically deep and rich taste, these eggs are famous in Japan.
In 2011, a menu that strictly adheres to food safety standards was officially recognized by the Japanese Ministry of Agriculture, Forestry and Fisheries (product development division), and subsequently RAKERU received an award of excellence pertaining to the food service industry. RAKERU is one of Japan's foremost restaurants not only because of their delicious dishes, but also due to their care and attention regarding food safety.
On your next jaunt to Shibuya we recommend stopping in at RAKERU. In a sophisticated yet relaxing atmosphere, why not try their classic omurice, one of the mainstays of Japanese home-style cooking?
Information
RAKERU - Shibuya Miyamasuzaka location
Address: Tokyo, Shibuya, Shibuya 1-12-9, Toho Estate Building, B1F
Hours: 11:00-22:00 (last order 21:30)
Closed: Open every day
Wi-Fi: Not available
Languages: Japanese
Information in other languages: Menu items written in English
Nearest Station: Shibuya Station
Access: 3-minute walk from Exit 12 Shibuya Station (Subway Hanzomon Line, Fukutoshin Line) or 4-minute walk from Miyamasuzaka Exit JR Shibuya Station
Price Range: 600-1500 Yen
Phone: 03-3407-9221
Website: RAKERU (Japanese)

The information presented in this article is based on the time it was written. Note that there may be changes in the merchandise, services, and prices that have occurred after this article was published. Please contact the facility or facilities in this article directly before visiting.