Hop on Your Bike and Enjoy Wakura Onsen in Ishikawa Prefecture!
Like biking? Like onsen? Read to find out how you're going to Ishikawa Prefecture to find out how to get the best of both worlds.
What do you do when you go to an onsen?
Of course, the first thing you'll want to do is relax and soak in the hot springs. Most people eat local dishes and delicacies while recovering from their built-up fatigue when they travel to onsen.
However, eating and soaking in these hot springs isn't the main appeal of onsen. Japanese onsen are often surrounded by museums, farms, and other sightseeing spots. What makes an onsen trip special are the activities you engage in before or after you actually get to the hot springs.
Today, we'll introduce some of the unique geographical features, sights, and activities that are unique to Wakura Onsen in Ishikawa Prefecture.
Take a Spin on Your Bike around the Bay
Wakura Onsen is located close to Notojima Island, renowned for its seaside leisure activities. On a good day, you can hang out at Notojima Island and get back to Wakura Onsen easily by renting a bicycle.
Wakura Onsen's Tourism Bureau lends out bicycles to tourists. You can choose from a variety of bicycles based on your plans.
This is a bike modeled after the Hokuriku Shinkansen's "Kagayaki" train.
This bike is convenient for cycling around town.
This bike is equipped with gears for activities like mountain climbing.
They also lend out bike helmets for safety. Rent one with your bike and ride safely.
Now we'll show you Notojima Island's "Notojima Aquarium." Since we knew we were going to ride up and down a lot of hills, we chose a bicycle with gears. The weather was so nice that you could see all the way to Notojima Island.
Over Notojima Island Bridge We Go!
You need to cross a long bridge called Notojima Bridge to get from Wakura Onsen to Notojima Island. I'm sure you can see how large the bridge is just by looking at the photo above.
At 1050m long, Notojima Bridge is the longest bridge in Ishikawa Prefecture (as of August 2015). Let's cross to the beautiful Notojima Island!
We've arrived at the entrance to Notojima Bridge. Notojima Island is flanked by the grand Nanao Bay (七尾湾) on both sides.
In Japan, bicycles can travel on the same roads as other vehicles. Just to be safe, though, you should get off your bike and walk along the sidewalk.
This is the middle of the bridge. The view looks all the more gorgeous since we've been walking so much. The wave-less bay is quiet, leaving only the comforting sound of the breeze to reach your ears. This would be a good spot to take a group picture.
Arriving at Notojima Island
The road is paved once you get to Notojima Island, but there are a lot of hills. Even with a bike with gears, you'll probably have to stop and catch your breath. If you're planning on coming here by bike, choose clothes and shoes that are easy to move around in.
Of course, after you climb a hill, you'll be rewarded with a slope. There are times when going downhill will be just as difficult as going uphill, so use your brakes when things get a little too speedy and enjoy the scenery Notojima Island has to offer.
Now Arriving at "Michi no Eki: Notojima Kouryuu Marketplace"
After about 30 minutes of cycling on Notojima Island, you'll arrive at "Michi no Eki: Notojima Kouryuu Marketplace" (道の駅 のとじま交流市場). We recommend taking a quick break here.
Notojima Kouryuu Marketplace is in the middle of the island, next to "The Notojima Glass Art Museum" (能登島ガラス美術館) and "Notojima Glass" (能登島ガラス工房). There are also restaurants serving cuisine with local ingredients. We recommend you pick up some homemade tsukemono or farm-fresh produce as souvenirs.
Cross the Street to "The Notojima Glass Art Museum"
Across from "Michi no Eki: Notojima Kouryuu Marketplace" is "The Notojima Glass Art Museum."
"The Notojima Glass Art Museum" was established in 1991 and displays over 400 glass structures crafted by artists around the world. There are exhibits that introduce you to different types of glass works, and there are even workshops where you can craft your own glassware.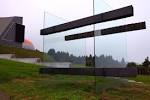 You Have Arrived at Your Destination: "Notojima Aquarium"
You'll arrive at "Notojima Aquarium" after about 50 minutes of cycling. It's about 1km past the gate pictured above.
"Notojima Aquarium" houses over 40,000 aquatic creatures of 500 species, consisting mostly of fish and other sea animals around Notojima Island, such as the whale shark. There are special events like dolphin shows, sea lion shows, penguin walks, and otter feeding times. You can even feed or touch some of the wildlife in this interactive aquarium.
Picture from: Notojima Aquarium HP
Picture from: Notojima Aquarium HP
Picture from: Notojima Aquarium HP
You'll need about an hour and a half to two hours to be able to see everything in the aquarium. Since it takes about 2 hours to get to and from Wakura Onsen, you should free up about 5 hours if you also plan on stopping by the glass art museum.
It would be a good idea to not make any plans outside of going to the aquarium.
The Fun Doesn't Stop Even When You Get Back to Wakura Onsen
After you get back from Notojima Island, let's look around Wakura Onsen.
There are plenty of ways to recover from the exhaustion built up from going to and from Notojima Island, like boiling eggs or soaking in a foot bath.
Information
Notojima Aquarium

Address: Ishikawa-ken, Nanao-shi, Notojima Kyoku-cho 15-bu 40
Business hours: (March 20-November 30)
09:00~17:00
(December 1-March 19)
09:00~16:30
Closed: December 29-31
Wi-fi: N/A
Credit cards accepted: N/A
Japanese level required: N/A
Other languages offered: English, Chinese
Nearest station: Wakura Onsen Station
Access: 30 minutes by bus from Wakura Onsen, 50 minutes by bike
Price range: Regular (high school and above) 1,850円
Middle school and below (above 3 years old) 510円
Phone number: 0767-84-1271
Official website: Notojima Aquarium

The information presented in this article is based on the time it was written. Note that there may be changes in the merchandise, services, and prices that have occurred after this article was published. Please contact the facility or facilities in this article directly before visiting.