Meet And Swim With Wild Dolphins At Notojima Island, Ishikawa!
Learn about Notojima Island, which is one of just four locations in Japan where you can observe wild dolphins.
The Island of Notojima
Notojima sits in the very center of Nanao Bay, Ishikawa prefecture. With a circumference of 71.9km and a population of 3,000 people, Notojima is a peaceful island with rich nature.
The island is well known for delicacies such as fugu (puffer fish) and oysters, and it is not uncommon for travelers to come to Notojima just to eat these foods.
As pictured above, you will often come across people fishing at various spots across the island. This is because the waters around the island are very peaceful, with seemingly no waves.
Meet the Dolphins of Notojima!
In recent years, wild Indo-Pacific bottlenose dolphins have made Nanao Bay, where Notojima is located, their home. At first there were only two dolphins, but now their family has grown to 10 dolphins.
Numerous activities encouraging visitors to observe and understand dolphins, such as dolphin watching and swimming alongside the dolphins, are held here on Notojima. Visitors are asked to uphold rules that have been put into place to prevent any stress on the dolphins.
As of September 2015, there are only 4 locations across Japan that offer opportunities for visitors to observe wild dolphins and swim right alongside them. Please observe the rules carefully to fully enjoy these rare activities.
It is said that there is a 90% chance that you will encounter a dolphin during one of these activities. During our visit, the weather was perfect, and we were able to meet a pod of dolphins within just 5 minutes of entering the bay.
Dolphin Smile: Nap While Looking Out on the Water
To meet the dolphins, you must take a boat from Notojima. This facility, called Dolphin Smile (Japanese), offers boat rentals and dolphin watching tours.
In addition to dolphin watching tours, Dolphin Smile offers other activities, such as stand up paddle tours.
But perhaps the most charming feature of this facility is its lounge area, where visitors can take a nap or take in views of the bay.
Floating Stage
In front of Dolphin Smile, you will come across a rather rare sight in Japan - a floating stage.
This floating stage is made possible by Notojima's calm waters. Various performances, including a performance of the traditional Japanese art of noh, have been held on this stage, which features a gorgeous backdrop of the ocean.
This photo shows the distance from the stage to the shore. Performances can be enjoyed from Dolphin Smile's lawn.
Swim with the Dolphins!
Photo credit: Dolphin Smile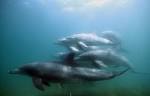 Photo credit: Dolphin Smile
As we mentioned above, Dolphin Smile offers tours that allow you to swim with the dolphins.
If you are planning to participate in one of these tours, be sure to reserve in advance, as reservations are necessary. Reservations can be made on their website; however, please note that their website is currently only available in Japanese.
Meet the owners of Dolphin Smile: Anri Chikamoto (right) and Takuya Tokuda (left).
Crossing Over to Notojima
To get to Notojima, you must cross the Notojima Ohashi Bridge. The photo above shows the bridge's massiveness.
As of August 2015, the Notojima Ohashi Bridge is 1050 meters long, and the longest bridge in Ishikawa Prefecture.
The bridge connects the town of Wakura, famous for the Wakura Onsen, to Notojima Island.
How to Cross the Bridge
You can rent a car and cross the bridge, but how about renting a bicycle and enjoying the rich nature of Notojima?
There are a number of shops in Wakura Onsen that offer bicycle rentals. To accommodate tourists, there are many different types of bicycles available, so there is sure to be something to fit your needs.
In Conclusion
What did you think?
Other places you can observe wild dolphins in Japan are: Ogasawara Islands, Shimabara (Nagasaki), and Amakusa (Kumamoto). Notojima is the northernmost location within Japan to enjoy wild dolphin watching.
The area is a great area to visit thanks to the assorted activities, delicious seafood, and relaxing hot springs that can be enjoyed at Notojima Island and Wakura Onsen.
Information
Dolphin Smile

Address: Ishikawa, Nanao, Notojima, Sowajiura
Hours: Cafe hours 10:00-17:00
(*Please confirm times for dolphin swimming and other tours when reserving)
Open all year round
Wi-Fi: No
Credit cards: Not accepted
Languages spoken: Japanese
Materials in other languages: None
Nearest station: Wakura Onsen Station
Access: 10 minutes by bus or taxi from Wakura Onsen Station
Rates:  7000 yen for adults, 6000 yen for children (up to elementary school students)
(*These are the rates for dolphin swimming, and include boat and guide fees. Equipment rental fees are separate.)
Special dietary options available: No
Phone: 090-7088-3219
Website: Dolphin Smile

The information presented in this article is based on the time it was written. Note that there may be changes in the merchandise, services, and prices that have occurred after this article was published. Please contact the facility or facilities in this article directly before visiting.