Sip Japanese Kōshū Wine At "Château Mercian" In Kofu
Kōshū wine, produced in Yamanashi prefecture, is a highly appreciated Japanese wine mark. At Chateau Mercian, a winery in Katsunuma, Kofu city, you can taste Kōshū wine and even have a tour through the winery, guided by the staff. The Harvest Festival org
Did you know there is an area in Japan famous for its wine? The "Kōshū wine", produced in the Yamanashi prefecture, is particularly popular.
The climate of Kofu, Yamanashi prefecture, allows for plenty of sunshine and little rainfall, making it an ideal place for growing grapes. That is why it became a center of wine production.
One of Japan's most famous wine brands "Mercian" and its winery "Château Mercian" are located in the Katsunuma area, in Kofu. This brand, started in 1949, won the gold medal in the 57th Annual Vino Ljubljana International Wine Competition. The wine produced in this area is not only famous in Japan, but it also has a good reputation worldwide.
Mercian's more notable wines include "Kōshū Kiiroka", the tart and refreshing white wine that made the Kōshū wine famous, as well as the the full-bodied and complex "Kikyōgahara Merlot." They are all made using grapes grown in Japan.
Get The Japanese Winery Experience At "Château Mercian"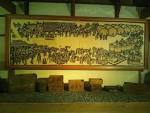 Wine is not all you can find at Château Mercian.
Wine connoisseurs from afar can experience a "Winery Observation" held by the staff. You'll not only learn about how wine is made in Japan, but you will also learn about distilleries and more.
There are 3 different courses. The time, price and contents are different for each course, so choose the one best for you.
Basic Course
Course: Basic Wine-Making and Lecture on How to Enjoy Wine
Time: 60 minutes
Price: 500 yen (tax incl.)
Special Course
Course: Making Château Mercian Wine
Time: 90 minutes
Price: 1,000 yen (tax incl.)
Exclusive Course
Course: Course Focused on Distilling and Tasting Château Mercian Wine
Time: 90 minutes
Price: 2,000 yen (tax incl.)
You can sign up for a course on their website. If you would rather make a reservation by phone, the number is 0553-44-1011.
You can also stop by Japan's oldest wooden distillery at the "Wine Museum" and learn all about the history of wine in Japan.
On the property there is also a cafe, which has a stunning view over the natural scenery of Katsunuma, and a wine shop. You can find a way to enjoy the winery no matter when you visit.
Enjoy the sky, the mountains and the fields of grapes while sipping on genuine Japanese wine.
Visiting The Land of the Rising Sun in Autumn? Don't Miss Château Mercian's Harvest Festival!
Every year around October 10th, Château Mercian holds their Harvest Festival over the course of 3 days. You can enjoy Japan-made wine and food to go along with it for a reasonable price. The Wine Festival also features different events.
First, you will need tickets. You will receive 5 tickets for 500 yen, or you can buy a set of 10 tickets for 1,000 yen, which also includes a free glass of wine. Buy 2 tickets to get wine glasses you can take home, then buy the appropriate amount of tickets to exchange for wine (the amount per glass changes depending on the wine).
Would You Like Some Cheese With That Wine?
Buying tickets also allows you access into the popular "World Tapas Corner." The menu changes annually, but this year they had filling items like steak tips and pizza. One of Kofu's famous dishes, torimotsuni (鳥もつ煮), goes perfectly with red wine. It's made with chicken, soy sauce and sugar, which are fried together.
The festival also includes wine seminars (extra charge), grape-picking and live music concerts.
How to Get to Katsunuma in Kofu, the Home of Château Mercian
To get to Katsunuma, we recommend going by train.
If you're coming from Shinjuku in Tokyo, you can hop on the Chūō Special Rapid train and get to JR Katsunuma Budōkyō Station in about 2 hours. If you want to get there a little faster, hop on the Kaiji or Azusa Express trains. They'll get you there about 30 minutes faster.
Whenever using a special rapid or rapid train, note that transfer points and times change depending on the day of the week and time of the year. On a weekday, you'll have to get off at Otsuki Station and switch to a local train, but during peak seasons, you'll be able to get there via a temporary express train.
There's also a special train called the Holiday Rapid View Yamanashi. It only makes one roundtrip per day on Saturdays and holidays. You can ride this two-story train without paying the express price; you just need good timing!
The winery is 8 minutes by taxi from JR Katsunuma Budōkyō Station.
Read also:
Tailor-Made Holidays in Japan with Japan Rail Pass
Buying Paper Tickets with Suica
Information
Château Mercian

Address: Yamanashi, Kofu, Katsunuma-chō Shimoiwasaki 1425-1
Business hours: 9:30 - 16:30
Closed: Tuesdays and New Year's Holidays
Wi-Fi: N/A
Credit cards accepted: N/A
Languages offered: N/A
Nearest station: JR Katsunuma Budōkyō Station JR勝沼ぶどう郷駅
Access: 8 minutes by taxi from JR Katsunuma Budōkyō Station
(On days with special events) 10 minutes by free shuttle bus from JR Katsunuma Budōkyō Station
Price range: Winery Observation (500 yen, 1000 yen, 2000 yen)
Phone: +81-0553-44-1011
Official website: Château Mercian (Japanese only)

The information presented in this article is based on the time it was written. Note that there may be changes in the merchandise, services, and prices that have occurred after this article was published. Please contact the facility or facilities in this article directly before visiting.