IRORI Nihonbashi Hostel And Kitchen – The Guesthouse With An Irori
Have you ever seen an irori in person before? Would you like to experience the fun of one in person? Then come stay at Irori Nihonbashi Hostel and Kitchen!
This might be a strange question, but have you ever seen a Japanese traditional fireplace, an irori before? Even among those born and raised in Japan there are few people who have seen an irori before in person. The irori is a type of sunken hearth (a place in the house where fire is kept burning) that used to be built in Japanese houses. A square was cut in the floor and its base was covered with a layer of ashes, so that people could burn wood in it. The fire was sustained constantly and it was used for cooking or for keeping the room warm.
Even though the irori used to have these functions - cooking and heating - we don't get many chances to see this wonderful piece of Japanese culture nowadays....
However, rest at ease, because in a hostel from the Bakurochō area of Nihonbashi there is an irori, around which all the guests can gather at night and chat. It is also open for people who don't stay at the hostel. All they need to do is order one drink or snacks.
"IRORI Nihonbashi Hostel and Kitchen" is the name of that hostel and we will introduce it in this article.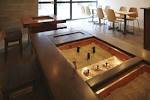 Concept
The concept of "IRORI" is to create a place where people who come to Japan from all around the world would surround an irori and communicate with each other, while enjoying their trip to Japan and Japanese food. Also, hostel guests are invited to experience directly the charm of Japanese local culture by knowing where the sofas and tables used in "IRORI" originate from. For this purpose, there is a blackboard behind the reception desk showing all the information related to the furniture.
By trying to find out more about the place where the furniture was produced, the guests would enjoy their conversation. With this as an incentive, tourists might decide their next travel destination and this is exactly what "IRORI" intends - to connect people, cultures and places.
As Nihonbashi used to be a hub connecting Tokyo with Japan's other regions in the past, this hostel aims to serve as a base connecting travelers with the regions of Japan.
Lighting that has warmth, different on each floor
As we already explained, the concept is to show the charm of local craft products, that is why on each floor there are different lightings installed in front of elevators.
A space where both travelers and locals can relax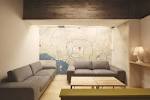 The space within the hostel where an antique map of Tokyo is displayed is where travelers and locals gather together and communicate. Guests can relax either here or in the space with the irori, and the fact that it allows various ways to relax is another distinctive feature of "IRORI".
Guests are can use the kitchen to cook for themselves, so they can shop at the nearby supermarket and enjoy cooking their favorite dish while talking with other fellow travelers.
Lodging Space
There are two types of lodging space - the one with 2-deck beds and the semi-double type. Accommodation for one night in the mixed dormitory costs 3000 yen (tax included), while accommodation in the female dormitory is 3300 yen(tax included) per night. The semi-double bed dormitory costs 3500 yen (tax included) per night.
※ There is a limited-time promotional price of 2500 yen for the mixed dormitory and of 2800 yen for the female dormitory until December 18th,2015.
Long curtains are used to separate beds in order for the guests to enjoy their privacy. The color of the curtains is a special dye by craftsmen from Kanda area, so please be sure to check it out when you stay here. Also, Japanese cypress is used in many parts of the building, and the aroma of cypress wood is another distinctive feature of this hostel.
In conclusion
How does it sound then?
As it is located in Bakurochō, Nihonbashi, the hostel can be easily reached from both Haneda and Narita airports. Moreover, Bakurochō has been for a long time a renowned wholesale area. The shops open their business early in morning, but after seven in the evening the area becomes really quiet, as the merchants close their shops and go home. The noise of the cars also quiets down, and the area becomes very calm, a rare thing in a metropolis like Tokyo.
When looking for accommodation in Tokyo, please consider staying at "IRORI Nihonbashi Hostel and Kitchen", where you can experience the irori - a precious item of Japanese culture, and you can communicate with other guests of the hostel while gathered around the irori!
Information
IRORI Nihonbashi Hostel and Kitchen
Address: Tokyo, Chūō-ku, Nihonbashi Yokoyamachō 5-13
Opening Hours: 7:00am - 11:00pm
Holiday: -
Wi-Fi: Yes
Credit cards: -
Other languages: English
Menu in other languages: Yes
Most accessible station: JR Sōbu line, Bakurochō Station (馬喰町)
Access: a 2 minutes walk from Bakurochō Station of JR Sōbu line/3 minutes walk from Bakuro Yokoyama Station of Toei Shinjuku line/3 minutes walk from Higashi Nihonbashi Station of Toei Asakusa Line.
Price Range: 3,000 - 3,500 yen
Religion: -
TEL: +81-3-3490-9611
HP: IRORI Nihonbashi Hostel and Kitchen

The information presented in this article is based on the time it was written. Note that there may be changes in the merchandise, services, and prices that have occurred after this article was published. Please contact the facility or facilities in this article directly before visiting.