Hotel Villa Fontaine Ueno - Great Service, Great Price!
Finding it difficult to choose the right hotel in Tokyo? This article introduces you to the very reasonable and very hospitable Hotel Villa Fontaine Ueno.
There are thousands of hotels in Tokyo, so how do you choose the right one for you?
There are various criteria that help you choose, such as price, service, the access to tourist destinations etc. - the methods are endless! This time we will introduce you to Hotel Villa Fontaine Ueno, where one of the main selling points is the high quality service they offer.
The closest station to Hotel Villa Fontaine Ueno is Shin-Okachimachi Station. The hotel is located a mere 5 to 10 minutes walk from the station. This lodging facility is also within walking distance from Ueno Station, so it is convenient for those who want to access Tokyo's main tourist attractions.
Just walk inside the hotel, and you will soon notice a whole host of eager travellers waiting at this high-class reception area. Notice the pictures adorning the walls, the lights, and the overall color scheme - you can just feel a strong sense of warmth permeating the building!
You will be greeted at the reception by the welcoming smiles of the diligent staff members. English speaking staff members are stationed here, so you do not need to worry if you are not fluent in the Japanese language.
The Perfect Room for Families and Couples!
This is one of the hotel's twin rooms. This room is spotless, with a relaxed atmosphere. It is highly recommended for female travellers journeying together, and as a family lodging.
There is also a kitchen and a TV, so you will be able to live in comfort. It is a perfect room for those who want to stay that bit longer!
This is an economy twin room. The space around the bed is narrower than in the twin room, and there is also no kitchen. Nevertheless, you will still be able to have a very  comfortable stay here!
In every room you will find guide books available in various languages: English, Chinese (traditional and simplified), and Korean. Such care and thought put in every detail just shows how much this hotel cares for its overseas guests!
Photo courtesy of Hotel Villa Fontaine Ueno
This room goes by the name of "Fine View". As the name suggests, the room promises stunning views of the city. You can even get an up-close and personal view of the Tokyo Skytree from the window!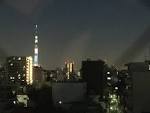 Photos courtesy of Hotel Villa Fontaine Ueno
The Tokyo Skytree is a must-see night spot - especially when it's so beautifully lit up! The Fine View rooms are all equipped with a double bed. If you are planning to lodge here as a married or unmarried couple, you will no doubt make some unforgettable memories.
Witness the "Real" Japan, and Fall in Love with Japan Itself
Hotel Villa Fontaine's biggest selling point is it's location. Usually, hotels aimed at holiday-makers are located in the center of touristic spots, making it difficult for lodgers to experience the everyday lives of the people in Japan.
However, as well as having easy access to important sightseeing spots, Hotel Villa Fontaine Ueno is located within Tokyo's living quarters. For this reason, just by wandering about near the hotel, you will be able to get a feeling of life in Japan, and experience the unique culture with your own eyes.
Hotel Villa Fontaine Ueno is reasonably priced and offers top-notch service. For those who want to experience Japan, why not book your stay here?
Information
Hotel Villa Fontaine ヴィラフォンテーヌ上野

Address: Tokyo, Taitō-ku, Kojima 2-4-4
Check-in: 15:00
Check-out: 11:00
Wi-Fi: Available
Credit Cards: The following credit cards are accepted - VISA, JCB, American Express, Diner's Club, Master Card, Rakuten Card (楽天カード)
Language Support: English
Information Provided in other Languages: None
Nearest Station: Okachimachi Station 御徒町駅 (JR Line), Shin-Okachimachi Station 新御徒町駅 (Toei Ōedo Line)
Access: A 10 Minute walk from Okachimachi Stations's North Exit, or a 5 minute walk from Shin-Okachimachi Station's A2 Exit
Price: Cost of the various room types change in accordance with the season.
Religious Information: -
Telephone: +81-03-5833-5550
Official Homepage: Hotel Villa Fontaine

The information presented in this article is based on the time it was written. Note that there may be changes in the merchandise, services, and prices that have occurred after this article was published. Please contact the facility or facilities in this article directly before visiting.