A Map of Roppongi For Emergencies
Tourists can run into trouble during their travels in Japan. We list some facilities in Roppongi that can aid you in times of need.
Being prepared is imperative to a good traveling experience. The possibility of sudden illness or injury, lost items and natural disasters is always present.
However, it can be difficult to locate police stations and hospitals when you are traveling, particularly in places where you have never been before. This time around, we have gathered information on public washrooms, police boxes, hospitals, and evacuation sites in the Roppongi area.
Details on each facility are located at the end of the article.
Nearby Public Restrooms
The area around the Roppongi station has several public restrooms, and among them are some Western-style toilets that are especially accessible to those with children or in a wheelchair.
The Kuwata Memorial Childrens' Amusement Park
Located 7 minutes from the Roppongi Station on the Oedo Line, this park has great facilities, including toilets designed for children.
Hinokicho Park Public Washrooms
Just 5 minutes from the Roppongi Station of the Oedo Line, it is located to the East of Tokyo midtown.
Evacuation Areas for Natural Disasters
It is recommended that you take cover at the designated evacuation areas when natural disasters, such as earthquakes, strike while you are in Japan.
However, there are times when it is safer to abide by the instructions of the store staff or the locals in the area. Remain calm, check your surroundings, and then head to the nearest evacuation site.
Evacuation Districts
The area encompassing Roppongi Hills, Keyakizaka and TV Asahi is designated by the city as a section where the buildings are especially resistant to fire and earthquakes, making them comparatively more secure than the surrounding evacuation sites. If you are already in the area, there is no need for evacuation. Just stay where you are and pay careful attention to your surroundings.
The Aoyama Cemetery Area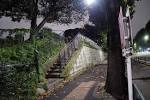 Address: Tokyo Minami-Aoyama 2-32-2(Aoyama Park)
If you find yourself to the north of Roppongi-dori, the Aoyama Cemetary is the nearest evacuation site. When evacuating from Roppongi, head to Aoyama Park, which also serves as a water supply station.
Emergency Response/Foreign Language Hospitals
Although a little far from the Roppongi Station, we will introduce some hospitals capable of dealing with emergency patients and clinics offering services in multiple languages.
The Tokyo Metropolitan Hiro-o Hospital
It comprises internal medicine, surgical departments and orthopedics departments, as well as dermatology, ophthalmology, dental and oral surgery departments, it can deal with any sort of trouble you might encounter on your journey. For normal check-ups you need to call and make a reservation a day beforehand (call +81(0)3-3446-8331 for reservations), but it is open for emergency admissions 24 hours a day, 365 days a year. You will have to call beforehand in the case of an emergency as well (call +81(0)3-3444-1181, extension 2406 for emergencies). Well-equipped in dealing with tourists, credit cards are accepted and they have medical staff that can speak both English and Chinese.
Ryu Internal Medicine & Orthopedics
With both internal medicine and orthopedics, this hospital has staff versed in English, Chinese and Korean.
Services to Note
If you want to use a different hospital than those listed here, or need any other kind of medical support, call the Tokyo Metropolitan Medical Institution Information Center.
Tokyo Metropolitan Medical Institution Information Center
Phone number: +81-3-03-5385-8181
Hours: 9:00am-8:00pm
Language: English, Chinese, Korean, Thai, and Spanish
Should you find yourself in a situation where you are unable to effectively explain your symptoms at a hospital or pharmacy, emergency translation services are available. Just call the number, explain your symptoms, and the worker on the other end will translate them for you.
Emergency Translation Services
Phone number: +81-3-03-5285-8185
Hours: Weekdays from 5:00pm to 8:00pm / Weekends and Holidays from 9:00am to 8:00pm
Language: English, Chinese, Korean, Thai, Spanish
Find the Nearest Police Box Should You Run Into Trouble
There is a police station right next to the Roppongi Station. Should you lose your passport or get caught up in some serious trouble, they can help you.
The Azabu Police Station
This police station is right next to the Roppongi Station.
There are also small branches where police are stationed throughout town, known as police boxes (交番: koban). If you have lost something, lost your way or gotten yourself into a fight, head to the nearest police box.
The Roppongi 6-Chome Police Box
This police box is on the corner of Roppongi Hills.  It is among the Armani and Louis Vuitton stores on Keyakizaka.
Smoking Areas
In Minato-ku where Roppongi is located, smoking in public places is banned; you can only smoke in designated areas. Find a designated smoking area nearest to you. The map below shows two that are available in the area.
Information
Hinokicho Park Washrooms
Address: Tokyo-to, Minato-ku, Akasaka 9-7-9
Hours: open 24 hours a day
Closed: Open 365 days a year
Wi-Fi:-
Credit Cards: -
Language: -
Menus Available in: -
Station: Roppongi Station on the Oedo Line
Access: a 5-minute walk from the Roppongi Station of the Oedo Line or a 6-minute walk from the Roppongi Station of the Hibiya Line
Price Range: Free
Religion: -
Phone Number: -
Official Website: -
Kuwata Memorial Childrens' Amusement Park Washrooms
Address: Tokyo-to, Minato-ku, Akasaka 9-3-21
Hours: Open 24 hours a day
Closed: Open 365 days a year
Wi-Fi: -
Credit Cards: -
Languages: -
Menus Available in: -
Station: Nogizaka Station of the Chiyoda Line
Access: a 3-minute walk from the Nogizaka Station of the Chiyoda Line, or an 8-minute walk from the Roppongi Station of the Hibiya Line
Price Range: Free
Religion: -
Phone number: +81-3-03-5413-7015
Official Homepage: -
Tokyo Metropolitan Hiro-o Hospital
Address: Tokyo-to, Shibuya-ku, Ebisu 2-34-10
Hours: 9:00am-5:00pm on weekdays / 9:00am-12:00pm on weekends and holidays
Closed: Sundays, Holidays *open for emergencies 24 hours a day
Wi-Fi: -
Credit Cards: VISA, Mastercard, JCB, AMERICAN EXPRESS, DinersClub, NICOS, UFJcard, DISCOVER
Languages: English, Chinese
Menus Available in: -
Station: Hiro-o Station of the Hibiya Line
Access: a 7-minute walk from the Hiro-o Station of the Hibiya Line
Price Range: Depends on the nature of the consultation
Religion: -
Phone Number: +81-3-03-3444-1181
Official Homepage: Tokyo Metropolitan Hiro-o Hospital
Ryu Internal Medicine and Orthopedics
Address: Tokyo-to, Minato-ku, Minami Azabu 2-2-13 Aso Hi-plaza 205
Hours: 9:30am-1:00pm and 2:30pm-7:00pm from Monday to Friday, 9:00am-1:00pm on Saturdays
Closed on: Sundays and Holidays
Wi-Fi: -
Credit Cards: -
Languages: English, Chinese, Korean
Menus Available in: -
Station:  the Azabu Juban Station of the Nanbou Line and Oedo Line
Access: a 5-minute walk from the Azabu Juban Station
Price Range: Dependent on the contents of the consultation
Religion: -
Phone Number: +81-3-03-5476-5489
Official Homepage: -
Azabu Police Station
Address: Tokyo-to, Minato-ku, Roppongi 6-2-37
Hours: 24 hours a day
Closed: open 365 days a year
Wi-Fi: -
Credit Cards: -
Languages: -
Menus Available in: -
Station: the Roppongi Station of the Hibiya Line
Access: 30 seconds from the 1a exit of the Roppongi Station of the Hibiya Line, or a two minute walk from exit 3 of the Roppongi Station of the Oedo Line
Price Range: Free
Religion: -
Phone Number: +81-3-03-3479-0110
Official Homepage: Azabu Police Station (Japanese)
Roppongi 6-chome Police Box
Address: Tokyo-to, Minato-ku, Roppongi 6-10-3
Hours: Open 24 hours a day
Closed: open 265 days a year
Wi-Fi: -
Credit Cards: -
Languages: -
Menus Available in: -
Station: the Roppongi Station of the Hibiya Line
Access: a 4-minute walk from the Roppongi Station of the Hibiya Line, or a 7-minute walk from the Roppongi Station of the Oedo Line
Price Range: Free
Religion: -
Phone Number: +81-3-03-3479-0110 (Azabu Police Station)
Official Homepage: -