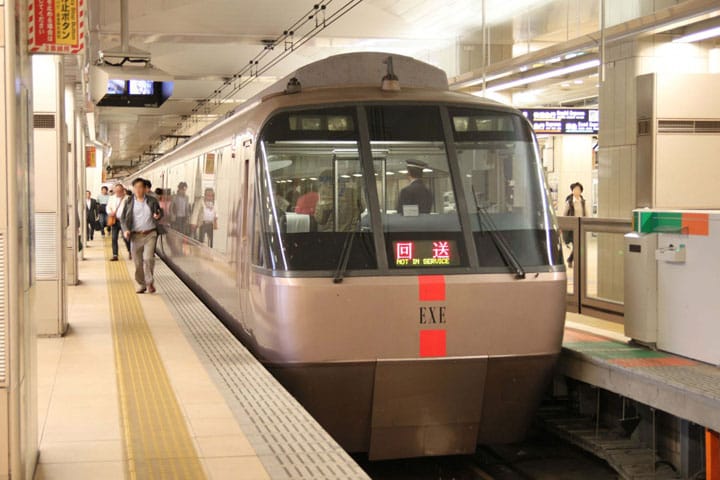 3 Easy Ways To Get From Shinjuku To Hakone
Hakone is a popular tourist destination with its rich nature, hot springs and great accessibility from Tokyo. Find out 3 simple methods to travel to Hakone via train or bus from Shinjuku.
Hakone is a popular tourist destination even with visitors to Japan, ideal for day trips and weekend vacations from Tokyo and major cities. We've made a list of three ways to get from Shinjuku to Hakone, with its famous views of Mt. Fuji, luxurious hot springs and nature, museums, shrines, and a charming mountain railway.
Traveling by Romancecar
The "Limited Express Romancer Super Hakone" is a limited express train in which you can go straight to Hakone without transferring. There are various facilities such as cafe corners and spacious bathrooms to make your trip all the more relaxing. It takes 85 minutes from Shinjuku to Hakone-Yumoto station for 2,080 yen (1,190 yen fare plus an 890-yen limited express fare).
Where Do I Buy Train Tickets?
Since the Romancecar is a reservation-only limited express train, you will need a limited express ticket in addition to the regular ticket. You can buy tickets on that day at the counter within the station, but you can also reserve and purchase them on the internet as well as by telephone (+81-3-3481-0066: By pressing "1" during guidance, you can get support from an operator in English and Chinese).
In addition, you can also buy limited express tickets at the station's ticket machines. The ticket machines support English in addition to Japanese.
Since the Romancecar seats may be full for purchase on the day of travel during the peak season, you should reserve early for guaranteed seats and secure for yourself seats with a nice view (you cannot choose seats with the automated telephone service). On the other hand, tickets will be sold on that day at the counter and ticket machines.
Where Do I Get On?
Take the Romancer from the platform of Shinjuku Station on the Odakyu Line. Go through the gates, look at the electronic display, and confirm which platform your train arrives at (there are numbers such as Super Hakone No. 9 and No. 13, so check your purchased limited express ticket carefully).
Note that Romancecars have several variations in addition to the aforementioned ones.
How to Go by Local Trains
First, get on the Odakyu Line express train or rapid express (towards Odawara) and head towards Odawara Station (about 90 to 95 minutes).
Then change to Odakyu's Hakone Tozan Line and ride for about 15 minutes till Hakone-Yumoto station. It will cost 1,190 yen in total.
Where Do I Buy Train Tickets?
Go to the ticket booth at Odakyu Line's Shinjuku Station. You can make your purchases at the counter or ticket machine.
Where Do I Get On?
Go to the Odakyu Line Shinjuku Station platform. The rapid express and express trains arrive at platforms 4 and 5. Check your platform by looking at the electronic board.
How to Go by Highway Bus
The comfortable bus is outfitted with a toilet, transporting you to Hakone directly. While approaching Hakone, you can get a grandiose view of Mt. Fuji. You can get off at Hakone's tourist spots, hotels, and it will cost you around 2,000 yen and two hours in total, depending on where you alight (For instance, going to the final station Hakone Odakyu Mountain Hotel will take you roughly 135 minutes and 2,210 yen).
Where Do I Buy Bus Tickets?
They can be bought directly at the Odakyu highway bus information center; the Odakyu highway bus information center is located on the first floor of HALC on the west exit of Shinjuku Station. Although they are open from 7:00 to 22:30, tickets bought after 21:00 are only eligible for that day.
Reserve by Phone
You can reserve in English, Chinese and Korean at the Odakyu Hakone highway bus telephone reservation center (+81-3-5321-7887, open from 8:00 to 18:00).
Where do I Get On?
Get on from the Shinjuku Station west exit No. 35 bus stop in front of Odakyu HALC, a department store on the north side of Shinjuku west exit. It is situated right in front of the Odakyu highway bus information center. The west exit is underground, so upon reaching ground level, go right and cross the street where the rotary ends to get to Odakyu HALC. The No. 35 bus stop is right by the B17 exit of the subway. If you get lost in the subway, you should ask a station attendant for directions, and head for the B17 exit.
Information
Odakyu Line Shinjuku Station (小田急線新宿駅)
Address: 1-1-3 Nishi-Shinjuku, Shinjuku-ku Tokyo
Hours: From the first train to the last train
Wi-Fi: Free Wi-Fi available
Credit cards: Able to be used for purchasing limited express tickets and commuter passes (OP, VISA, Master, JCB, AMERICAN EXPRESS, DinersClub)
Station: Odakyu Line Shinjuku Station
Price: Depends on the ticket
Phone number: +81-3-3481-066 (Odakyu customer center, open from 10:00am to 6:00pm)
Official website: Odakyu Railway (English)
Odakyu highway bus information center (小田急高速バス案内所)
Address: 1-5-1 Shinjuku west exit HALC 1F Nishi-Shinjuku, Shinjuku-ku Tokyo
Hours: 7:00 - 22:30 (telephone reservation center, open from 10:00 - 19:00)
Credit card: not accepted
Station: JR Shinjuku Station
Access: Go to 1F of Odakyu HALC on the north side of Shinjuku Station west exit
Price: depends on the ticket
Phone number: +81-3-3427-3160
Official website: Odakyu Hakone Highway Bus