4 Ways To Get From Tokyo's Shinjuku Station To Hakone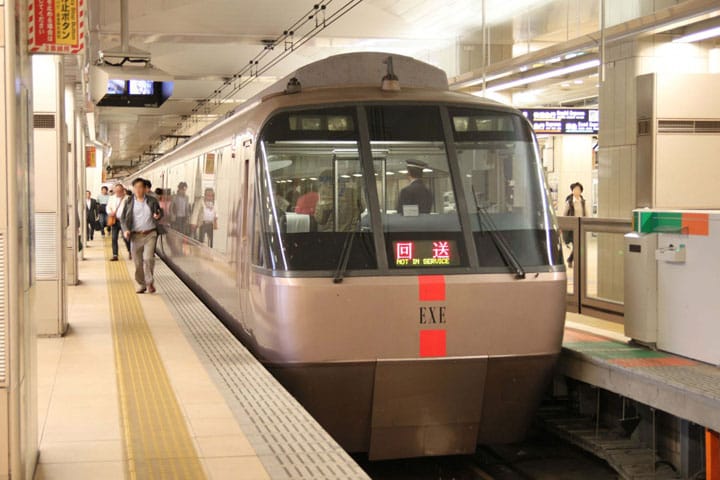 Hakone is one of the best travel destinations near Tokyo, famous for its rich nature, excellent art museums, and hot springs. We introduce the best four ways to travel by train and bus from Tokyo and Shinjuku Station to Hakone, including ticket prices and ride times.
Getting to Hakone - Best Routes from Shinjuku Station
Hakone is one of the most famous places to visit in Japan. Its stunning nature, views of Mt. Fuji, shrines, hot springs, and excellent art museums make it ideal for day trips and weekend getaways from Tokyo and major cities in Japan.
We introduce the best four ways to travel from Tokyo's Shinjuku Station to Hakone. Compare them in terms of time and price and choose the one that best fits your travel plans.
If you plan to visit Hakone, consider using the convenient Hakone Freepass. This ticket allows unlimited train and bus rides in the Hakone area for two consecutive days.
1. Traveling to Hakone by Romancecar
The Limited Express Romancer Super Hakone is a limited express train that connects Tokyo to Hakone. Passengers don't need to do any transfers along the way.
The train is very comfortable, offering a cafe corner and spacious bathrooms. Passengers can buy snacks and drinks and enjoy a relaxing trip.
The ride by Romancecar from Shinjuku to Hakone-Yumoto Station takes about 85 minutes. The total adult fare one-way is 2,330 yen.
Where to Buy Romancecar Tickets
The Romancecar is a reservation-only limited express train so you will need to buy a limited express ticket in addition to the regular ticket. You can buy tickets on the same day at the counter within the station, but you can also reserve and purchase them online using the Odakyu reservation page.
Tickets can also be reserved by telephone (+81-3-3481-0066; by pressing "1" during guidance, you can get support from an operator in English and Chinese).
Limited express tickets can also be purchased from the ticket machines within the station. The ticket machines offer support in English and other languages.
During peak season, the seats on the Romancecar tend to go sold out so please make sure to reserve your seat in advance, especially if you wish to get a seat with a nice view.
*Please note that seats cannot be selected if you make your reservation by telephone.
Getting on the Romancecar
To get on the Romancecar, you'll be using the Odakyu Line platform within Shinjuku Station. Go through the gates, check the electronic display, and confirm the number of the platform your train departs from.
The trains have names such as Super Hakone No. 9 or No. 13, so please check the name of the train on your ticket.
Please note that each Romancecar has particular features and functions in addition to the aforementioned ones.
2. Traveling to Hakone by Shinkansen
To use the Shinkansen to get to Hakone, you will use the Sanyo/Tokaido Shinkansen. Board a Hikari or Kodama train and get off at Odawara after approximately 35 minutes. From Odawara, it is recommended to take either a local train or bus to get to the main Hakone area.
Shinkansen and Transportation Discounts Between Tokyo-Hakone! JR Flex Rail Ticket
For those leaving from Tokyo, another suggested option is booking a roundtrip Shinkansen ticket with Veltra. The ticket includes a discounted price on a roundtrip between Tokyo and Hakone, useable within a 7-day period. It also comes with the Izu-Hakone Bus 2-Day Bus Pass, essential for navigating around the Hakone area, to places like the famous Hakone Open-Air Museum, Odawara Castle, and Gora Park.
See details on the Tokyo-Hakone ticket
3. Traveling to Hakone by Local Trains
It is possible to travel from Shinjuku to Hakone using the local trains (trains that are not limited express). While it takes slightly longer to reach the destination, you get to travel for a slightly cheaper fare.
First, get on an express train or rapid express of the Odakyu Line heading to Odawara Station. The ride takes about 90 to 95 minutes.
Next, change trains to the Odakyu's Hakone Tozan Line and ride for about 15 minutes until you reach Hakone-Yumoto Station. The ride from Shinjuku to Hakone costs 1,220 yen in total.
Where to Buy Train Tickets
Go to the entrance to the Odakyu Line inside Shinjuku Station (*This station is the terminal of several railway networks so make sure you are at the Odakyu booth).
You can purchase your ticket at the counter or using the ticket machine.
Getting on Local Trains
Go to the Odakyu Line platforms in Shinjuku Station. The rapid express and express trains arrive at platforms 4 and 5. Be sure to check your platform by looking at the electronic information board.
4. Traveling to Hakone by Highway Bus
Highway buses are comfortable and provided with a toilet, allowing passengers to reach Hakone directly with no transfers. While approaching Hakone, you'll get a magnificent view of Mt. Fuji.
The bus stops at famous places in Hakone and hotels so you can choose where you get off. The ride costs around 2,000 yen taking two hours in total, depending on where you get off. For instance, going to the Hakone Odakyu Yamano Hotel Terminal will take about 135 minutes and cost 2,210 yen).
The Hakone Freepass can be used on the highway bus within a specified area.
Where to Buy Bus Tickets
Tickets can be purchased directly from the Odakyu Highway Bus Information Center, which is located on the first floor of HALC at Shinjuku Station's West Exit. The center operates from 7:00 to 22:30. Please be aware that tickets bought after 21:00 are valid only for the same day (the day of purchase).
Ticket Reservations by Telephone
Highway bus tickets can be reserved in English, Chinese and Korean by telephone by contacting the Odakyu Hakone Highway Bus Telephone Reservation Center (+81-3-5321-7887, open from 8:00 to 18:00).
Getting On the Highway Bus for Hakone
Get on from the Shinjuku Station West Exit bus stop No. 35 located in front of Odakyu HALC, a department store on the northern side of Shinjuku Station's West Exit. The platform is situated right in front of the Odakyu Highway Bus Information Center.
Shinjuku Station's West Exit is located underground. Upon reaching ground level, go right and cross the street where the rotary ends to get to Odakyu HALC. Bus stop no. 35 is right by the B17 exit of the subway station. If you get lost in the subway, ask a station attendant for directions, and head for the B17 exit.

The information presented in this article is based on the time it was written. Note that there may be changes in the merchandise, services, and prices that have occurred after this article was published. Please contact the facility or facilities in this article directly before visiting.