[Ishikawa Gourmet] Locals love it too! 5 super local sushi restaurants in Kanazawa
This service includes sponsored advertisements.
Kanazawa is known as a gourmet town where you can enjoy fresh seafood and traditional Japanese cuisine. Among them, sushi is a must-try gourmet dish in Kanazawa! This time, we will introduce five recommended sushi restaurants in Kanazawa that are highly supported by locals, such as Kaorin Sushi, Maw...
A base for sightseeing in Kanazawa and surrounding areas! Hotel "LINNAS Kanazawa"
When sightseeing in Kanazawa, we recommend staying at the easily accessible lifestyle hotel " LINNAS Kanazawa "!
If you would like to know more about LINNAS Kanazawa, please refer to the article below.
* [Accommodation in Kanazawa] Hotel "LINNAS Kanazawa" where you can choose from 10 room types, 2 minutes walk from Omicho Market!
1 [Mawaru Sushi Ponta] Fresh and low price!
A local conveyor belt sushi restaurant in Kanazawa. Located across from the Central Wholesale Market, you can enjoy fresh sushi at low prices.
There is also a set menu that you can eat for 800 yen, which is a great deal! Although it is called conveyor belt sushi, it is very delicious because the sushi is made after ordering.
What's more, you can get ``Arajiru'' for free here. Free refills with self-service. The soup stock from the shrimp and fish is very flavorful and very satisfying!
Although it's far from the center of town, it's definitely worth the trip. You can get there in about 20 to 30 minutes by bus from the city center.
2 [Hachiro Sushi] A long-established restaurant that has continued for 3 generations
A sushi restaurant along the Asano River that has been run for three generations. It is near Higashi Chaya District. It has the atmosphere of a small, old-fashioned sushi restaurant. The third-generation young chef makes the sushi while having a friendly conversation, so you can enjoy the experience in a relaxed manner. Many local nigiri from Ishikawa Prefecture, such as Noto, will also be featured. All of them are of high quality and exquisite.
At night, the cost is around 10,000 to 15,000 yen per person, including alcohol. There are some lunch courses that cost around 4,000 yen, so choose according to your budget.
3 [Takasakiya Sushi] A hidden gem that only locals know about
A sushi restaurant tucked away in the middle of town. This is a little-known restaurant that not many tourists know about. One serving of nigiri for lunch is 950 yen for 10 pieces, which is a good deal and comes with miso soup. You can easily eat authentic and delicious sushi.
The sushi rice is plump and large, making it very filling. The owner was very friendly and even adjusted the amount of wasabi when I went there!
4 [Daikuni Sushi] Enjoy high quality toppings at a reasonable price!
The name of the restaurant is pronounced "Daikuni Sushi." This is a long-established sushi restaurant located near Omicho Market. The menu is the same for both lunch and dinner, only the recommended course (3,630 yen including tax). Since we use the most delicious seasonal fish, the contents change depending on the season. You can enjoy 13 different types of nigiri, which come in two pieces at a time, and the final roll!
When I went there in winter, I was impressed to see that the recommended courses included high-quality Hokuriku ingredients such as milt, oysters, and yellowtail...! You can enjoy exquisite sushi in a calm atmosphere.
5 [Korin Sushi] Super friendly even to foreign visitors
This is a sushi restaurant that is also conveniently located 1 to 2 minutes from Omicho Market. This is a popular store that attracts many customers from overseas. It's a small restaurant, so reservations are recommended in the evening.
The ``grilled salmon sushi'' is very fatty and melts in your mouth, making it easy for people from other countries to enjoy! With a homely atmosphere, this is the perfect place to casually enjoy some sushi with friends.
Enjoy Kanazawa's exquisite sushi!
There are some high-priced sushi restaurants in Kanazawa, which are of course delicious, but they can also be so crowded that it's difficult to make a reservation. The sushi restaurants we introduced this time have good taste and atmosphere, and anyone can easily make a reservation or go eat there.
When you visit Kanazawa, we hope you can spend an unforgettable "delicious time" at this wonderful sushi restaurant that has been loved by locals for a long time!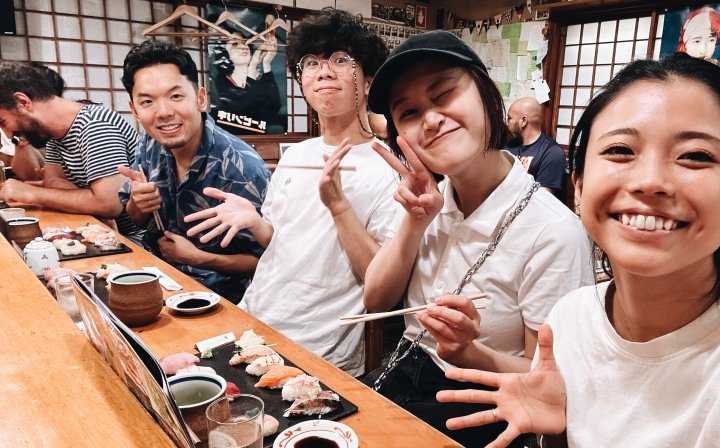 Hotel ``LINNAS Kanazawa'' is your base for sightseeing in Kanazawa.
If you want to visit Kanazawa's popular tourist spots and the restaurants introduced this time, we recommend the lifestyle hotel " LINNAS Kanazawa "! It's in a great location, 4 minutes walk from Kanazawa Castle Park and 2 minutes walk from Omicho Ichiba, making it the perfect base for your trip.
There is also a spacious shared kitchen and a private sauna that can be reserved, so you can not only sightsee but also enjoy your trip as if you were living in Kanazawa.
▶︎▶︎LINNAS Kanazawa official website: https://www.linnashotels.com/
Written by
We are a community development company that creates and produces local HUBs. Based on hotel management, we will provide a comfortable and rich daily life = "The And Place"where people outside and inside the city connect beyond the boundaries. In Kanazawa, we operate a lifestyle hotel, LINNAS Kanazawa. The local hotel staff are experts in traveling to Kanazawa! We will dig deep into the charm of the region and introduce you to popular tourist spots and hidden famous shops that even the locals don't know about.

The information presented in this article is based on the time it was written. Note that there may be changes in the merchandise, services, and prices that have occurred after this article was published. Please contact the facility or facilities in this article directly before visiting. Some of our articles contain affiliate links. We kindly ask our readers to exercise careful judgement when making a purchase or booking a service online.

The contents on this page may partially contain automatic translation.