Ghosts And Zombie School Uniforms!? Celebrate Halloween In Japan!
Halloween has only gained in popularity in Japan in recent years - but there is a definite Japanese twist on this holiday you just have to see!
"Trick or treat!" On October 31st, Halloween is celebrated around the world, especially in the United Kingdom, where it originated, and in North America. However, it wasn't until around 2006 that Halloween's popularity in Japan started taking off.
Japan does Halloween a little differently from its hubs of England and North America. Let's take a look at how Halloween developed in Japan.
Japan's Original Halloween
In the West, one of the most important parts of Halloween is to go trick or treating - that is, to get dressed up in a costume and to go door to door in their neighborhood to collect candy, or donations for UNICEF.
But in Japan, the costumes are the main focus. The part about getting candy from your neighbors didn't quite make it over here. In Japan, Halloween is more popular with teens and young adults, as a day when you can put on costumes and go out.
Beauty salons and nail parlors start offering special Halloween make-up and nail art, and there are even places which will do special effects make-up (like fangs or fake scars and blood) to give your costume that spooky edge.
Take Shibuya's Scramble Crossing for example. It's particularly lively around Halloween. Last year, there were so many costumed revelers packed into the Crossing that you couldn't even make it across the famous intersection!
This video became a hot topic for discussion overseas, and Tokyo became known as the place to be on Halloween.
This is just one of the ways in which Halloween in Japan is developing.
The Biggest Halloween Event in Japan: VAMPS HALLOWEEN PARTY!
Rock unit VAMPS was the first band to organize a large-scale Halloween event in Japan. VAMPS is made up of L'arc-en-Ciel's vocalist HYDE and Oblivion Dust's guitarist K.A.Z. They have been active since 2008, and have been holding this Halloween event annually for just as long.
In 2012, VAMPS also formed HALLOWEEN JUNKY ORCHESTRA and released what became the event's theme song, "HALLOWEEN PARTY." You can hear this song just about anywhere in Japan around Halloween.
VAMPS HALLOWEEN PARTY has been taking place at Makuhari Messe International Exhibition Hall since 2010. 2015's event featured 5 performances that gathered over 60,000 fans.
In 2017, this event will be held at Makuhari Messe International Exhibition Hall 9, 10, and 11 on October 27th, 28th, and 29th. Tickets are 9300 yen including tax, and can be purchased via features numerous guest performers including Yoshiki, Miyavi, MUCC, Golden Bomber, and Momoiro Clover Z.
Along with the performers, fans are also encouraged to wear costumes. We were able to photograph some of the costumes we saw at Makuhari Messe this year (2015).
These are bloody brides. Though a little gory, they still give a rather cute impression.
These are Japanese school uniforms, also known as "sailor fuku," arranged to look like zombies. It's a zombification of Japanese culture!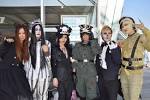 These are even some fans dressed up as members of the HALLOWEEN JUNKY ORCHESTRA. This event is a must for Halloween and Japanese rock music fans!
Come Join the Halloween Fun in Tokyo!
Here are a couple other Halloween events you can enjoy in the Tokyo area.
The first one is of course Halloween in Shibuya. When you mention Halloween in Japan, Shibuya is one of the first places that springs to mind. No matter where you go in Shibuya on October 31st, you're sure to find Halloween. Why not stop by the world's biggest Halloween bash this year?
Another event to note is Kawasaki HALLOWEEN. For the month of October, shops and live venues in Kawasaki city are smothered in Halloween spirit. It also includes events like costume contest and movie marathons. Kawasaki HALLOWEEN is a citywide celebration of epic proportions.
Japan's Halloween on the Rise
It's becoming more and more common to see people out and about in costume around Halloween, which makes it feel like an official holiday in Japan. It's an interesting sight to see for visitors from overseas taking part in Japan's version of Halloween too - and one that anyone visiting Japan at this time to see the fall leaves shouldn't miss out on. Take this once-a-year opportunity to experience how Japan does Halloween for yourself.

The information presented in this article is based on the time it was written. Note that there may be changes in the merchandise, services, and prices that have occurred after this article was published. Please contact the facility or facilities in this article directly before visiting.