Getting to Shinjuku From Shibuya, Ueno, Tokyo, Asakusa and Airports
Getting to Shinjuku From Shibuya, Ueno, Tokyo, Asakusa and Airports
Wondering how you should get to Shinjuku? This article might just come in handy for first-time travelers to Japan.
Shinjuku, the most populated district and its most accessible Shinjuku Station represent the modern aspects of Japan. Many routes include this station but it is so easy to get lost due to its numerous exits. Once you decide your destination, it is wise to check the map in advance to plan out which exit to take.
Shinjuku Central West Exit has an abundance of skyscrapers, with one of them being the Tokyo Metropolitan Government Building where you can enjoy the panoramic view from its famous observation deck. Plenty of mega electronics shops are available here.
Shinjuku South Exit is a newly developed and is comparatively cleaner than other areas. A refined and sophisticated shopping zone can be found here.
Shinjuku East Exit or Central East Exit is known for the gigantic screen outside Studio Alta. Countless restaurants and department stores can be found here; everywhere you look, there will always be people and signboards.
Source:Sleepless Kabuki Cho! (Shinjuku)
Moving towards to the inner side of Shinjuku East exit, you will see the biggest red-light district in Asia, Kabukicho. It feels as if a certain movie scene was shot here.
Shinjuku can show you many different aspects when using different exits, and tourists find this place irresistible. In this article, we introduce some ways to reach Shinjuku from main stations. We also provide taxi fares as comparison; though they are generally more expensive, they can help you out in a pinch.
1. From Haneda Airport to Shinjuku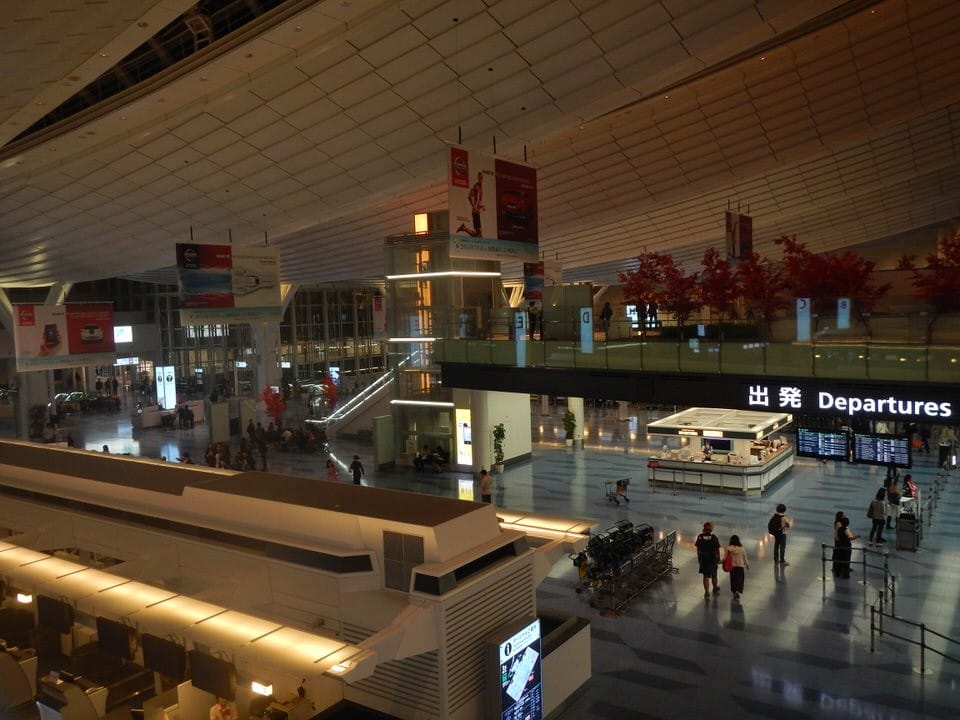 The international terminal has opened and overseas flights have been steadily increasing lately in Haneda Airport. There are many ways to go to Shinjuku but we suggest using the limousine bus, which guarantees a seat and delivers you straight to your destination. The train and monorail are also viable transportation options.
Limousine Bus
Boarding Point: No.5 bus stop for terminals 1 and 2. No.3 bus stop for the International Terminal located on the first floor.
Destination: No.23 bus stop in Shinjuku West
Travel Time: Around 35 - 60 minutes
Fare: Adults 1230 yen, children 620 yen (Adults 2000 yen, children 1000 yen for departures from airport between 12:00am - 4:59am )
Timetable: Airport Limousine Haneda
Note: Purchase tickets from the ticket machine in the arrival lobby before boarding. Reservations cannot be made for buses departing from the airport, but it is possible to purchase tickets for buses departing from Terminals 1 and 2 on their official site.
Official Website: Tokyo Airport Limousine
Train
Route: Keikyu Airport line (Keikyu Kamata-bound), JR Yamanote line (Shibuya or Shinjuku-bound)
Boarding Point: Haneda Airport domestic or international terminal (Keikyu)
Transfer Station: Shinagawa Station
Fare: 601 yen
Timetable: Keikyu Haneda Airport International Terminal, Keikyu Haneda Airport Domestic Terminal
Note: Transfer at Shinagawa station for JR Yamanote outer circle line (Requires around 40 minutes).
Monorail
Route: Tokyo Monorail (Hamamatsucho-bound), JR Yamanote (Shinagawa or Shibuya-bound)
Boarding Point: Haneda Airport Domestic Terminal or International Terminal
Transfer Station: Hamamatsucho Station
Fare: 684 yen (Monorail 490 yen, JR line 194 yen)
Timetable: Haneda Airport International Terminal, Terminal 1, Terminal 2
Note: Transfer at Hamamatsucho station for JR Yamanote outer circle line (Shinagawa or Shibuya-bound, requires about 50 minutes). Travel time is longer than taking the Keikyu line but you can see Tokyo's skyline on the monorail.

The information presented in this article is based on the time it was written. Note that there may be changes in the merchandise, services, and prices that have occurred after this article was published. Please contact the facility or facilities in this article directly before visiting.