Fresh sashimi for lunch at Sakanatei in Shimbashi
Japanese cuisine is all about seafood. We will introduce a restaurant near Shimbashi station where you can get fresh sashimi at a very reasonable price.
Japanese cuisine is an intangible part of Japan's cultural heritage. What do you picture in your mind's eye when you hear "Japanese cuisine"?
Japan is an island country, and Japan's seafood dishes, typified by sushi, are in a class of their own on the world stage.
This article will introduce you to Sakanatei, a restaurant that serves seafood dishes meticulously selected for freshness, located in the business district of Shimbashi.
A Seafood Restaurant Loved by Japanese Businessmen
Shimbashi is just five minutes from the Tsukiji Fish Market by car. At Sakanatei, every day the proprietor personally inspects the catch on sale before purchasing fish for the restaurant. The fish is then prepared the very same day.
At lunchtime, the restaurant is packed with businessmen on their break. To accommodate its busy patrons, Sakanatei aims to serve food as quickly as possible.
For that reason, even though there is always a long line at this popular place, the wait is generally 10 to 15 minutes.
There are ten seats at the counter inside the restaurant. Most regular customers try not to linger after they finish eating, to be considerate to the people waiting. If you decide to visit, take care to be polite and avoid inconveniencing others.
An Unparalleled Texture! Get the Fresh Sashimi Set
Sakanatei has many seafood dishes on its menu, but one of its most popular offerings is the "Extra Large Sashimi Set" (1,000 yen) available at lunchtime.
Sashimi is the centerpiece of the set, which comes with Oshinko (Japanese pickles), miso soup, rice and green tea. The best seafood from the market is used in the miso soup and sashimi, so ingredients will vary by season and market availability.
The sashimi on this day was prepared from a selection of amberjack, tuna, salmon and sea bream. The seaweed behind the amberjack is also edible.
First, pour soy sauce into the saucer. There are soy sauce bottles on the counter.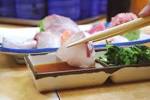 Take the chopsticks and enjoy your sashimi, starting with the amberjack. Dip it in your soy sauce and take a bite. If you can handle wasabi, try putting a small amount on your sashimi before you eat it.
It is advisable to keep the wasabi from coming in contact with the soy sauce, so that both tastes remain distinct.
Since the fish is purchased on the same day it is served, it is exceptionally fresh. When you bite into a thick slice of this high-quality sashimi, you can really feel its crisp, firm texture.
The umami of the fish and its fatty richness will spread across your tongue. Since the fish is typically only seasoned with soy sauce, the delicious taste of the fish really comes through.
Even if you live in Japan, the chance to eat sushi of this caliber does not come around very often.
From Ordering to Leaving the Restaurant
A popular restaurant like Sakanatei gets particularly crowded at lunchtime, so there are some things you should remember when you visit. First, there is no English menu, so you must order in Japanese.
Ask for "sashimi oomori teishoku" to order the sashimi set, for "yakizakana teishoku" to order the grilled fish set, and for "nizakana teishoku" to order the boiled fish set.
The sashimi set is 1,000 yen, while the grilled fish and boiled fish sets are 800 yen. Payment is cash only. Make sure you have cash on hand before you go to Sakanatei.
Your food will be ready soon after you order. Please eat your fill of the delicious seafood.
It is polite at Sakanatei to help clean your space at the counter after you finish eating. Kindly gather up your plates and get the attention of the chef with a "sumimasen (excuse me)," then pass them over the counter. Since the place is small, it is difficult to go outside of the counter and gather up plates. So your cooperation is appreciated.
Pass any bowls over the counter as well. There will be other customers waiting outside, so once you have tidied up, please leave the restaurant in a timely manner.
Let's Go to Sakanatei!
Sakanatei is very close to the JR Shimbashi station. It is a little difficult to find, so we will explain how to get to the restaurant from the Shiodomeguchi exit.
First, go right along the passageway after you exit the ticket gate.
Continue until the end, where there is another passageway to the left that goes diagonally. Turn left here.
A short walk later, you will see the place in this picture. Turn left here.
You will see this entrance. Go inside.
If you continue straight down this passage, you will soon see Sakanatei on your right side. Look for the dark blue "noren" (cloth sign).
This is the entrance. If there are people waiting, line up behind them. If you are lucky and there is an open seat at the counter, duck under the cloth sign and enter the restaurant.
Eat to your heart's content!
Information
Sakanatei
Address: Tokyo-to, Minato-ku, Shimbashi 2-20-15 (Shimbashi Ekimae Building 1 B1F)
Hours: 11:30am to 2:00pm (lunch)
Wi-Fi Access: -
Credit cards: Not accepted
Closed: Sundays, national holidays, the Obon period, and during New Year
Language : -
Menus available in: Only in Japanese
Station: Shimbashi Station on JR or the Toei Asakusa Line
Access:
Two minutes' walk from JR Shimbashi station (via the Shiodome exit)
Two minutes' walk from Shimbashi Station on the Toei Asakusa Line
Two minutes' walk from Shimbashi Station on the New Transit Yurikamome
Five minutes' walk from Shimbashi Station on the Tokyo Metro Ginza Line
Five minutes' walk from Shimbashi Station on the Toei Oedo Line
Price range: Up to 1000 yen for lunch, 4000-5000 yen for dinner
Religion: -
Phone number:+81-3-3574-0215
Official website:-
Published in cooperation with TERIYAKI, a restaurant search application「TERIYAKI」
■About Teriyaki
Price: free / 480 yen a month for paying members
Available through:iTunes Store , Google Play
※Input「TERIYAKI」in the search field。
[iTunes Store]
https://appsto.re/i6gv8tL
[Android]
http://teriyaki.me
[Official Facebook]
https://www.facebook.com/gourmet.teriyaki
[Official Twitter]
https://twitter.com/teriyaki_tweet

The information presented in this article is based on the time it was written. Note that there may be changes in the merchandise, services, and prices that have occurred after this article was published. Please contact the facility or facilities in this article directly before visiting.