Kawaii Monster Cafe, Harajuku - Teatime In A Crazy And Cute Fantasyland
Kawaii Monster Cafe in Harajuku fuses Japanese cute culture with entertainment and food for a very unique experience in Tokyo. Guests can encounter quintessential Harajuku energy in a fun, otherworldly space in this restaurant with colorful rooms and an adorable, rainbow-themed menu.
Kawaii Monster Cafe, Harajuku - Cuteness Meets Creativity
Tokyo's Harajuku is an area responsible for international trends and plays a major role in the world's image of Japan in fashion and culture. The Kawaii Monster Cafe is the ideal destination for visitors wanting to experience this creativity and energy. Offering colorful and adorable food, drink, and decor, this innovative establishment offers one-of-a-kind dining and entertainment experience.
Continue reading to learn more about the Kawaii Monster Cafe, its colorful menu, and what makes it a must-visit spot in Tokyo.
About Kawaii Monster Cafe - See the Forefront of Japan's Kawaii Culture
Kawaii Monster Cafe's concept is to be at the forefront of unique fashion and kawaii culture. Sebastian Masuda, a prominent figure in Japanese fashion and art, established the cafe.
Visitors at Kawaii Monster Cafe will experience a new level of color and energy characteristic of Harajuku. The cafe's rainbow-hued menu, funky interior, and monster girls (staff dressed up in monster-themed costumes) create a mealtime or tea break unlike any other. Open during the day and night, this cafe has something for everyone and is especially fun to visit with a group.
There are four areas to enjoy at the cafe: Mushroom Disco, Milk Stand, Bar Experiment, and Mel-Tea ROOM. Each has a different theme with various color schemes and decorations. Guests can pick where they want to sit and also move freely between each to take pictures.*
The restaurant's fantasy-like atmosphere is otherworldly; upon walking through the entrance, visitors get "swallowed whole" by the cafe's mascot, Mr. Choppy, and then enter the quirky fairytale world of Kawaii Monster Cafe.
*Your desired seating area may not be available depending on when you visit. Please note there is a 90-minute time limit for lunch and a 120-minute limit for dinner.
Four Funky Areas at Kawaii Monster Cafe
Part of the Mushroom Disco area
The Mushroom Disco Area is brightly-colored, adorned with fantasy-like mushrooms that look like they're straight from a picture book. Diners can sit in semi-enclosed booths that allow them to survey the rest of the room and take in the colorful surroundings.
Another section of the Mushroom Disco Area, which has table seating, features bright red lips decorating the walls and an eccentric, but elegant vibe. The vivid, tiled table tops have a sparkly finish.
Another area is the Milk Stand, where enormous pink and purple animals drink milk from baby bottles. When you look up, you will see many baby bottles hanging from the ceiling, illuminating the area. There are booths and table seats guests can choose from, like in the Mushroom Disco Area.
Be sure to take photos of the crazy, colorful animals.
Bar Experiment is a mysterious bar counter, shrouded in darkness, lit by giant glowing jellyfish. When sitting in this area, you will feel almost as if you're lost in the depths of the ocean. Only counter seats are available at the bar.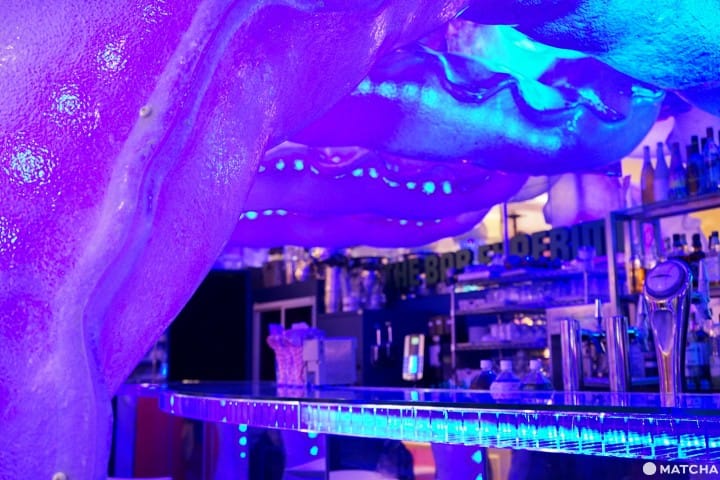 Although this is a bar area, you can sit here during the day and there are non-alcoholic beverages on the menu, in addition to food and sweets.
The fourth area is the Mel-Tea Room, an area that may leave you speechless due to its cuteness. It features a soft, pastel palette. When you take your first step inside, you will be surrounded by gigantic macaroons and chocolates. This is a must-see for any sweets lover.
Order Out-of-this-World Food, Sweets, and Drinks
There is a bounty of colorful, one-of-a-kind food, desserts, and beverages on Kawaii Monster Cafe's menu. Food choices range from salad to pasta and sushi. One stand-out dish is the Colorful Rainbow Pasta (Painter) pictured above (1,300 yen before tax). Be an artist and create a rainbow with the different hues of sauces as you try this fantasy-like treat.
The beverage menu is also very large. The Non Druggy Cocktail (Experiment) (720 yen before tax), is a non-alcoholic mixed drink made with two different types of liquids. There are also a variety of adorably-presented milk tea and fruity beverages to try.
Kawaii Monster Cafe is also very popular for its sweets menu, which features choices like pancakes, ice cream, and cake. All are cute, delicious, and unique, so the cafe is highly recommended for diners with a sweet tooth.
Also, Kawaii Monster Cafe does collaborations with other companies at times. Until September 1, 2019, guests can order from a Hello Kitty-inspired menu that includes sweets, savory items, and drinks. Sanrio fans should be sure to visit the cafe during this time, as the interior is transformed as well. For more information on the event, please click here.
Take a Photo with the Five Monster Girls
Clad in fantastically eccentric clothing, the Monster Girls are the Kawaii Monster Cafe's five visual icons. The cafe staff, including the girls, will introduce you to the world of Harajuku. They speak English, Korean, and may be able to provide assistance to guests in other languages, too. If you would like to take a picture with them, just ask--they are very friendly.
Visit the Cutest, Craziest Cafe in Harajuku
The Kawaii Monster Cafe is at the forefront of cute culture in Harajuku. Everything in the cafe, from its four different areas to the imaginative food and adorable Monster girls, will delight all who visit. Be sure to stop by for an adorable, out-of-this-world experience that can only be found here.
Picture Source: Kawaii Monster Cafe

For MATCHA Readers Only! 5% Discount Coupons!
MATCHA's readers benefit from a 5% discount service on their purchase of activity tickets from the Voyagin website. Upon performing your online payment, please insert the discount coupon code "voyaginmatcha". You will receive a 5% discount on your purchase! (This service does not apply for Tokyo Disneyland and DisneySea)
Purchase tickets from Voyagin here
Reservation for Kawaii Monster Cafe (Official Partner)

The information presented in this article is based on the time it was written. Note that there may be changes in the merchandise, services, and prices that have occurred after this article was published. Please contact the facility or facilities in this article directly before visiting.