Drink and Stay at Shinjuku's IMANO TOKYO HOSTEL
With many methods of transportation intertwining in the heart of Tokyo, a fancy hostel opened in the autumn of 2015 in Shinjuku. The IMANO TOKYO HOSTEL incorporates a Japanese-style standing bar.
With many trains and express buses going in and out, Shinjuku has become the hub for sightseeing in Tokyo with great access to the airport and various places in Japan. Therefore, the Shinjuku area has plenty of large hotels and tourists come visit this area of the city on a daily basis.
On the other hand, there aren't too many budget-friendly guesthouses where one can casually stay at in Shinjuku.
In this article, we would like to introduce you to IMANO TOKYO HOSTEL that opened in November of 2015.
Located ten minutes by foot from Shinjuku station, three minutes from Tokyo Metro Shinjuku Sanchome station, the IMANO TOKYO HOSTEL is right by the Hanazono Shrine.
It appears to be a fancy bar from the outside and can be missed if you imagine it to be a normal guest house.
Room Guide
There are five floors in the hostel and rooms are on the second to the fifth floor. The IMANO TOKYO HOSTEL will accommodate to their customer's needs by offering private rooms, dormitories, and various types of rooms.
Dormitories
A dormitory-type room can be used even by solo travelers. The accommodation fee for these types of shared rooms begins at 3500 Yen.
All rooms are alike and by the bedside you will find a reading lamp and a power outlet for you to use.
Private Rooms
Private rooms are great to use with a group or family members. Rates are by room and the fee for a private room begins from 20000 Yen.
In the back of this room, you can find a tatami (*1) laid out.
*1 tatami: A traditional Japanese mat made with a plant called rush that has been woven.
Japanese-Style Rooms
Instead of beds, you will be sleeping on futon laid on top of the tatami. A group of two-three people can share a room and room rates begin from 10000 Yen per room.
Ladies-Only Rooms
At the IMANO TOKYO HOSTEL, they have a floor and rooms only for women. Solo travelers are welcome as well as groups of girls that are sharing a room together. Rates start at 3800 Yen per person.
Floor Guide
Each floor has spaces where people can relax and interact with other visitors. This is the shared space in the lady's floor.
In this hostel, it is required for you to remove your shoes and walk around the halls with slippers. Removing your shoes is a common practice in Japan. Please take this opportunity to experience the tradition here.
Facility Guide
Restrooms
Each floor has western style toilets with washlets.
Laundry
On the fourth floor, you can find a washing machine and dryer you can use by inserting coins. Regardless what floor your room is on, all customers are welcome to use the facilities on other floors.
Kitchen
You can store food and do simple cooking in the kitchen provided on the fifth floor.
Shower and Bath
Each floor has a shower room and on the second and third floor, you can find bathtubs. All bathrooms come with a lock.
Experience the Kaku-uchi Japanese-Style Bar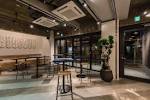 The main feature of IMANO TOKYO is the cafe and bar on the first floor. It is a cafe from 08:00-17:00 and from 18:00-23:00, it operates as a bar.
The unique part of this is the system. The customer can take the drink of their preference from the refrigerator and then pay right at the bar. Kaku-uchi is an authentic Japanese way of drinking where one drinks sake right at the bar counter of an izakaya. There are tables at the IMANO TOKYO's bar space, but you are welcome to drink while standing in the kaku-uchi style.
In Conclusion
Shinjuku has plenty of stylish shopping spots, restaurants to savor delicious food, and even places like Hanazono shrine where you can feel the Japanese tradition. It is a perfect area to experience the diverse Japanese culture.
In the beginning of this article, we have mentioned that "Shinjuku has become the hub for sightseeing around Tokyo". But as you may notice, Shinjuku itself is also a tourist spot that provides a variety of experiences.
IMANO TOKYO HOSTEL is in a great location to indulge in the charms of Shinjuku. Why not enjoy your time in Shinjuku by staying at IMANO TOKYO HOSTEL?
Information
IMANO TOKYO HOSTEL / CAFE&BAR
Address: Tokyo, Shinjuku ward, Shinjuku 5-12-2
Hours: Check-in: 16:00-23:00
Check-out: Until 11:00
Closed: Open all year
WiFi: Available
Accepted Credit Cards: VISA, Master, JCB, AMEX
Languages: Japanese and English
Menu/Pamphlets in Other Languages: Japanese and English
Nearest station: JR Shinjuku Station, Shinjuku Sanchome Station on the Tokyo Metro Marunouchi Line, Fukutoshin Line, Toei Shinjuku Line, Higashi Shinjuku Station on the Toei Oedo Line.
Access: 9-minute walk from Shinjuku station East exit.
3-minute walk from Shinjuku Sanchome station Exit E2.
8-minute walk from Higashi Shinjuku station Exit A2.
Price: 3000-20000 Yen (* Prices vary on season and types of rooms)
Telephone number: +81-03-5362-7161
Website: IMANO TOKYO HOSTEL / CAFE & BAR

The information presented in this article is based on the time it was written. Note that there may be changes in the merchandise, services, and prices that have occurred after this article was published. Please contact the facility or facilities in this article directly before visiting.