Spend A Day At Yomiuriland, An Amusement Park Near Tokyo's City Center
Yomiuriland is an amusement park easily accessible by train from Shinjuku Station. The facility offers not only theme park attractions, but also swimming pools in the summer and illuminations in the winter. It even has a public bath on its grounds.
Yomiuriland is an amusement park easily accessible from Tokyo's city center. You can reach the nearest station from Shinjuku without changing trains, making it an easy day-trip destination. Other than the usual theme park attractions, the facility offers swimming pools in the summer and illumination lights in the winter. In this article we'll be introducing what's so special about Yomiuriland.
Let's Go to Yomiuriland!
How to Get There
The nearest station to Yomiuriland is the Keio Line Keio Yomiuriland Station or the Odakyu Line Yomiuriland-mae Station. There are buses departing from both, and you can alight at Yomiuriland bus stop regardless of which station you depart from. You can also ride a gondola called the Sky Shuttle from Keio Yomiuriland Station to the park. This route allows visitors to enjoy the view of the park and its surrounding from above (300 yen one-way, 500 yen round-trip).
How to Get Tickets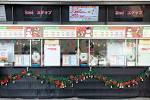 Once you've reached the main entrance, you will need to purchase your tickets. At the ticket booth, let the staff know how many adults, kids, or senior visitors are in your party, as well as your preferred ticket type.
For details on types of tickets and their prices, check here. The park also has night passes and night entrance fees during the illumination lights period in the winter. You can choose the ticket type that best fits your needs.
Recommended Attractions
Now let's have a look at some of our favorite attractions.
Bandit
Bandit is a 1560-meter-long roller coaster that reaches a high speed of 110 kilometers. Its main characteristic is the shape of its course, which makes great use of its natural surroundings. You'll want to ride it again and again once you've experienced the thrill of speeding through the forest on this thing.
Crazy Hyuuuu and Crazy Stooon
Crazy Hyuuu (yellow pillar) is a vertical lift-off, and the Crazy Stooon (red pillar) is a free-fall attraction. As Yomiuriland itself is located on a high hill, the view from the top of these pillars are amazing. Even though you might not have much time to enjoy that view, we recommend giving these machines a go.
Bungee Jump
Yomiuriland boasts Tokyo's only bungee jumping facility. The jump ramp is 22 meters high, which is about the same as a 7-storey building. This one is sure to give you a different thrill than those other scream machines.
In addition to the above, there is the super-cute sea lion show, as well as Yomiuriland's symbolic Ferris wheel. There are many sights and attractions for visitors of all ages to enjoy.
A Magical Atmosphere at Night
Visitors can enjoy one of the largest illumination displays in Tokyo, called the Jewel Illumination (Japanese), during the fall and winter seasons every year.
The magical sight created by a renowned designer is the world's first illumination display which consists of approximately 4 million bulbs of 24 different colors. The atmosphere is completely different from what you would experience during the daytime. There's even a magnificent fountain show.
5 swimming pools and 3 water sliders are available during the summer. The park offers great fun throughout the year.
Stop by a Sento Before Leaving
After riding attractions all day and enjoying the night lights, we recommend stopping by at the sento (traditional public bath) located on the same grounds. It's called Okanoyu (Japanese).
Okanoyu is open from 10:00 am to midnight, so you will have more than enough time to visit after Yomiuriland closes.
To Conclude
So what do you think? Yomiuriland offers various rides from thrilling scream machines to kid-friendly attractions. It's a great place to spend the day with family, friends, or with someone you love. We especially recommend visiting during the Jewel Illumination period when you can enjoy completely different atmospheres between night and day.
Cooperation and photos courtesy of: Yomiuriland
Information
Yomiuriland
Address: Tokyo, Inagi, Yanokuchi 4015-1
Hours: Weekdays, Saturday: 10:00-20:30 / Sunday, Holidays 9:00-20:30 *Hours subject to change depending on season (Opening Hours Calendar)
Closed: Tuesday (open on holidays and during school vacation period)
Wi-Fi: -
Credit Cards: JCB, VISA, MASTER, AMEX, Diners, DISCOVER
Languages: -
Menus in Other Languages: -
Nearest Station: Keio Yomiuriland Station, Keio Line or Yomiuriland-mae Station, Odakyu Line
Access: 5 minutes by Odakyu bus or 5-10 minutes by Sky Shuttle gondola from Keio Line Keio Yomiuriland Station / 10 minutes by Odakyu bus from Odakyu Line Yomiuriland-mae Station
Price Range: Admission - Adult (18 and above) 1200 yen, Child (3 to high school) 600 yen, Senior (60 and above) 600 yen
Night Admission (after 4 PM) - Adult 1000 yen, Student (junior high and high school) 500 yen, Senior 600 yen, Children (elementary and younger) free
*Night admission fee is only for Jewel Illumination period
Phone: +81-44-966-1111:
Website: Yomiuriland

The information presented in this article is based on the time it was written. Note that there may be changes in the merchandise, services, and prices that have occurred after this article was published. Please contact the facility or facilities in this article directly before visiting.