Kizuna Sushi, Shinjuku: Try Their 100 Kinds Of All-You-Can-Eat Sushi!
Kizuna Sushi is a popular sushi restaurant located just 5 minutes from Shinjuku Station's West Exit. This restaurant is popular for the quality and the price of its sushi, as well as its high service standards, and for its great all-you-can-eat menu!
Price Chart (Tax Excluded)
Menss  3980 yen
Women   3480 yen
Childrenss 2000 yen
Children Under 4 Free
The all-you-can-eat menu is for 120 minutes; your last order must be placed 30 minutes prior to the end of your meal. Please also note that, while Kizuna Sushi Nishi Shinjuku is open 24/7, the all-you-can-eat menu is only available on weekdays from 13:00-22:00, and on weekends and national holidays from 11:00-22:00.
In one order you can get six varieties of sushi, with up to 30 pieces at a time, but within your 120 minute span, you can order as many times as you like. Why not try as many kinds of sushi as you can?
5 Reasons Why We Recommend Kizuna Sushi
Here is why we recommend to go and try out the all-you-can-eat menu of Kizuna Sushi
1. Choose from 100 Different Types of Sushi and Other A La Carte Items
Usually when you go out to eat with friends, family, or partners, you have to worry about their food preferences; some may dislike raw fish, others might not be fond of seaweed, and still others may hate shellfish.
However, thanks to the diverse menu offered at Kizuna Sushi, which includes 100 types of sushi and other Japanese dishes and desserts, everyone in your group is sure to find something that they like. This is also a good option for those who like sushi, but would rather not eat only raw fish.
2. Very Entertaining to Watch
The first thing that you'll see when entering the restaurant is the counter. If you happen to sit here, you can watch as the chef prepares the sushi right before your eyes. Should you want to sit at the counter, please inform the staff when you arrive.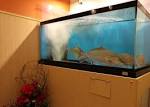 Customers can also enjoy looking at living fish in the two aquariums inside the restaurant. Perhaps one of the fish swimming here will be one of the fish you eat!
The large tables give this space a relaxing atmosphere, while the warm, wooden interior is sure to make your food taste even better.
3. No Language Barriers
Kizuna Sushi knows how to welcome its international customers. Many members of staff speak English and there is almost always at least one Chinese speaker there to help out too. This means you can easily ask any questions that you may have about their all-you-can-eat system or other menu items. Their menus are written in English, Chinese (Simplified and Traditional) and Korean.
All orders from the tables in the restaurant are made via touch screen devices, which are available in Japanese or English. Should you have any issue using the touch screens, the staff will be more than happy to help you out.
4. Open and Inviting Atmosphere
Have you ever felt that Japanese restaurants aren't as inviting, as they can be difficult to see inside of? One of the very reasons why Kizuna Sushi is so popular with people from around the world and across all age ranges and genders, is because of its atmosphere.
The large front windows show off the bright interior as well as the sight of other customers enjoying their dishes, which makes it very easy for others to make up their mind and come inside to enjoy a meal here too.
5. Its Good Location And Its 24/7 Service
Kizuna Sushi is located near the West Exit of Shinjuku Station, where all the electronic appliances and department stores are found, which makes it fun to even just walk around the area. Visitors on a short trip to Japan can make the most out of their stay by stopping in to enjoy some sushi during their time in Shinjuku, thereby avoiding extra travels around the city too.
The all-you-can-eat menu at Kizuna Sushi is only available until 22:00, but the restaurant operates 24/7. After having a night out in Shinjuku, you can still come and experience their delicious regular sushi menu too.
Other Recommended Dishes
Kizuna Sushi is also known for its tempura selection plate (980 yen plus tax). This one is not included in the all-you-can-eat menu, why not order it on top of the all-you-can-eat experience as many customers do?
Don't Take More Than You Can Eat
The all-you-can-eat allows you to eat delicious sushi for a great price, but there is one more important point to keep in mind.
In an all-you-can-eat setting, it is very rude to over-order and leave food on your plates. Although you may find that you don't like something once you've ordered it, leaving a large quantity of food leftover on your plate is wasteful, and will likely result in extra charges on your check.
The all-you-can-eat system is designed so that customers can order as much food as they like until they are full, while allowing them to watch real sushi chefs in action.
For Great Sushi - Visit Kizuna Sushi
Kizuna Sushi is a sushi restaurant famous for using fresh fish brought in every morning from harbors all across Japan, and for its exceptionally reasonable prices. As you have traveled all the way to Japan, why not come and enjoy some authentic sushi here in Shinjuku? This experience will surely turn out to become one of your best memories of your stay in Japan.
Information
Kizuna Sushi Nishi Shinjuku
Address: Tokyo, Shinjuku, Nishi Shinjuku 1-13-1, Inasa Building B1/1F
Hours: 24/7
Closed: None
Wi-Fi:-
Credit Cards: Accepted
Languages: Japanese, English, Chinese
Menus in Other Languages: English, Chinese (Simplified and Traditional) and Korean
Nearest Station: Shinjuku Station, various lines
Access: 5 minute walk from the West Exit of JR Shinjuku Station
Price Range: 4000-5000 yen
Phone: 03-6911-1861
Official Website: Kizuna Sushi (Japanese)
The information presented in this article is based on the time it was written. Note that there may be changes in the merchandise, services, and prices that have occurred after this article was published. Please contact the facility or facilities in this article directly before visiting.