5 Places You Must Visit In Akihabara! A Tour With A Thai Student
Well known by both Japanese and tourists alike, Akihabara can be quite daunting. Tour the electric town from the eyes of a Thai student!
Spot 2. @home cafe
Let us move next towards the electric town exit (電気街口, [denki-gai-guchi]).
Akihabara's busiest area can be found in the direction towards the electric town. Aside from shops selling electrical devices, maid cafés, which appeared first right here in Akihabara, are also concentrated here.
As shown in the NHK World TV image, one can often catch glimpses of girls dressed as maids handing out leaflets in this area.
You can refer to this previous article on MATCHA to find out how it feels like to visit a maid cafe.
We are heading to @home cafe. Akihabara is the home of maid cafés, which are a type of café originating in Japan. If you are visiting Akihabara, please give them a try.
Ginny: This type of cafés doesn't exist in Thailand, so it immediately piqued my interest as soon as I saw the TV program. I like cute girls so I am really looking forward to it. I also want to find out if even a person from Thailand like me can enjoy something like this, as well as the price involved.
Chimu, a premium maid, has received us.
"Where do you come from?", "Can I call you Ginny-pon?", the maid interacted with her face-to-face in a gentle and polite manner.
Ginny: She's too cute!
As if meeting a famous pop idol, Ginny's heart was pounding with excitement from start to the end.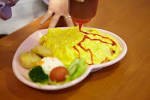 At @home cafe, they'll draw a picture you request using ketchup on top of omurice (a dish originating in Japan where ketchup-drizzled rice containing onions and pieces of chicken, are wrapped in an omelette).
Completed! The maid drew Ginny's favorite Japanese game character.
Ginny: Does the maid café welcome also foreigners and girls?
Chimu: Of course! A lot of foreign customers visit us, and it is not at all rare for girls to come as well!
Currently foreign visitors make up a third of the customers. Because of that, all maids undergo English-language training and are able to deal with simple requests in English. Of course, menus are also written in English.
In the end we took a souvenir photo of the two. We received the photo on the spot.
Ginny: That was so much fun! I want to do it again! The price and time limit were explained right at the start so I felt at ease.
Detailed information such as prices of @home cafe can be viewed in this MATCHA article.
※@home cafe, which we have introduced here, does not perform pamphlet distribution
Reference article:@Home Cafe: The King of Akihabara Maid Cafes


The information presented in this article is based on the time it was written. Note that there may be changes in the merchandise, services, and prices that have occurred after this article was published. Please contact the facility or facilities in this article directly before visiting.