5 Places You Must Visit In Akihabara! A Tour With A Thai Student
Well known by both Japanese and tourists alike, Akihabara can be quite daunting. Tour the electric town from the eyes of a Thai student!
Spot 3. Super Potato
The next place in our itinerary is a shop that handles retro-games, Super Potato Akihabara.
This shop sells various video games that remind the Japanese of their childhood days.
Ginny: There are games that I used to play when I was a child!
On the highest floor there is a game center, full of arcade game machines that have enjoyed great popularity in the past.
Ginny: There are old games that I couldn't play when I was a child, so I enjoyed the feeling of going back into the past.
Reference article: Treat Your Inner Child to Nostalgia at Super Potato Akihabara
Spot 4. Gachapon Kaikan
Capsule toys that can be bought with just a few coins, containing unique, individually-crafted figurines, are one of Japan's characteristic toys. They are called Gachapon or Gacha-gacha.
Gachapon Kaikan (ガチャポン会館) is a specialty shop in Akihabara where you can enjoy such capsule toys to your heart's content.
Ginny: Capsule toys are rare in Thailand, so I'm looking forward to it.
The shop is jam-packed with capsule toy machines.
Ginny: There are goods of my favorite anime, "Sailor Moon"!
She tried her hand at one of the machines. It sells capsule toys with Gudetama, which is a popular character even in Thailand.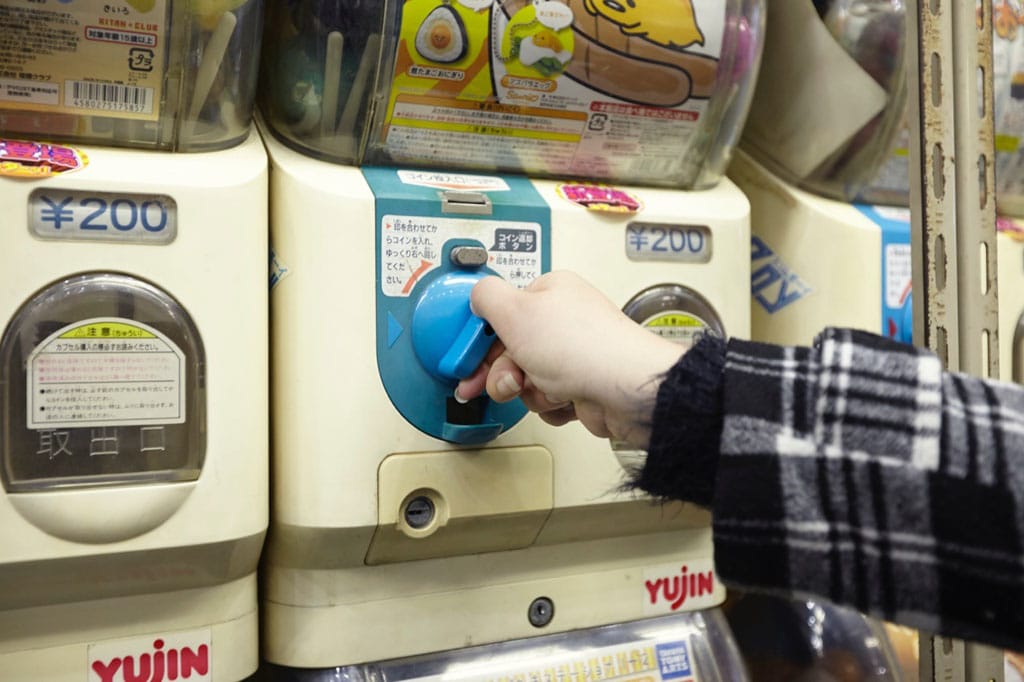 Ginny got a cute key holder of a character that hides in a rice ball (※1).
Ginny: It's cheap and small, perfect as a souvenir.
*1 Rice ball: Onigiri in Japanese. Cooked rice encasing a tasty morsel, shaped by hand and wrapped with nori seaweed; it is Japan's portable food.


The information presented in this article is based on the time it was written. Note that there may be changes in the merchandise, services, and prices that have occurred after this article was published. Please contact the facility or facilities in this article directly before visiting.