The First Shopping Spree Of The Year! The Fun Of "Lucky Bags"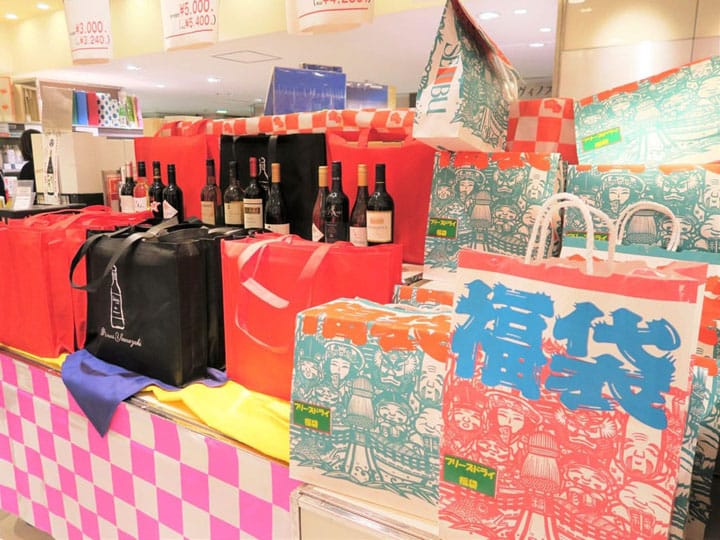 Who wouldn't feel a thrill when buying a bag full of luxurious mystery items, all for a deeply discounted price? Lucky Bag season is coming up, so let's learn a bit more about these fun, New Year's sale-limited items.
What's a Lucky Bag?
Just after New Year's day, department stores and brand shops all across Japan begin selling lucky bags (福袋 fuku-bukuro). A single lucky bag can be filled with any number of goods, and these bags are only available during the New Year holidays.
What makes these bags really lucky is that the price of the bags are lower than the cost of buying the individual items inside them. While you can expect the items to be about half their regular price, there are also some lucky bags where the value of the goods inside are worth up to nine times the purchase price.
The New Year's holidays are becoming a popular time for tourists to visit Japan, as more and more visitors have come across these lucky bags.
Now let's take a look at the most recent trends (2015/16) in lucky bags according to how they are bought.
When Can You Get Lucky Bags?
The day after the New Year's holidays, many department stores in the greater Tokyo area begin selling their lucky bags. For example, in 2016, Seibu department stores started their sales on January 1st, Tokyu department stores from January 2nd, Shinjuku's Isetan and Ginza's Mitsukoshi department stores began from January 3rd. Other than department stores, fashion boutiques, electronics shops, drug stores, supermarkets and more all have their own versions of the popular lucky bag.
If there's a particular shop you're interested in, it's best to check their homepage for their lucky bag schedule before heading out shopping.
bag schedule before heading out shopping.
What Kinds Of Lucky Bags Are Available?
In general, various stores offer several versions of lucky bags featuring standard items at discounted prices. Recently, unusual lucky bags have also been gaining in popularity. Let's explore some of the more novel lucky bags that have come on the market in recent years.
1. Breaking the Rules: The Spoiler Lucky Bag
Lucky bags once brought to mind contents that were either old, unpopular or items that left over from other seasons, but recently, sample packages showing the goods - spoiler lucky bags - have become very popular.
In 2016, 166 items were featured in so-called Spoiler Lucky Bags on the Takashimaya department store homepage. Given that the possible contents were fully listed in advance, there was no chance of disappointment upon opening the lucky bag.
2. Lucky Bags Reserved Online
Until recently, a long line of customers queued up to buy lucky bags on the first sales day was a familiar sight in stores across Japan, but now it's possible to reserve and even have your lucky bags delivered straight to your door.
Over 60 fashion brands sold their lucky bags through Marui's webpage. With the exception of a few products, the majority of the lucky bags were delivered within the first ten days of January.
Furthermore, Yamada Electronics' online shop held a New Year's gift lottery for the first time. Home electronics and appliances were sold together in lucky bags for heavily discounted prices.
3. Personal Experience Lucky Bags

Lucky bags selling not 'goods' but 'experiences' are also now available. For example, in 2016 at Shinjuku Isetan, a single lucky bag offering a portrait drawn by cartoonist Reiji Matsumoto was sold to the tune of 2,016,000 yen.
4. Celebrity Collaboration Lucky Bags

In the last couple of years, popular fashion models and celebrities have been making "outfit lucky bags" that have become very popular.

The sacred fashion spot that is Shibuya 109, for example, in 2016 sold 10,000 yen lucky bags in two varieties coordinated by popular models Nicole Fujita and Arisa Yagi - lucky bags containing full outfits that could only be found at 109.

Tokyu department stores sold French red wine lucky bags (10,800 yen) selected by the famous sommelier Shinya Tasaki, while Shibuya's Seibu department store held a lottery for tickets (201, 600 yen) to a live calligraphy performance by the Japanese calligrapher Mami.

From the traditional bags that provide mystery and excitement to those offer their goods for scrutiny in advance, an ever-increasing variety of lucky bags are available. So, how about getting a lucky bag next year?

The information presented in this article is based on the time it was written. Note that there may be changes in the merchandise, services, and prices that have occurred after this article was published. Please contact the facility or facilities in this article directly before visiting.