Have Fun In Saitama! 5 Must-Visit Spots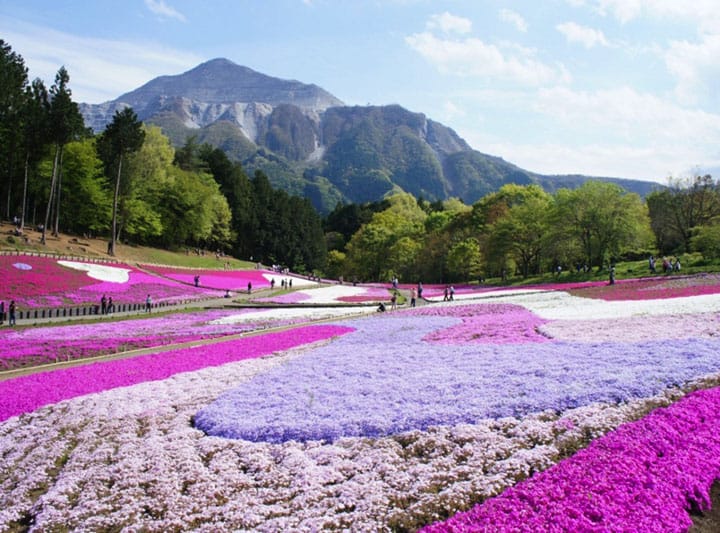 Saitama Prefecture, located north of Tokyo, is an area rich in wonderful views and fun activities. This article introduces the five places in Saitama that any visitor to Japan should visit at least once: Kawagoe, Chichibu, Omiya being only some of them!
Saitama Prefecture is located just north of Tokyo. Its southern part is adjacent to Tokyo, that is why it is more densely populated, but head northwards and you will find fields of crops and nature in abundance. It has a lot of still undiscovered sightseeing spots, such as places with old streets and splendid nature.
The beautiful shibazakura (Moss Phlox flowers) of Hitsujiyama Park in Chichibu or the area around Chichibu Bridge itself, which was chosen as the location for a famous anime, are some examples of sightseeing places in Saitama Prefecture that have garnered attention in recent years. On the other hand, Saitama Prefecture is also known as the place for bonsai, with many tourists from abroad visiting the Omiya Bonsai Art Museum.
In this article, we will introduce five of Saitama's best known sightseeing places.
The Omiya Bonsai Art Museum, Saitama
In Saitama City, there is a Bonsai Village where you can appreciate bonsai through the four seasons. In addition to bonsai, at the Omiya Bonsai Art Museum, you can also view bonsai-related ukiyo-e (a type of traditional Japanese artwork) and historical documents on various bonsai subspecies.
In order to appreciate a bonsai, it is essential to realize you have a miniature natural landscape before your eyes into a small bonsai pot. While looking at the bonsai as a whole is important, details such as the roots, trunk, stems and leaves also play a big role.
When viewing a bonsai, first check how the roots are stretched. After long years of cultivation, you can feel the vitality of the plant just by looking at how firmly its roots hold onto the soil.
On the second floor of the Omiya Bonsai Art Museum, there is a cafe where customers can enjoy special drinks and dine on bonsai inspired bento lunches (shown in the photo above). (Available on weekends only.)
On the first floor, there is a shop where you can buy bonsai-related souvenirs. Bonsai hand towels, bonsai postcards, fans with bonsai pictures and other products are being sold as well.
The Omiya Bonsai Art Museum is accessible via train on the JR Utsunomiya Line. Stop at Toro Station, use the east exit and you will reach the museum in five minutes by foot.
The admission fee is 300 yen. It is a one-and-only museum that you should visit at least once in your life.
Information
Omiya Bonsai Art Museum, Saitama
Address: Saitama prefecture, Saitama city, Kita, Toro 2-24-3
Hours: 9:00 - 16:30 (March - October) / 9:00 - 16:00 (November - February)
Closed: Thursdays (Open on Thursdays that fall on public holidays), New Year's holiday.
Official Website: The Omiya Bonsai Art Museum
Kawagoe City's Kurazukuri Street and the Bell of Time
Kawagoe City in Saitama Prefecture is also affectionately called "Little Edo". The nickname implies "a city that thrives like Edo (old name for Tokyo)", or "a city where you can experience the Edo Period". Which rings true given the fact that Kawagoe City is filled with old streets, where you can still feel the atmosphere of the Edo Period.
Just a short walk from Kawagoe Station is Kurazukuri Street. "Kurazukuri" refers to a traditional architectural style in which the outer wall of warehouses is made with clay and mortar. These sturdy buildings are extremely fire-resistant and are said to have survived even the great fires during the Meiji Period. In this town with its kurazukuri buildings, visitors can really feel the ambiance of old Japan.
This photo features what is said to be Kawagoe City's symbol, the Bell of Time. It was built 400 years ago by the feudal lord of Kawagoe City back then, Sakai Tadakatsu.
Even nowadays, this bell continues to ring, announcing the time on Kurazukuri Street. It was not until 1996 that the bell's melodic chimes entered the list of "100 soundscapes of Japan". The Bell of Time has a wooden construction, with a height of 16 meters. It rings four times a day - at 6:00, at mid-day, 15:00 and 18:00, and its sound adds to the significant atmosphere of Little Edo Kawagoe City.
Together with Kawagoe's Kurazukuri-style buildings, remnants of Western architecture from Meiji and Taisho Periods can also be found. The current building of the Kawagoe Branch of Saitama Resona Bank is one representative building of this kind. Built in 1918, this building is actually the first bank established in Saitama Prefecture, and it was designated as a Tangible Cultural Property.
The sight of buildings from the Edo Period and Western-style architecture from the Meiji and Taisho Periods all in one place is one of the charms of Kawagoe.
Information
The Bell of Time
Address: Saitama Prefecture, Kawagoe, Saiwaicho 15-7
Official Website: KOEDO KAWAGOE Tourist Association
The Hundred Caves of Yoshimi
In Saitama Prefecture there is a mysterious place called "The Hundred Caves of Yoshimi". The numerous holes dug into the brown hill have been created around 501-700 A.D. Said to have 219 holes in total, it is Japan's largest such historic ruin. Having a place reminding of Turkey's scenic Cappadocia (an arid region in Turkey, full of otherworldly rock formations) right in Saitama is rather astonishing.
Designated as one of Japan's historic monuments, it is currently open to the public, and visitors are allowed to enter the caves.
As you get closer to such a cave, you feel as if you are about to enter another dimension.
Though the entrance is narrow, you can stand up and walk comfortably once inside.
Heading down the hill, you can find a cave full of natural luminescent moss. In the Kantō region (eastern Japan), places where natural luminescent moss grows are extremely rare and precious; this luminescent moss of The Hundred Caves of Yoshimi is designated as a Natural Monument.
In recent years the air in these caves has become arid, considerably reducing the moisture-dependent luminescent moss. Measures to preserve the moss have been taken: bowls of water have been placed in the cave in order to maintain the humidity level. Also, access to the end of the cave has been prohibited. Even so, visitors can still see the emerald glow of luminescent moss.
Information
The Hundred Caves of Yoshimi
Address: Saitama, Hiki, Yoshimi, Kitayoshimi 324
Hours: 8:30 - 17:00
Closed: None
Official Website: The Hundred Caves of Yoshimi/Luminescent Moss (Japanese)


The information presented in this article is based on the time it was written. Note that there may be changes in the merchandise, services, and prices that have occurred after this article was published. Please contact the facility or facilities in this article directly before visiting.