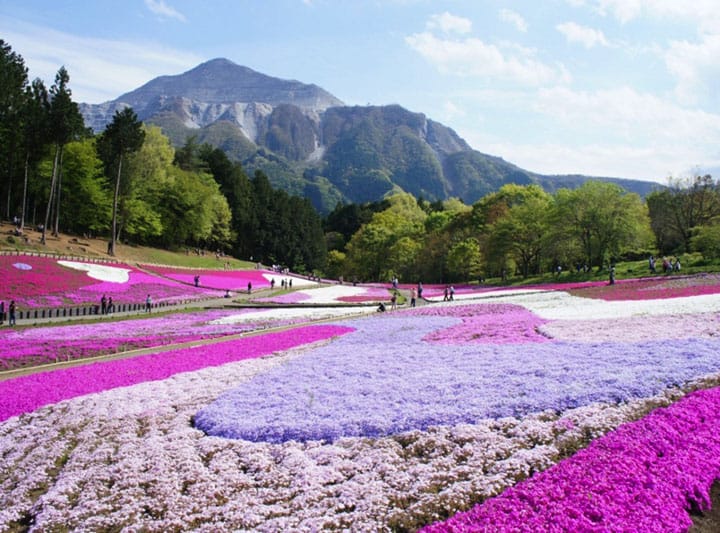 Spots You Must Visit in Saitama Prefecture!
Saitama Prefecture is located north from Tokyo, and you can experience plenty of stunning and spectacular sights only available in this cozy part of Japan.
Saitama Prefecture (埼玉県 Saitama ken) is located in northern Tokyo. Its southern part is adjacent to Tokyo, that is why its is more densely populated, but head northwards and you will find fields of crops and nature in abundance. It has a lot of still undiscovered sightseeing spots, such as places with old streets and splendid nature.
The beautiful shibazakura 芝桜 (Moss Phlox flowers) of Hitsujiyama Park (羊山公園) in Chichibu (秩父市) or the area around Chichibu-hashi Bridge 秩父橋 itself, which was chosen as the location for an anime, are some examples of sightseeing places in Saitama Prefecture that have garnered attention in recent years. On the other hand, Saitama Prefecture is also known as the place for bonsai (盆栽), with many tourists from abroad visiting Ōmiya Bonsai Art Museum (さいたま市大宮盆栽美術館).
Here we will introduce to you some sightseeing places in Saitama Prefecture.
The Ōmiya Bonsai Art Museum, Saitama
In Saitama City, there is a Bonsai Village where you can appreciate bonsai through the four seasons. Besides bonsai, in The Ōmiya Bonsai Art Museum (さいたま市大宮盆栽美術館 Saitamashi Ōmiya Bonsai Bijutsukan), you can also view bonsai-related ukiyo-e (a type of traditional Japanese artwork) and historical documents on various bonsai subspecies.
In order to appreciate a bonsai, it is essential to realize you have a miniature natural landscape before your eyes into a small bonsai pot. While looking at the bonsai as a whole is important, details such as the roots, trunk, stems and leaves also play a big role.
When viewing a bonsai, first check how the roots are stretched. After long years of cultivation, you can feel the vitality of the plant just by looking at how firmly its roots hold onto soil.
On the second floor of The Ōmiya Bonsai Art Museum is a cafe, where customers can enjoy special drinks and dine on bonsai bentō (shown in the photo above).
※Available on weekends only.
On the first floor there is a shop where you can buy bonsai-related souvenirs. Bonsai hand towels, bonsai postcards, fans with bonsai pictures and other products are being sold as well.
The Ōmiya Bonsai Art Museum is accessible via train on the JR Utsunomiya Line (JR宇都宮線). Stop at Toro Station (土呂駅), use the east exit and you will reach the museum in a five minutes walk. The admission fee is 300 yen, but this one-and-only museum is a place that you should visit at least once in your life.
Information
The Ōmiya Bonsai Art Museum, Saitama さいたま市大宮盆栽美術館
Address: Saitama-ken, Saitama-shi, Kita-ku, Toro-chō 2-24-3
Hours: 9:00 - 16:30 (March - October) / 9:00 - 16:00 (November - February)
Closed: Thursdays (Open on Thursdays that fall on public holidays), New Year's holiday, days when there is temporary closure.
Official Website: The Ōmiya Bonsai Art Museum, Saitama
Kawagoe City's Kurazukuri Street and the Bell of Time
Kawagoe City (川越市) in Saitama Prefecture is also affectionately called "Little Edo" (小江戸). The nickname implies "A city that thrives like Edo (old name for Tokyo)", or "A city where you can experience the Edo Period". Which rings true given the fact that Kawagoe City is filled with old streets, where you can still feel the atmosphere of the Edo Period.
Just a short walk from Kawagoe Station (川越駅) is Kurazukuri Street (蔵造りの町並み Kurazukuri no machinami). "Kurazukuri" refers to one of Japan's traditional architectural styles, where the outer wall of warehouses were made with clay and mortar. These sturdy buildings are extremely fire-resistant and are said to have survived even the great fires during the Meiji Period. In this town with its kurazukuri buildings tourists can really feel the ambiance of old Japan.
This photo features what is said to be Kawagoe City's symbol, the Bell of Time (時の鐘 Toki no kane). It was built 400 years ago by the feudal lord of Kawagoe City back then, Sakai Tadakatsu.
Even nowadays, this bell continues to ring, announcing the time on Kurazukuri Street. It was not until 1996 that the bell's melodic chimes entered the list of "100 soundscapes of Japan". The Bell of Time has a wooden construction, with a height of 16 meters. It rings four times a day - at 6:00 AM, at mid-day, 3:00 PM and 6:00 PM, and its sound adds to the significant atmosphere of Little Edo Kawagoe City.
Together with Kawagoe City's Kurazukuri-style buildings, remnants of Western architecture from Meiji and Taishō Periods can also be found. The current building of Kawagoe Branch of Saitama Resona Bank is one representative building of this kind. Built in 1918, this building is actually the first bank established in Saitama Prefecture, and it was designated as a Tangible Cultural Property. The sight of buildings from the Edo Period and Western style architecture from Meiji and Taishō Periods all in one place is one of the charms of Kawagoe.
Information
The Bell of Time
Address: Saitama-ken, Kawagoe-shi, Saiwai-cho 15-7
Official Website: KOEDO KAWAGOE Tourist Association
The Hundred Caves of Yoshimi 吉見の百穴
In Saitama Prefecture there is a mysterious place called "The Hundred Caves of Yoshimi" (吉見の百穴 Yoshimi no hyakketsu). The numerous holes dug into the brown hill have been created around 501-700 A.D. .Said to have 219 holes in total, it is Japan's largest such historic ruin. Having a place reminding of Turkey's scenic Cappadocia (an arid region in Turkey, full of otherworldly rock formations) right in Saitama is rather astonishing.
Designated as one of Japan's historic monuments, it is currently open to the public, and visitors are allowed to enter the caves.
As you get closer to such a cave, you feel as if you are about to enter another dimension.
Though the entrance is narrow, you can stand up and walk comfortably once inside.
Heading down the hill, you can find a cave full of natural luminescent moss (光苔 Hikarigoke). In the Kantō region (Eastern Japan), places where natural luminescent moss grow are extremely rare and precious; these luminescent moss of The Hundred Caves of Yoshimi is designated as a Natural Monument.
In recent years the air in these caves have become arid, considerably reducing the moisture-dependent luminescent moss. Measures to preserve the moss have been taken: bowls of water have been placed in the cave in order to maintain the humidity level. Also, access to the end of the cave has been prohibited. Even so, visitors can still see the emerald glow of luminescent moss.
Information
The Hundred Caves of Yoshimi
Address: Saitama-ken, Hiki-gun, Yoshimi, Kitayoshimi 324
Hours: 8:30 - 17:00
Closed: None
Official Website: The Hundred Caves of Yoshimi/Luminescent Moss (Japanese)
The Steam Locomotive Train of Chichibu
On the Chichibu railways,  which run the nearest train station to Chichibu City's (秩父) Hitsujiyama Park (羊山公園 Hitsujiyama Kōen), you can see an active steam locomotive train called the "Paleo Express". The name "Paleo" came from the now-extinct marine animal Paleoparadoxia, which used to live in the Chichibu region over 20 million years ago. Paleoparadoxia is the latin word for "ancient mysterious animal". Various fossils have been found in this region, and it is now known that the Chichibu region had been under the sea eons ago. Paleoparadoxia fossils are considered rare, numbering only a few throughout the world.
The depiction of speed contained in the word "express" was combined with the nuance of cultural heritage of "Paleo", resulting in the nickname "Paleo Express".
The Paleo Express runs along Chichibu Railway's Kumagaya Station (熊谷駅) to Mitsumineguchi Station (三峰口駅). Along the way is Nagatoro Station (長瀞駅), nominated as one of Kantō's 100 top stations. You can feel the long history of this station through its wood-constructed building, which preserves its shape from the time it was first established.
Near Nagatoro is the famous "Nagatoro Line Kudari" (River Boating), an activity which involves riding a wooden boat down the river rapids.
Information
Chichibu Railway, Nagatoro Station
Address: Saitama-ken, Chichibu-gun, Nagatoro-cho, Nagatoro 529-2
Official Website: Chichibu Railway, Steam Locomotive The Paleo Express
Hitsujiyama Park 羊山公園, Chichibu
Hitsujiya Park (羊山公園 hitsujiyama kōen) in Chichibu (秩父市) is a vast piece of land where over 350,000 types of shibazakura 芝桜 (Moss Phlox flowers), painting a scenery so beautiful it will take your breath away. Blooming shibazakura cover the ground in carpets of pink, white and purple; a gorgeous landscape that makes you want to stay in there for hours.
Hitsujiyama Park is located at the foot of Chichibu region's symbolic mountain, Mount Bukō (武甲山 Bukō zan), making for a fantastic mountain backdrop while viewing the lovely flowers. During the Shibazakura Festival (held every year from mid-April to early May, 芝桜祭り Shibazakura matsuri), a market is set up in the adjacent plaza where you can buy Chichibu region souvenirs and sample local delights.
The name "Shibazakura" (芝桜 The Japanese name for Moss Phlox) comes from the resemblance of its flowers to those of the cherry flowers sakura (桜), spread out on the vast ground like a lawn (芝 Shiba). Hence 芝桜, or "lawn sakura". Hitsujiyama Park's shibazakura can be enjoyed from mid-April to early May every year. Looking at the individual flowers closely, you will find that they look very much like tiny hearts.
There are even overseas tourists who plan their vacations to coincide with the blooming period of the shibazakura of Hitsujiyama Park. It is a magnificent sightseeing place, the pride of Saitama Prefecture.
Information
Shibazakura Hill (Hitsujiyama Park)
Address: Saitama-ken, Chichibu-shi, Ōyama 6360
Hours: During the flower viewing season 8:00 - 17:00
Official Website: Shibazakura Hill (Hitsujiyama Park)
Saitama Prefecture's Festivals
Various festivals are held throughout the year in Saitama Prefecture. The prefecture's Chichibu Night Festival (秩父夜祭 Chichibu yomatsuri) is among Japan's three major float festivals; the other two are the Kyoto Gion Festival (京都祇園祭 Kyōto gion matsuri) and the Hidatakayama Festival (飛騨高山祭 Hidatakyama matsuri). Floats (山車 Dashi) are basically elaborately-decorated platforms that are pulled (曳く, "hiku" in Japanese) during festivals, giving rise to the term "Hikiyama matsuri" (曳山祭, literally meaning "Float-pulling festival").
Records of the Chichibu Night Festival date back to 1661-1672, so the festival has over 300 years of history behind it. One feature of this history-rich festival is the kasaboko (笠鉾), two large parasols decorated with spears and paper flowers; including another two stage floats, a total of four floats are paraded along the streets. This festival is designated as an Important Intangible Folk Cultural Property.
With floats being paraded around during winter in Chichibu, and fireworks being launched into the clear winter night sky, this is one Saitama Prefecture festival you should not miss.
This is what a Kawagoe Festival looks like. Flamboyant floats decorated with lions, okame masks (おかめ, Goddess of mirth) and hyottoko masks (ひょっとこ, a comical character depicting a man with a puckered mouth) are marched around the Kurazukuri Street. The grand spectacle of floats passing by one another in concert with blaring music is something really worth seeing.
Kawagoe Festival's biggest highlight has to be the "Hikkawase" (曳っかわせ); numerous floats compete with each other in a performance of the "hayashi" (囃子, the players of flutes, drums and gongs, as well as the dancers), where participants hoist lanterns up high and raise their voices in cheers. The Hikkawase at night intensifies into a spectacular climax.
In Closing
What do you think? Located north from Tokyo, Saitama Prefecture is a place with many interesting sightseeing places. Access from Tokyo is easy, and there are plenty of alluring events that can only be encountered in Saitama Prefecture. How about making a trip down to Saitama and experience its wonders with your five senses?
Information
The Ōmiya Bonsai Art Museum, Saitama
Address: Saitama-ken, Saitama-shi, Kita-ku, Toto-cho 2-24-3
Hours: 9:00 – 16:30 (March – October) / 9:00 – 16:00 (November – February)
Closed: Thursdays (Open on Thursdays that fall on public holidays), New Year's holiday, days when there is temporary closure.
Wi-Fi: -
Credit Cards: -
Language: Japanese, English
Menus Available In: English
Station: Toro Station (土呂駅) of JR Utsunomiya Line.
Access: 5-minutes walk from Toro Station
Price Range: Generally 300 yen
Religion: -
Phone Number: +81-4-8780-2091
Official Website: The Ōmiya Bonsai Art Museum, Saitama
Kawagoe City's Kurazukuri Street and the Bell of Time
Address: Saitama-ken, Kawagoe-shi, Saiwai-cho 15-7
Hours: -
Closed: -
Wi-Fi: -
Credit Cards: -
Language: -
Menus Available In: -
Station:
Kawagoe Station (川越駅) of Tōbu Tōjō Line or JR Line
Hon-Kawagoe Station (本川越駅) of the Seibu Shinjuku Line
Access: Within walking distance of the stations
Price Range: -
Religion: -
Phone Number: +81-4-9222-5556
Official Website:KOEDO KAWAGOE Tourist Association
The Hundred Caves of Yoshimi
Address: Saitama-ken, Hiki-gun, Yoshimi-cho, Ōaza Kitayoshimi 324
Hours: 8:30 – 17:00
Closed: None
Wi-Fi: -
Credit Cards: -
Language: -
Menus Available In: -
Station: Higashi-Matsuyama Station (東松山駅) of Tōbu Tōjō Line
Access: 30-minutes walk from Higashi-Matsuyama Station
Price Range: Adults 300 yen, elementary school students 200 yen, free for children below elementary school age.
Religion: -
Phone Number: +81-4-9354-4541
Official Website: The Hundred Caves of Yoshimi/Luminescent Moss
Steam Locomotive Train, Chichibu
Address: Saitama-ken, Chichibu-gun, Nagatoro-cho, Nagatoro 529-2
Hours: First train - Last train
Closed: -
Wi-Fi: -
Credit Cards: -
Language: -
Menus Available In: -
Phone Number: +81-4-9466-0002
Official Website: Chichibu Railway, Steam Locomotive The Paleo Express
Train Frequency: One return journey each day
Hitsujiyama Park
Address: Saitama-ken, Chichibu-shi, Ōyama 6360
Hours: During the flower viewing season 8:00am – 5:00pm
Closed: -
Wi-Fi: -
Language: -
Menus Available In: -
Station:
Chichibu Station (秩父駅) or Yokoze Station (横瀬駅) of Seibu Railway
Hanabatake Station (花畑駅) of Chichibu Railway
Access:
1.4km walk from Yokoze Station
1.5km walk from Chichibu Station
1.5km walk from Hanabatake Station
Price Range: General admissions 300 yen (250 yen for groups of more than 20). Free for children below junior high school age.
Phone Number: +81-4-9425-5209
Official Website: Shibazakura Hill (Hitsujiyama Park)
Flower Viewing: Mid-April to early May