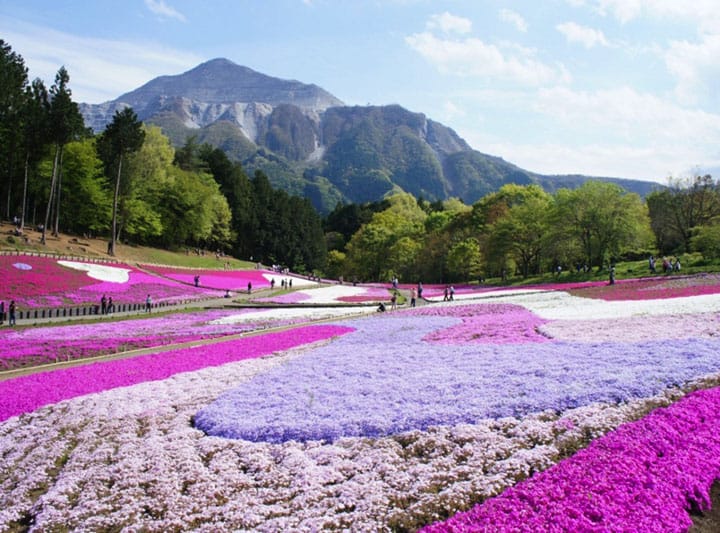 Have Fun In Saitama! 5 Must-Visit Spots
Saitama Prefecture is located north from Tokyo, and you can experience plenty of stunning and spectacular sights only available in this cozy part of Japan.
Saitama Prefecture is located in northern Tokyo. Its southern part is adjacent to Tokyo, that is why its is more densely populated, but head northwards and you will find fields of crops and nature in abundance. It has a lot of still undiscovered sightseeing spots, such as places with old streets and splendid nature.
The beautiful shibazakura 芝桜 (Moss Phlox flowers) of Hitsujiyama Park (羊山公園) in Chichibu (秩父市) or the area around Chichibu-hashi Bridge 秩父橋 itself, which was chosen as the location for an anime, are some examples of sightseeing places in Saitama Prefecture that have garnered attention in recent years. On the other hand, Saitama Prefecture is also known as the place for bonsai (盆栽), with many tourists from abroad visiting Ōmiya Bonsai Art Museum (さいたま市大宮盆栽美術館).
Here we will introduce to you some sightseeing places in Saitama Prefecture.
The Ōmiya Bonsai Art Museum, Saitama
In Saitama City, there is a Bonsai Village where you can appreciate bonsai through the four seasons. Besides bonsai, in The Ōmiya Bonsai Art Museum (さいたま市大宮盆栽美術館 Saitamashi Ōmiya Bonsai Bijutsukan), you can also view bonsai-related ukiyo-e (a type of traditional Japanese artwork) and historical documents on various bonsai subspecies.
In order to appreciate a bonsai, it is essential to realize you have a miniature natural landscape before your eyes into a small bonsai pot. While looking at the bonsai as a whole is important, details such as the roots, trunk, stems and leaves also play a big role.
When viewing a bonsai, first check how the roots are stretched. After long years of cultivation, you can feel the vitality of the plant just by looking at how firmly its roots hold onto soil.
On the second floor of The Ōmiya Bonsai Art Museum is a cafe, where customers can enjoy special drinks and dine on bonsai bentō (shown in the photo above).
※Available on weekends only.
On the first floor there is a shop where you can buy bonsai-related souvenirs. Bonsai hand towels, bonsai postcards, fans with bonsai pictures and other products are being sold as well.
The Ōmiya Bonsai Art Museum is accessible via train on the JR Utsunomiya Line (JR宇都宮線). Stop at Toro Station (土呂駅), use the east exit and you will reach the museum in a five minutes walk. The admission fee is 300 yen, but this one-and-only museum is a place that you should visit at least once in your life.
Information
The Ōmiya Bonsai Art Museum, Saitama さいたま市大宮盆栽美術館
Address: Saitama-ken, Saitama-shi, Kita-ku, Toro-chō 2-24-3
Hours: 9:00 - 16:30 (March - October) / 9:00 - 16:00 (November - February)
Closed: Thursdays (Open on Thursdays that fall on public holidays), New Year's holiday, days when there is temporary closure.
Official Website: The Ōmiya Bonsai Art Museum, Saitama