A Tour Around Izu Peninsula With a Thai Exchange Student. Beautiful Scenery, Delicious Food and Onsen!
A lighthouse, crystal clear waters, delicious seafood and an onsen paradise. Izu Peninsula is a great relaxing getaway.
In this series, we bring you the wonders of Japan through the eyes of a Thai student. Miss Pim will introduce you to Izu, located in Shizuoka Prefecture, in the third chapter of this series.
Pim's interest in Izu stemmed from a program broadcast by NHK World TV, Journeys in Japan.
Watching the program Izu & Odawara: The Senses of Summer, she saw that Japan has beautiful beaches.
In this article, Pim will showcase some places in Izu that fascinated her.
It's Not Just a Beach!? The Charm of the Sea of Izu
Getting to Izu from Tokyo takes approximately two hours by train. Surrounded by the sea, the inland area of this peninsula comprises mountainous regions; not only can you entertain yourself with sea and mountain activities, but this sightseeing spot also features numerous onsen (hot springs) that are popular even with Japanese people.
The range of small inlets along this beach and the beauty of the sea are famous. There are many diving spots along the coast of Izu Peninsula.
Pim: "I've seen the Izu sea on NHK World TV, but the real thing is really beautiful!"
Japan is cooler than Thailand in terms of weather, so she was a little surprised to find people frolicking on the beach. Despite Tokyo being so close, she seemed astounded to see that the seawater is so crystal clear.
We visited Izu Peninsula Geopark, Shimoda, Tsumekizaki Geosite. Located right beside the beach is a snowy white lighthouse standing atop the steep cliffs.
Pim instinctively took out her smartphone and began snapping pictures, with the azure sea, vast sky and white lighthouse serving as a stunning background.
The view from atop the lighthouse is amazing; the horizon stretches as far as the eye can see.
That isn't the only attraction in Izu Peninsula Geopark. These peculiar prism-shaped columns of rock are called columnar joints. Formed by volcanic activity, they are so rare that they have been designated as a Natural Monument of Shizuoka Prefecture. Because they are such a rarity, similar columnar joints have been designated in Great Britain as World Heritage Sites.
These stone columns look like hexagons when viewed from above. Their shape was formed by the cooling and contraction of molten magma.
Here in Izu Peninsula Geopark, not only can you observe this columnar jointing, but you can climb on them and examine them up close.
This rare volcanic phenomenon can be seen in other regions of Izu Peninsula as well. The walls of a particularly rare waterfall located in central Izu, the 20 meter-high Banjō Waterfall (万城の滝, Banjō no taki), also show such columnar jointing. Watching Journeys in Japan on VOD provides a glimpse of the waterfall hurtling past the beautiful columnar joints.
The Perry Road
Near Izu Peninsula Geopark there is a well-known sightseeing area called Shimoda (下田). The Japanese government enforced an isolation policy (鎖国 Sakoku) from 1639 to 1854, during which the circulation in and out of Japan and international trade were strictly controlled, and foreign relations were almost non-existent at that time. Military ships, the so called "Black Ships, led by American Commodore Matthew Perry arrived in Uraga, Kanagawa Prefecture, in 1854, resulting in the signing of a treaty that opened up the first port of Japan to the world, Shimoda Port.
A ship modeled after Commodore Perry's USS Susquehanna can be found anchored in Shimoda Port, where you can view the city of Shimoda. This sightseeing spot has a rather unique style to it and is great for taking photos.
Traces of the period when the Shimoda Port was opened to the world can still be found here.
Ryōsen-ji (了仙寺), situated along the Perry Road, is where the America-Japan treaty was signed 160 years ago. Perhaps Shimoda Port's appeal lies in its balance of new and old, as new things and concepts were incorporated while traditional aspects were maintained.
This article was written in December 2015, the time when lush evergreen willows can be seen.
But by the end of June or the start of July, beautiful hydrangea come out in full bloom, blossoming along the Hiraname-gawa river (平滑川) in brilliant colors. In Izu & Odawara: The Senses of Summer we presented the experience of taking a stroll down Perry Road when the hydrangea are in bloom, while tasting a certain time food that is traditionally eaten in Japan during summer.
Izu Peninsula's Native Fish, the Delicious "Splendid Alfonsino"
We stopped by a place called Nakagawa (なかがわ) for a meal after the stroll. Located just a five-minute walk from Izukyū Shimoda Station (伊豆急下田駅), it is a restaurant where you can taste a local fish, the Splendid Alfonsino (Beryx splendens).
The entrance is on the first floor, with the second and third floors reserved for guests. There are 36 seats on the second floor and 42 seats on the third floor; seating spaces will surely be available even if you plan to come in a large group. The menu comes in Japanese only but, since it has pictures, overseas tourists can simply point out what they want.
Our order was Shimoda's specialty, the Splendid Alfonsino set meal (2,060 yen). The splendid alfonsino (金目鯛 kinmedai), is a species of sea bream that inhabits waters at depths of 400 meters to 600 meters. Because it swims in the deep sea, this fish is rich in fat all around the year and has a distinctive strong taste despite it being a whitefish. This restaurant serves a meal where this fish is cooked with soy sauce, ginger and mirin.※
※……Mirin: One of the essential ingredients in Japanese cooking. This yellow-tinged liquid is similar to rice wine but has a sweet flavor, used in a variety of Japanese dishes involving boiling, noodle soup bases, teriyaki gravy, and in dishes where a sweet flavor is desired.
The kinmedai sashimi (2,300 yen) is particularly tasty and rich in fat. The fish caught in a nearby fishing area is served on the same day, so freshness is guaranteed. The dish comes with an intact wasabi radish which you grind yourself and pair it with sashimi and soy sauce to create a delightful treat.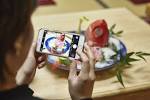 Pim couldn't resist taking pictures of the huge kinmedai and sending the photos to her mother. It is hard to hold yourself back isn't it?
Let's try it!
Pim: "The sashimi doesn't have fish odor to it because it's so fresh, it has consistency and is delicious. Cooked in soy sauce, it has a sweet and salty flavor, a taste that Thai people will find very familiar. It goes really well with white rice."
She was also surprised to find that the set meal comes with a miso soup containing a halved small crab; this is quite an extravagant type of dashi soup base.
Izu Peninsula means Onsen!
How about healing your tiredness at a onsen after touring the peninsula? Izu is one of the famous onsen places in Japan. Soaking yourself in a quality onsen is a great way to end your day.
Among the onsen of Izu, we highly recommend the Akazawa Onsen-Kyō (赤沢温泉郷). Soaking your body in this huge open air onsen, which is designed like an Infinity Pool connected with the sea, will take all the day's fatigue away.
Pim: "I'm happy with just a sauna, but having one with an unobstructed view of the sea is quite rare. I love it!"
A large indoor onsen, a dry sauna and bathtubs with bath salts are also available. And just like Pim said, regardless of whether you are in the indoor or outdoor onsen, bathtubs or sauna, you can always view the beautiful blue sea stretching along the horizon.
What's more, that guests can use shampoo, conditioner, makeup remover, cleanser and milk lotion to their heart's content. Even hair tonics and hair-styling mousse for men are available. For this reason, this place more and more popular with both Japanese women and tourists from abroad.
Signs within the resort are written in Japanese, English, Chinese and Korean.
Besides the place where you can come only to take a bath,  there is a spa, a hotel and restaurants in this resort, allowing you to spend an entire day gazing at the sea and relaxing quietly. There is also a store selling Shizuoka Prefecture specialties, where you can buy souvenirs for your loved ones even if you're in a hurry.
It may be stylish to bathe while taking in the sea view, but travel towards inner Izu Peninsula and you will enter mountainous regions where you can find onsen surrounded by greenery. You will surely find one that fits your preference. If you would rather visit an old onsen located deep in the mountains, please watch this program for reference: Izu & Odawara: The Sense of Summer.
What do you think? Pim's initial impression of Izu Peninsula was marked by the beach, but she had the chance to fully enjoy the charm of this place, and ended up saying: "I want to come visit with my mother!" Located in Shizuoka Prefecture, the Izu Peninsula is a place where you can enjoy different activities each season. How about visiting this place for yourself?
Photos by Junichi Higashiyama

Read also
■Places You Must Visit in Akihabara! A Tour with a Thai Student
■Thorough Tokyo Tower and Tokyo Skytree Comparisons by a Thai Student
■Jiyugaoka: Through the Eyes of a Thai Student
■Hokkaido's winter attractions? A trip to Biei with a student from Thailand

Interview Carried Out in Cooperation with: NHK WORLD TV (Journeys in Japan)
Information
Izu Peninsula Geopark, Shimoda, Tsumekizaki Geosite
Address: Shizuoka-ken, Shimoda-shi, Susaki, Tsumekizaki Tōdaika
Hours: Open 24hrs
Closed: None
Wi-Fi: None
Credit Cards: None
Language: -
Menus Available In: None
Station: Izukyū Shimoda Station (伊豆急下田駅) of the Izu Kyūkō Line (伊豆急行線)
Access: Approximately 15 minutes by the No. 10 Tsumekizaki bus from Izukyū Shimoda Station.
Price Range: Free
Religion: -
Phone Number: +81-5-5732-1784 Izu Peninsula Geopark Cooperation Campaign Council (Izu City Tourism Division)
Official Website: Izu Peninsula Geopark Tsumekizaki Geosite

Perry Road
Address: Shizuoka-ken, Shimoda-shi, 3-8-10
Hours: Open 24hrs
Closed: None
Wi-Fi: None
Credit Cards: None
Language: -
Menus Available In: None
Station: Izukyū Shimoda Station (伊豆急下田駅) of the Izu Kyūkō Line (伊豆急行線)
Access: 10-minute walk from Izukyū Shimoda Station
Price Range: -
Religion: -
Phone Number: +81-5-5822-1531 (Shimoda City Tourism Division)
Official Website: Shimoda Tour Guide

Nakagawa (なかがわ)
Address: Shizuoka-ken, Shimoda-shi, 1-12-17
Hours: 11:00am - 10:00pm (Last Order 8:40pm)
Closed: None
Wi-Fi: None
Credit Cards: None
Language: -
Menus Available In: None
Station: Izukyū Shimoda Station (伊豆急下田駅) of the Izu Kyūkō Line (伊豆急行線)
Access: 6-minute walk from Izukyū Shimoda Station
Price Range: Lunch 1,000 yen - 1,999 yen. Dinner 2,000 yen - 2,999 yen
Religion: -
Phone Number: +81-5-5822-0310
Official Website: None

Akazawa Onsen-Kyō (赤沢日帰り温泉館 赤沢温泉郷)
Address: Shizuoka-ken, Akazawa Ukiyama 163-1
Hours:
Weekdays 10:00am - 10:00pm (Last Entry 9:00pm)
Saturdays, Public Holidays, Peak Periods 9:00am - 10:00pm (Last Entry 9:00pm)
Closed: Closed for 3 days every January and June. Dates may change, so it's best to check the website.
Wi-Fi:
Credit Card: VISA, JCB, AMEX, Diners, DC, UC, NICOS, UnionPay, MASTER (only for secured credit cards with collateral deposits)
Language: Simple English
Menus Available In: English, Chinese, Korean
Station: Izu-Kōgen Station (伊豆高原駅) of the Izu Kyūkō Line (伊豆急行線)
Access: Free shuttle service from Izu-Kōgen Station
Price Range:
Weekdays - Above middle school age: 1,230 yen (including tax), 4 years to elementary school: 720 yen (including tax)
Saturdays, Public Holidays, Peak Periods - Above middle school age: 1,640 yen (including tax), 4 years to elementary school: 930 yen (including tax)
※Admission fee is paid by cash at a ticket machine
Religion: -
Phone Number: +81-5-5753-5555 (Representative)
Official Website: Akazawa Onsen-Kyō (Japanese)

The information presented in this article is based on the time it was written. Note that there may be changes in the merchandise, services, and prices that have occurred after this article was published. Please contact the facility or facilities in this article directly before visiting.