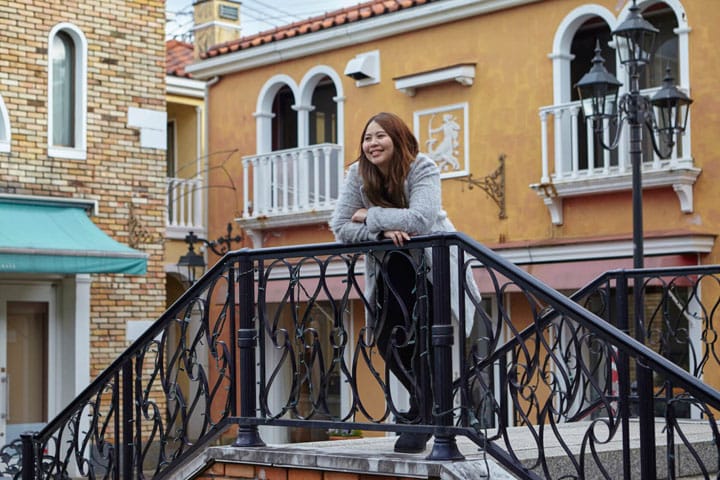 Jiyugaoka: Through the Eyes of a Thai Student
Jiyugaoka is well-known for its stylishness. In this article, Ginny, an exchange student from Thailand, will introduce its appeals.
This is the fourth article in the series of discovering Japan's charms through the eyes of an exchange student from Thailand. We visited Jiyugaoka(自由が丘) area, Tokyo, which stretches over Meguro-ward and Setagaya-ward. Ginny, who appeared in previous articles about Akihabara and the Tokyo Tower/ Tokyo Skytree comparison, will accompany us.
Ginny: Jiyugaoka has many stylish shops and cafes, but not many visitors from overseas know about it. Thai people love chic cafes and places where they can take selfies, so they will like Jiyugaoka.
Jiyugaoka area has also been featured in the TV program TOKYO EYE 2020 of NHK World.
So, let's take a look.
What Kind of Place is Jiyugaoka?
It takes 25 minutes to get to Jiyugaoka by train from Tokyo station, and 10 minutes from Shibuya station. Many people come to this area to visit various shops handling goods for everyday life, sweets, and interior furnishings.
Cafes and knick knack stores are gathered on the south side of the station.
This area resembles European towns. People who love their atmosphere have opened here shops and cafes which blend in with the scenery. Because high society people who love this kind of atmosphere often come here, this town became a place where you can see the latest trends of Japanese high society.
For instance, there is a story about Mont Blanc which is a famous type of cake in the world. The pastry shop Mont-Blanc, located near Jiyugaoka station, introduced the cake Mont Blanc to Japan in the days when western-style sweets were not yet well known like today. Mont Blanc, still made along the original recipe, sweets made with honey from Jiyugaoka, as well as a variety of other pastries can be found at Flowers and Sweets for All: Jiyugaoka.
While there are some trend-setting stores in Jiyugaoka, there is also a Japanese-style cafe called Kosoan (古桑庵). It is set in an old tea room built in 1954, and the visitors can enjoy sweets using matcha (powdered green tea). Jiyugaoka keeps changing while preserving the old ways at the same time, and because of this, this area is cherished and supported by many people.
The Japanese websites for Mont-Blanc and Kosoan.
Mont-Blanc: Tokyo, Meguro-ku, 1-29-3
Kosoan: Tokyo, Meguro-ku, 1-24-23
What Makes Jiyugaoka Stand Out?
When speaking of Jiyugaoka, one thinks of European-like scenery. Because of the fact that this town has introduced the atmosphere of European towns from its early days, it has an exotic atmosphere.
This is La Vita, a commercial facility which became famous after being used as a location for filming a TV drama starring an actor from the talent agency "Johnny's".
Ginny: Thai people like to take selfies and upload it on SNS, so many of them would say "I'm at Venice," with photographs from here.
Jiyugaoka makes you feel like you're in a European town. Let's take a further look together with Ginny.
Today's Special Jiyugaoka
Our first stop is Today's Special, which handles household goods designed to make "today a special day."
Kitchen utensils, foodstuff, various everyday goods, and plants are on display just like in a marketplace.
Among the wide variety of goods, the old-style Japanese cooking utensils catches the eye. There is an eggbeater made from bamboo, and a utensil called "oni oroshi," also made from bamboo, used for grating Japanese radish. They can be a good choice for souvenirs. Tokyo Eye 2020 presented many other unique items.
Today's Special Kitchen, a cafe, is located on the third floor of the building. Looking over the streets of Jiyugaoka, Ginny tried the homemade cordial lemonade. The price is 600 yen without tax.
Ginny: The sweetness is just right, and it's very delicious. The syrup is homemade, so it is good for your health.
*The menu changes according to the season.
Katakana
Katakana handles attractive, contemporary Japanese items.
They select items "which strike the right balance between traditional culture and foreign culture". The store is filled with unique, Japan-made products.
These items with the Mt. Fuji theme are popular to visitors from overseas.
Ginny was interested in the wooden pens with animal patterns, priced at 850 yen without tax.
Ginny: It's so cute! A broken drumstick was recycled to make this pen, so it's ecologically friendly as well.
Mr. Kawano, the store manager said that "Male customers prefer these action heroes made from recycled drumsticks, called the Mokuseiderz. From left to right, they're named John, Null, and Rip. A customer came all the way from Thailand to buy them." John is priced at 2,400 yen, Null and Rip are priced at 3,000 yen, all without tax.
There are many items for children, such as the 24-piece wooden block "Moku Lock," priced at 2,625 yen without tax. The president of Thailand's largest beer company comes shopping to the store every year with his family.
Ginny: When I will have children, I'll bring them here. It's fun just to browse the store. I will bring also my mother and have her buy me some things.
Pieni Koti
Jiyugaoka has many stores handling children's items.
Pieni Koti deals in miscellaneous goods and furniture. They select items popular to both children and adults, and also items that are said to bring good luck, for example for the first time you get your own room.
They also handle party decorations, items for babies, toys, and interior furnishings. The Japanese-made emblems, with delicate designs, is one of their popular items.
This lampshade with a Liberty print is an original product of Katakana, and some customers come from abroad just to buy it.
Ginny: The designs are all different, so whatever you buy, it looks original.
If you want to redecorate your room, or if you're traveling with children, it might be fun to take a look at Katakana.
Natural Kitchen&
After browsing the kid's items, we visited Natural Kitchen&, to look for souvenirs.
The store is filled with cute kitchen utensils and everyday goods, most of them priced between 100 and 200 yen without tax, so the customers keep on coming.
The colored wirework is one of their popular items.
Ginny: I love these kind of craftwork, so I want to fill my room with them.
Many customers feel the same way, and buy more than one.
The Japanese tableware is popular among the customers from abroad.
Ginny chose a five-piece chopsticks set with polka dots, wooden fork, and a pair of tongs with a smiling design.
Ginny: They're all adorable, so I had a hard time deciding what to choose. The chopsticks will make a good souvenir, and I will use the tongs and fork by myself.
Taking the time to choose may be one way to enjoy shopping.

If You can't decide where to visit...
Most of the shops are gathered inside an area which you can walk around in 15 minutes. If you have trouble deciding which shop to visit, go to the Jiyugaoka information center. The staff, with a vast knowledge about Jiyugaoka, will be more than happy to help you.
Learn more about the Jiyugaoka information center at this site. The information center is only closed during the year-end and New Year holidays, .
On Sundays, Ses Anges, the cute concierges of Jiyugaoka, come on duty. They hand out maps to guide the visitors to their destinations, so don't hesitate to ask. You can also see how they work via VOD on Tokyo Eye 2020.
This is Jiyugaoka, a town changing constantly, seen through the eyes of Ginny, an exchange student from Thailand. Besides the stores in this article, you can find more such as various sweets shops or a place where you can experience "Bonsai" or a traditional Japanese art in Jiyugaoka. Walk around the town, and find your own favorite spot.
Photo by Junichi Higashiyama

Read also
■Places You Must Visit in Akihabara! A Tour with a Thai Student
■Thorough Tokyo Tower and Tokyo Skytree Comparisons by a Thai Student
■A Tour Around Izu Peninsula With a Thai Exchange Student. Beautiful Scenery, Delicious Food and Onsen!
■Hokkaido's winter attractions? A trip to Biei with a student from Thailand

Interviews Carried Out in Cooperation with: NHK World TV (Tokyo Eye 2020)
Information
La Vita
Address: Tokyo, Meguro-ku, Jiyugaoka 2-8-3
Hours: 11:00 a.m. - 8:00 p.m.
Closed: There are no regular closed days.
Wi-Fi: −
Credit Cards: Differs according to shops.
Language: Differs according to shops.
Menus Available In: Differs according to shops.
Station: Jiyugaoka station (自由が丘駅) of Tokyu Toyoko line and Tokyu Oimachi line.
Access: Five-minutes walk from the main entrance of the Jiyugaoka station.
Price Range: -
Religion: -
Telephone: +81-3-3723-1881
Official Wenbsite: -
Today's Special
Address: Tokyo, Meguro-ku, Jiyugaoka 2-17-8
Hours:
First & Second floors (Market) 11:00 a.m. - 9:00 p.m.
Third floor (Kitchen) 11:00 a.m. - 11:30 p.m. (Last order at 11:30 p.m.)
Closed: Year-end and New Year holidays.
Wi-Fi: Not Available
Credit Cards: JCB, American Express, Diners Club, VISA, and MasterCard are accepted.
Language: Japanese
Menus In Other Languages: Not Available
Station: Jiyugaoka station (自由が丘駅) of Tokyu Toyoko line and Tokyu Oimachi line.
Access: Three-minutes walk from the main entrance of the Jiyugaoka station.
Price Range: Differs according to the product.
Religion: -
Telephone:
First & Second floors (Market) +81-3-5729-7131
Third floor (Kitchen) +81-3-5729-7160
Official Wenbsite (Japanese): Today's Special
Katakana
Address: Tokyo, Setagaya-ku, Okusawa 5-20-21
Hours: 11:00 a.m. - 8:00 p.m.
Closed: There are no regular closed days.
Wi-Fi: Not Available
Credit Cards: JCB, American Express, Diners Club, VISA, and MasterCard are accepted.
Language: Japanese
Menus In Other Languages: Not Available
Station: Jiyugaoka station (自由が丘駅) of Tokyu Toyoko line and Tokyu Oimachi line.
Access: Three-minutes walk from the south entrance of the Jiyugaoka station.
Price Range: Differs according to the product.
Religion: -
Telephone: +81-3-5731-0919
Official Wenbsite (Japanese): Katakana
Pieni Koti
Address: Tokyo, Meguro-ku, Jiyugaoka 2-8-17
Hours: 11:00 a.m. - 8:00 p.m.
There are no closed days.
Wi-Fi: Not Available
Credit Cards: -
Language: Japanese
Menus In Other Languages: Not Available
Station: Jiyugaoka station (自由が丘駅) of Tokyu Toyoko line and Tokyu Oimachi line.
Access: Three-minutes walk from the main entrance of the Jiyugaoka station.
Price Range: Differs according to the product.
Religion: -
Telephone: 03-3725-5120
Official Wenbsite (Japanese): Pieni Koti
Natural Kitchen&
Address: Tokyo, Setagaya-ku, Okusawa 5-42-3
Hours: 10:00 a.m. - 8:00 p.m.
Closed: In accordance with the Trainchi building.
Wi-Fi: Not Available
Credit Cards: -
Language: Japanese
Menus In Other Languages: Not Available
Station: Jiyugaoka station (自由が丘駅) of Tokyu Toyoko line and Tokyu Oimachi line.
Access: Two-minutes walk from the south entrance of the Jiyugaoka station.
Price Range: Differs according to the product.
Religion: -
Telephone: +81-3-3721-7111
Official Wenbsite (Japanese): Natural Kitchen