Shopping in Omotesandō Hills, Where Japanese Trends Are Born
If you have refined tastes and wish to see some of the best that Japan has to offer, look no further than Omotesandō Hills with its tax-free status and helpful foreign language speaking staff.
The preeminent high fashion shopping street in all of Japan is found in Omotesandō. Whether looking for brand name goods or just passing the time window shopping, Omotesandō is full of shoppers on weekdays and holidays.
Today, let's take a closer look at the two sides of Omotesandō Hills - a high class shopping center and the cultural institution.
What is Omotesandō Hills?
The shopping space within Omotesandō Hills includes roughly 100 different stores. The majority of the brands to be found here are intended for those with a high sensitivity to fashion; to be more precise, men and women in their 30s and 40s. It seems that, if you're a fashionable person with a mind for high quality goods, here you will definitely find at least one item you just have to have.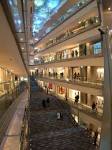 Image courtesy of Omotesandō Hills
With three basement floors and three above ground floors in the main building, the central atrium of Omotesandō Hills has been designed to match the natural landscape; there is a 700 m gradual spiral slope inside the building surrounding the atrium. From this design, all the shops and restaurants within Omotesandō Hills appear to be lined up quite neatly, making it seem as though you were simply walking down a shopping street, which is a fun experience.
On the B2 floor of the main building there is a kids' area known as Kids' Forest (キッズの森) where there is a baby room, a private room for breast-feeding mothers, changing tables, a water heater for formula and more, making it easier for those with children and infants to enjoy their shopping experience worry-free.
Don't Miss Out! Shops Recommended for Visitors
Here are a couple of shops it would be a shame to miss while visiting Japan.
1. Edition (Main Building 2F)
Image courtesy of  Omotesandō Hills
Edition is best known for its incredible "daily wear" clothing. Their style is just on the edgy side without going overboard, so outfits from Edition are sure to please any adult. This is a select shop that features clothing and miscellaneous goods not only from Japan but also from American and European designers.
2. Shu Uemura Beauty Boutique (West Building 1F)
Image courtesy of Omotesandō Hills
Shu Uemura is Japan's premier make-up artists' brand. Shu Uemura began his make-up brand in 1983 on his birthday, June 19th, and opened his first shop, the Shu Uemura Beauty Boutique, in Omotesandō Hills. The concept of the shop itself is rather revolutionary - the open artist's area, with its endless rainbow hues of eye shadow and lipstick and an array of brushes greater than any painter's studio could boast, is meant to lift the cosmetics buying experience to new heights. The store itself was renovated in February 2015, and now hosts Omotesandō-exclusive services and events.
Tabio (Main Building B2F)
Image courtesy of  Omotesandō Hills
Smashing the idea that "socks are simply consumable goods" is the premium sock and stocking brand Tabio. Based on the dual concepts of traditional craftsmanship and "experiences for all the senses", each and every pair of socks sold by Tabio is of impeccable quality.
Max Brenner Chocolate Bar (Main Building 1F)
Image courtesy of Omotesandō Hills
The Max Brenner Chocolate Bar is a chocolate restaurant originally from Israel. This shop is reminiscent of a chocolate theme park - the interior stimulates the five senses, the food is completely unique, it is the total "pop package". The most recommended dish at Max Brenner's is hands down the chocolate pizza: made from pizza dough coated in melted chocolate sauce, then covered in marshmallows and chunks of baked chocolate.
Even Tourists Can Shop Til They Drop Here
Two very important things that immediately come to mind when shopping on vacation are foreign language support and tax/duty-free services. In February 2016, Omotesandō Hills celebrated its 10th anniversary, and from March 18th 2016, began a large-scale renovation of the center. Besides these incredible points, Omotesandō Hills is now making headway into different services for travelers.
At present, half of the shops in the entire building are tax/duty-free. While the shops are being renovated or new shops added, these locations are also becoming tax exempt.
Image courtesy of Omotesandō Hills
At the information counter there are helpful multilingual staff available to answer any of your questions. There are English speaking staff permanently stationed at the counter everyday from 11:00 to 19:00, and Chinese speaking staff available on Saturday, Sunday and holidays from 11:00 to 17:00. From March 2016, multilingual touch panel screens are available should you need further assistance.
Furthermore, there is now free Wi-Fi service throughout the building. Omotesandō Hills has really rejuvenated itself with the traveler in mind, going beyond just shopping.
Tadao Andō's Architectural Masterpiece
Image courtesy of Omotesandō Hills
Stretching from Meiji-Jingūmae station to Omotesandō station, the façade of the building extends for roughly 250 meters, or about one-quarter of the Omotesandō shopping street. Omotesandō Hills was designed by the world famous architect Tadao Andō ; with its bare concrete entrance-way and glass-paneled outer wall, the building seems to extend on forever. It is an impressive building in all regards.
Read also: Tadao Andō: Four Works in Tokyo
At Omotesandō Hills, you will surely find something that you just have to have. If you're planning on going shopping in Harajuku or Omotesandō, why not make a special trip to Omotesandō Hills and see what's new?
Information
Omotesandō Hills
Address: Tokyo, Shibuya, Jingūmae 4-12-10
Hours: Monday - Saturday Shopping 11:00-21:00, Restaurants 11:00-23:30 (last order 22:30), Cafes (11:00-22:30, last order 21:30)
Sunday  Shopping 11:00-20:00, Restaurants 11:00-22:30 (last order 21:30), Cafes (11:00-21:30, last order 20:30)
Closed: 3 days a year
Wi-fi: Yes
Credit Cards: Yes, all major cards
Other Languages: At the information center
Menus in Other Languages: Depends on the store
Nearest Station: Ginza Line/Chiyoda Line/Hanzomon Line Omotesandō Station ( 表参道駅), Chiyoda Line/Fukutoshin Line Meiji-Jingumae Harajuku Station (原宿駅)
Access: 2 minute walk from exit A2 of Omotesandō Station (G/C/H Lines), 3 minute walk from exit 5 of Meiji-Jingumae Station (C/F Lines)
Price Range: -
Religious Considerations: -
Phone Number: 03-3497-0310 (Information center)
Homepage: Omotesandō Hills

The information presented in this article is based on the time it was written. Note that there may be changes in the merchandise, services, and prices that have occurred after this article was published. Please contact the facility or facilities in this article directly before visiting.