Satisfaction Guaranteed! Enjoy Hiroshima-Style Okonomiyaki
The Hiroshima-style okonomiyaki has voluminous fillings sandwiched between two thin crepe-like layers. In this article we introduce Hiroshima's soul food - the Hiroshima-style okonomiyaki.
Okonomiyaki is a dish mainly eaten in Western Japan. It is made with a watery wheat flour dough and several fillings. The cooking method and the ingredients used vary depending on the area of Japan where it's made. The two most well-known types of okonomiyaki are the Kansai-style and the Hiroshima-style okonomiyaki. This time we will introduce the features of the Hiroshima-style okonomiyaki and how to order it to your liking.
Read also:
Japanese Encyclopedia: Okonomiyaki, Kansai Style
Wagyu or Okonomiyaki? 15 Best Teppanyaki Restaurants in Tokyo, Kyoto, and Osaka

Where Can You Eat Hiroshima-style Okonomiyaki?
It is said that Hiroshima-style okonomiyaki came about during the time after World War II, in a booth on Hiroshima's war-scorched fields. Okonomimura ("Okonomi Village") is a sort of a food theme park located in a building filled with a collective of different shops and was built on the site of the original shop.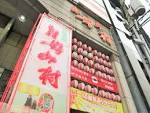 Okonomimura features 24 shops in one convenient location, so this is the perfect place for visitors who are not yet sure of where to go.
There are around 900 okonomiyaki stores in the city of Hiroshima alone, so it might be fun to walk around and try out different versions of this comfort food too.
Once You Enter the Building...
The first thing you should do upon entering the store is to let the staff know how many people you'll be dining with. You can sit in either the booths or at the counter, so let them know your preference. Shops that sell Hiroshima-style okonomiyaki have an iron griddle at the counter seats. The cooks will make the okonomiyaki right before your very eyes, which is is really enjoyable to watch. If it is your first time eating Hiroshima-style okonomiyaki, we recommend the counter seats.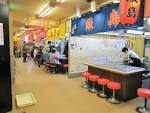 A lot of these stores have their menus written in Japanese on posters on the wall. Make sure to ask the staff, as some store might have an English menu available.
There Are Plenty Of Options For Fillings
Hiroshima-style okonomiyaki is a dish with nearly endless variations, as you can usually put any toppings of your choice. We will introduce here some typical Hiroshima-style okonomiyaki ingredients.
The most popular ingredient is pork. For those who don't like or can't eat pork, there are various seafood ingredients such as shrimp and squid which you can choose from as well. You can also choose kaki (oysters), which is Hiroshima's local specialty.
The most important ingredient in Hiroshima-style okonomiyaki though, is the noodles. In Osaka, okonomiyaki with noodles in it is called modan yaki, but Hiroshima-style okonomiyaki always contains noodles. You can choose from two types of noodles: soba noodles, which are thin noodles made from eggs, or udon noodles, which are thick noodles. If you choose the soba noodles, you'll get perfectly aromatic noodles, while if you order the udon noodles, you'll get a thicker, springy texture.
The Soba Noodles And The Thin Dough Make The Difference
If you take a look at Kansai-style okonomiyaki and Hiroshima-style okonomiyaki, they both share ingredients such as cabbage, meat or fish, and the soft wheat flour dough. The real difference lies in the way they are made. Let's take a look at the way the Hiroshima-style okonomiyaki is cooked.
First, the flour mixture is cooked like a crepe. Next, cabbage and other fillings are laid on top, and the whole thing is flipped over.
Next, boiled noodles are spread onto the grill, and cooked until they've gotten a nice golden brown color to them. This results in a crispy texture.
Once the noodles and the cabbage are cooked, they are laid on top of an egg which was spread out on the hot plate. One thing that really distinguishes Hiroshima-style okonomiyaki from Kansai-style is that the ingredients aren't all mixed. The egg and the flour mixture are cooked separately.
Finally, the okonomiyaki is topped with seaweed flakes, okonomiyaki sauce, and plenty of green onions. For those who are not fans of raw green onions, just make sure to let the staff know when you're ordering your okonomiyaki.
Once it's finished, the staff will place it on the hot plate area right before your very eyes. They will also ask you if you would like the okonomiyaki cut into easy-to-eat pieces. It's difficult for first-timers to cut their okonomiyaki evenly, so it might be a good idea to get it cut by the staff. You'll be given a kind of "spoon" used exclusively for okonomiyaki, which is called kote; use this "spoon" to scoop up just the bit of the okonomiyaki that you're going to eat.
The aromatic sauce fills your mouth as you eat the hot-off-the-grill okonomiyaki. You can only experience this at a shop that uses an iron hot plate, so if you're visiting Hiroshima, make sure to have this treat at least once.
Read also:
Things to Do in Hiroshima, the City of Peace and Culture
Information
Okonomimura

Address: Hiroshima, Naka ward, Shintenchi 5-13
Hours: Depends on the store
Closed: Depends on the store
Wi-Fi: No
Credit cards: Depends on the store
Menus Available in: Website is displayed in English, Chinese, Korean; multi-language menu availability varies from store to store
Nearest Station: Hiroshima Electric Tram Railway, Hatchōbori Station
Access: 3-minute walk from Hatchōbori Station, 12-minute walk from Hiroshima Bus Center
Price Range: from 1,000 yen
Religion: -
Phone number: 082-221-7512
Website: Okonomimura

The information presented in this article is based on the time it was written. Note that there may be changes in the merchandise, services, and prices that have occurred after this article was published. Please contact the facility or facilities in this article directly before visiting.