5 Things To Do In Hiroshima, The City Of Peace And Culture
With its powerful historical sites and numerous delicious dishes, why not see what Hiroshima has to offer?
Hiroshima is a very appealing city, famous both for its beautiful tourists spots and World Heritage sites and for its unique local foods. Let's take a closer look at 5 of these amazing places you can only find in Hiroshima.
1. Praying for Peace at the Atomic Bomb Dome
Hiroshima is the first place in the world where the atomic bomb was used during war. However, Hiroshima as it is now has been fully restored and modernized; when you walk around the city you barely feel the damage and horror from the atomic bomb being dropped.
The Atomic Bomb Dome (Genbaku Dome), also known as the Hiroshima Peace Monument is one of the very few buildings to have had its appearance preserved after the explosion. The dome has been left in order not only to preserve the memory of the event but also to stand as a reminder of the tragedy for future generations. It was registered as an UNESCO World Heritage Site in 1996.
Prior to the bombing, it was known as the Hiroshima Prefectural Industrial Promotion Center. It was used as a facility where local goods from across Hiroshima prefecture were introduced and sold. Most buildings in Hiroshima city were destroyed when the atomic bomb was dropped in 1945, but the dome styled steel frame on the top of the building was miraculously left relatively unscathed. Because of this shape it became known as the Atomic Bomb Dome.
It is currently prohibited to enter the building and the area immediately around it, but you can see the Atomic Bomb Dome from the banks of Motoyasukawa in the center of Hiroshima city. Also, right next to the Atomic Bomb Dome is the Heiwa Kinen-kōen
("Peace Memorial Park") which has the Hiroshima Peace Memorial Museum, where stories of the tragic damages from the atomic bomb are preserved for future generations, and the Memorial Center for the Atomic Bomb Victims (Genbaku Shibotsusha Irei-hi), where you can pray for the souls of the victims of the atomic bomb.
In Hiroshima please take a few minutes to think about peace.
2. Beautiful Views from Hiroshima Castle
Surrounded by moats in the heart of Hiroshima city is Hiroshima-jō, or Hiroshima castle. This impressive castle with its wooden façade was originally built in 1589 and rumored to have taken only 10 years to complete. When the atomic bomb was dropped it was completely destroyed, but rebuilt as a museum for Hiroshima's history in 1958. In the grounds surrounding the castle are the ruins of buildings that once stood there, as well as the Hiroshima Gokoku Jinja Shrine.
Hiroshima Gokoku Shrine within the castle grounds
Within the grounds of most Japanese castles you will find several gates, watchtowers, warehouses and residences. Out of all of the buildings located at Hiroshima castle, the one that stands out the most is the high-rise tower Tenshukaku. This castle tower stands 5 stories tall and within it you can find a museum of Hiroshima and the surrounding area's history, with many interesting documents and materials on display.
On the top floor there is an observatory where you can see an unbroken view of Hiroshima city that spreads out past the nature filled park.
3. Eating Hiroshima-style Okonomiyaki at Okonomi-mura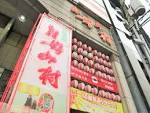 Okonomiyaki is popular dish from the Kansai region. It is made by mixing flour and water with other ingredients and then baked, resembling a bit a savory pancake with lots of different vegetables and toppings. It's known as a local specialty in Hiroshima and called "Hiroshima-style okonomiyaki" or simply Hiroshima-yaki.
Over 900 okonomiyaki restaurants exist in Hiroshima city, but it's hard to find one that suits everyone's needs. At times like this, Okonomi-mura is the best choice.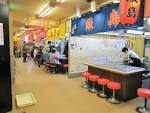 Located in downtown Hiroshima, Okonomi-mura has 24 stores on floors 2 - 4 of one building, all offering Hiroshima style okonimyaki. Four stores offer an English menu and many of the shops have iron plates located on the counter where they prepare okonomiyaki right before your eyes.
Covered in a delicious sauce and fresh green onions, this okonomiyaki is also stuffed with rich noodles; when in Hiroshima, you just have to try this gorgeous dish.
4. Riding on the Cute Retro Hiroden
An indispensable mode of transportation for Hiroshima city residents is the Hiroshima Dentetsu (Hiroshima railway), commonly called the Hiroden. It is a streetcar that runs along the regular roads within Hiroshima city and takes you to not only tourist spots like the Atomic Bomb Dome and Hiroshima castle, but even to the harbor where you can board a ferry to Miyajima, home of the beautiful Itsukushima Shrine. It runs frequently from morning until late at night, making it a convenient transportation option for tourists as well.
Hiroden has some retro trains that have been running for over 30 years, so when you go on them it really feels like you've gone back in time.
5. Try Hiroshima's Specialty: Oysters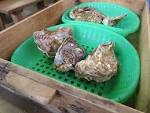 Hiroshima produces the most kaki (oysters) in all of Japan. Hiroshima prefecture is surrounded by the Seto Inland Sea and greenery-rich mountains. The oysters from Hiroshima are filled with a lot of nutrients and are known for their thickness and springiness.
It's common for oysters to be eaten raw or cooked in a hotpot dish, but in Hiroshima fried oysters are popular. You roast them for about 10 minutes on top of a charcoal fire still in their shells; if you really want the full Hiroshima oyster experience, try them with another Hiroshima specialty - lemons.
Moreso than when eaten raw, the roasted oysters have a stronger, richer flavor. If you aren't a fan of raw seafood, the roasted oysters will take your breath away. Please give them a try!
There are so many wonderful places to see and foods to try in Hiroshima - from powerful reminders of the past to delicious restaurants serving local delicacies. Please make a point to visit this phenomenal city.
Information
Atomic Bomb Dome

Address: Hiroshima, Hiroshima 1-10
Wi-fi: -
Nearest Station: Genbakudōmu-mae Station (原爆ドーム前駅) on Hiroshima Dentetsu line
Access: Immediate to the station; 5 minute walk from the Hiroshima Bus Center
Official Website:Atomic Bomb Dome

Hiroshima Castle

Address: Hiroshima, Naka, Motomachi 21-1
Hours: 9:00 - 18:00 (last entrance 17:30); Jan-Feb 9:00 - 17:00 (last entrance 16:30)
Closed: New Years
Wi:fi: -
Credit Cards: -
Other Languages: English, Chinese, Korean, German, French (homepage only)
Nearest Station: Kamiyachō Nishi station (紙屋町西駅) or Kamiyachō Higashi station (紙屋町東) on Hiroshima Dentetsu Line
Access: 15 minute walk from either station or 12 minute walk from Hiroshima Bus Center
Entrance Fee: Adults 370 yen, junior high and under free
Phone Number: 082-221-7512
Homepage: Hiroshima Castle
(Japanese)

Okonomi-mura

Address: Hiroshima, Naka, Shintenchi 5-13
Hours: Varies by store
Closed: Varies by store
Wi-fi: -
Credit Cards: Varies by store
Languages: Varies by store; English, Chinese, Korean & others on HP
Nearest Station: Hatchōbori Station (八丁堀駅) on Hiroshima Dentetsu Line
Access: 3 minute walk from Hatchōbori Station, 12 minute walk from Hiroshima Bus Center
Price Range: from 1000 yen
Religion: -
Phone Number: 082-221-7512
Homepage: Okonomi-mura

The information presented in this article is based on the time it was written. Note that there may be changes in the merchandise, services, and prices that have occurred after this article was published. Please contact the facility or facilities in this article directly before visiting.