Enjoy Drinks With Penguins At Penguin Bar Ikebukuro!
Animal cafes have been popular in Japan for a while now, but going to Penguin Bar Ikebukuro is a different experience. It is a bar with great drinks and food and adorable penguins to watch!
Everyone needs a way to let off steam after having a stressful day, don't you think?
Since around the year 2000, cafés where you can spend a relaxing time and interact with animals have been gaining in popularity in Japan. From cat cafés to rabbit cafés and even bird cafés, there are various types of animal cafés one can find around in Japan.
This time though, it's not just a café. There is a bar in Tokyo where you can enjoy drinking while watching the aquarium star waddle about: cute little penguins! Let's check out Penguin Bar Ikebukuro.
Let's Meet Up with the Penguins
Inside the bar, adorable penguins are waiting for you.
You don't have to go to the aquarium to get a close look of penguins playing with each other; you can watch them at the bar. Of course you can take pictures with them. But please turn flash off so as to not scare your little friends.
You can watch staff feed penguins during the feeding time. However please stay away from the penguins when they are being fed because they might get aggressive.
Full of Penguin Patterns! Recommended Dishes
Penguin Bar Ikebukuro has over 100 types of alcohol and dishes that go perfectly with their drinks. Here are some of the special menu items that you can only taste here.
Oh, and don't worry if you don't understand Japanese well. They have English menus.
Penguin Bar Special Frozen Cocktail
This is a sweet coconut-based cocktail with a refreshing sorbet-like texture.
This drink is topped with apple slices and lemon peel, making it look... just like a penguin! It's almost too cute to drink.
Penguin Pancakes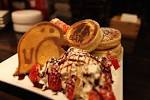 Pancakes and French toast with vanilla ice; topped with penguin-shaped and logo-printed pancakes, the French toast goes perfectly with ice cream. You won't be able to stop eating these fluffy sweets!
Please keep in mind that there is an 800 yen table charge at Penguin Bar Ikebukuro.
Penguin Interior Design in the Spacious Bar
Drinks and food taste even better in this spacious bar. The bar offers extra space for each customer so that you can feel more comfortable. In some bars, it's too busy and crowded to feel relaxed, which never happens in Penguin Bar Ikebukuro.
This is the bar-counter area, on the right side of the bar. Here you will see a number of different penguin themed goods on display and in use, such as this penguin-shaped cocktail shaker, penguin figurines, stickers and more.
Such a cute penguin stuffed animal! Isn't it? Actually, it's a wet towel folded into the shape of penguin. It's so cute that you might find yourself taking some pictures of...the towel. Penguin Bar Ikebukuro is filled with penguins everywhere. You might not be someone who is crazy for penguins, but you will definitely fall in love with them if you visit the bar.
A pair of penguins together raise their baby just like humans. Some (human) couples have wedding parties or celebrate their wedding anniversary here, hoping that they always love each other just like a penguin couple do.
For an Extraordinary Experience, Visit Penguin Bar Ikebukuro
There are not many bars where you can enjoy drinking with such cute little animals. The Penguin Bar Ikebukuro is located within walking distance from Ikebukuro station, and they are open until 4 AM. Why not spend a relaxing moment with the penguins at Penguin Bar Ikebukuro?
Information
Penguin Bar Ikebukuro
Address: Tokyo, Toshima, Ikebukuro 2-38-2 COSMY1 1F
Hours: 18:00 - 4:00
Closed: New Years holidays
Wi-fi: No
Credit Cards: Most major cards
Other Languages: -
Menus in Other Languages: English
Nearest Station: Ikebukuro Station (池袋駅) on JR and Tokyo Metro Lines
Access: 8 minute walk from west exit of JR Ikebukuro station
Price Range: 4000-4999 yen (800 yen table charge)
Religion:-
Phone Number: 03-5927-1310
Website: PENGUIN BAR IKEBUKURO

The information presented in this article is based on the time it was written. Note that there may be changes in the merchandise, services, and prices that have occurred after this article was published. Please contact the facility or facilities in this article directly before visiting.