Sacred Monkeys In Central Tokyo: Hie Shrine
At Japanese shrines you will find statues of guardian animals. There are some shrines where you can find statues of rabbits, cats or foxes, but today we'll be introducing Hie Shrine, located in the center of Tokyo, where you will find sacred monkeys.
You can find many animal statues at Japanese shrines. This is because there is a Shinto belief (*1) that animals protect the gods, and they have been sent from the heavens.
The animals considered to be guardians differs depending on the shrine and the deity that is worshiped there, but the most common is the Komainu. You can find fox statues at Inari shrines and cow statues at Tenmangu shrines.
Some shrines are decorated with statues of animals other than guardians. For example, you will find countless maneki neko at Imado Shrine. At Hie Shrine which we will be introducing today, you will be able to meet some monkeys.
*1 Shinto refers to a set of animistic beliefs native to Japan, existing since ancient times. A shrine is a place of worship in Shinto.
Hie Shrine
Hie Shrine can be found nearby the center of Japanese politics: Tokyo Nagatacho. Because of the nature of its location, it is considered to be a shrine that brings good effects in the fields of politics and business.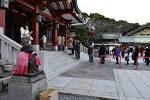 Hie Shrine sustains Japanese politics, but that's not all it does. What other effects do you think it has? Here is a hint: the meoto-zaru (monkey couple) in the main shrine.
Monkey Blessings
The guardians of Hie Shrine are monkeys, so there are statues of a monkey couple instead of a Komainu. Monkeys have been known as prolific and child-loving animals in Japan. So the Komazaru of Hie Shrine are thought to bring goriyaku ("blessings") for safe deliveries and the prosperity of children.
In Japanese, the character for monkey is read "en" (猿). It has the same pronunciation as "en" (縁), which means "connection between people" or "relationships", so monkeys are said to bring good fortune in love and relationships. The statues are a loving monkey couple, so the good effects are for happy marriage as well.
Search for Monkeys
You can find other monkey-related things here at Hie Shrine. You should search for some. The ema (plates used in order to send one's wishes to the gods) also have monkeys on them.
The Masaru-mamori (Masaru good luck charm) also has a monkey on it. It is a charm to ward off evil and for winning in competitions. The character for monkey (猿) can also be read as "saru" aside from "en", which is the same reading as the Japanese word for "ward off" (去る), so the monkeys can ward off evil. The character for "win" (勝る) is read "masaru", so the monkeys are thought to have positive effects on winning competitions as well.
The stamp you can receive for visiting a shrine is called a goshuin. The book for collecting goshuin stamps sold at the Hie Shrine also has a monkey design.
Unfortunately, you won't be meeting any real monkeys, but there are many signs of the animal here at Hie Shrine. The monkey couple will grant the wishes of those who visit Hie Shrine, so be sure to stop by.
Information
Hie Shrine
Address: Tokyo, Chiyoda-ku, Nagatacho 2-10-5
Hours: April-September 5:00-18:00, October-March 6:00-17:00
Closed: -
Wi-Fi: -
Credit Cards: -
Languages: Japanese
Nearest station: Akasaka Station, Chiyoda Line
Access: 3 minute walk from Exit 2 of Akasaka Station
Religion: Shinto
Phone number: +81-3-3581-2471
Website: Hie Shrine (Japanese)

The information presented in this article is based on the time it was written. Note that there may be changes in the merchandise, services, and prices that have occurred after this article was published. Please contact the facility or facilities in this article directly before visiting.