Enjoy The Food And Sights At Usagi-no-nedoko - A Guesthouse In Kyoto (2)
The cafe at Usagi-no-nedoko in Kyoto is a place where you can see natural beauty in the form of art and food. Come experience this unique aspect of Kyoto!
Usagi-no-nedoko is a guesthouse, shop and cafe found in a remodeled traditional house in Kyoto. At Usagi-no-nedoko you can spend the night, visit an interesting general store and go to a great cafe all in one place.
In our other article on Usagi-no-nedoko, we introduced to you their unique shop and their overnight accommodation facilities. Today let's take a closer look at their cafe, titled simply 'Cafe', which opened in the fall of 2015.
A Unique Natural History Museum-like Interior Awaits You
The appeal of Usagi-no-nedoko's Cafe is its unique interior design that you just can't find anywhere else.
Let's look at the three different types of cafe space available here.
First the entrance area.
Inside the stainless steel and glass table, sea urchins and other framed natural objects are displayed. This room has a similar feel to 'Shop', their store where you can purchase many natural specimens and other unusual items. As soon as you step inside the Cafe, you will find yourself completely immersed in the world of Usagi-no-nedoko.
Going a little deeper into the store, you will next find this room in front of the kitchen. Set into the walls next to the tables are thick glass cases with more displays inside. This area has a more rustic air to it, making this space feel completely different when compared to the entrance area.
Going even deeper into the store, you will reach the third type of cafe space. On your left hand side you can see a slightly elevated sitting room.
The stores spokeswomen Junko Yoshimura says: "We arranged the seats in this room in such a way that customers with kids would be able to visit without worries. I have kids too and I think seats like these help make things easier for the moms."
That's such a thoughtful and helpful service to offer! Only a mother could have thought of something like this.
Beautifully Arranged, Well-Named Dishes
Just like the sitting room, the menu is filled with thoughtfulness and a lot of effort.
Using the theme of "Naturally Made Beauty", visually appealing dishes using delicious fruits and vegetables are offered in the Cafe.
This dish is their red salad (980 yen), made entirely from warm-toned ingredients. The contrast between the vibrant reds and oranges of the salad against the stark white plate is striking. It looks like a flower bursting into bloom; it's almost a shame to eat it.
The red salad is a feast for the eyes and mouth. The flavors of the seasonal vegetables and fruits, as well as the raw ham come together deliciously in your mouth, the rich tastes spreading out across your tongue.
It can be said that this menu really brings Usagi-no-nedoko's theme of "Naturally Made Beauty" to its peak.
Here is a dessert called the black cocoa kōbutsu cake or black cocoa gem cake (590 yen).
Inside this bittersweet black cocoa cake are several varieties of berries which shine against the blackness of the cake like gems within the earth.
A Place that Combines the Unchanged with the Present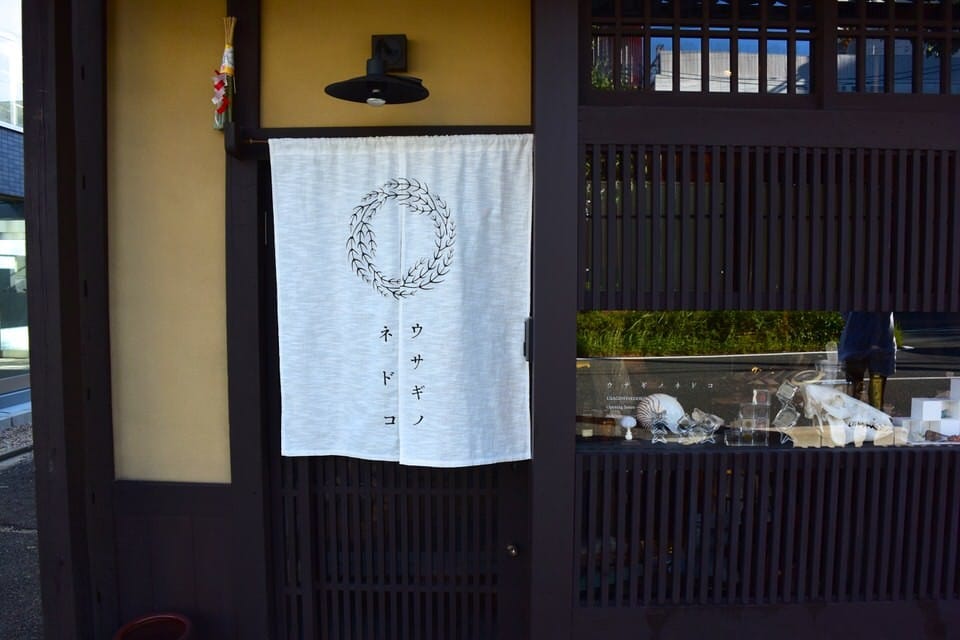 So what do you think? Usagi-no-nedoko is the guesthouse, shop and cafe found in a refined example of traditional Kyotoarchitecture known as a Kyōmachi house. But, it isn't as though they simply renovated it. "Naturally Made Beauty" can be seen in nearly every nook and cranny of this incredible space, making it a place for children of all ages to see, learn and have fun.
Usagi-no-nedoko continues to grow in it popularity so, when you come to Kyoto, why not stop by this amazing guest house, cafe and shop too?
Read also: Stay In A Renovated Traditional House – Usagi-no-nedoko, Kyoto(1)
Information
Usagi-no-nedoko ウサギノネドコ
Address: Kyoto, Chūō, Nishinokyō Minamiharamachi 37
Hours: Shop 11:00-18:30, Cafe 11:30-22:00 (last order 21:00)
Closed: Mise/Cafe on Thursdays
Wi-fi: Yes
Credit cards: -
Other Languages: -
Menus in Other Languages: -
Nearest Station: Nishiōji Oike Station (西大路御池駅), Tōzai line subway
Access: 2 minute walk east from Nishiōji Oike Station
Price range: -
Religion:
Phone number: Accommodations and Shop +81-3-075-366-8933, Cafe +81-3-075-366-6668
Website: Usagi-no-nedoko

The information presented in this article is based on the time it was written. Note that there may be changes in the merchandise, services, and prices that have occurred after this article was published. Please contact the facility or facilities in this article directly before visiting.