Get Your Dream Haircut At ASSORT TOKYO, A Hair Salon In Aoyama
This article features ASSORT TOKYO, a hair salon in Aoyama, where you can find English speaking staff. We explain thoroughly how to make a reservation and the process of having your hair cut the way you want.
There are more than 230,000 hair salons in Japan. You can find hair stylists with amazing skills especially in Tokyo, the city where all the trends start. In this article, we will explain how to use a Japanese hair salon from Aoyama, an area that boasts a concentration of hair salons.
How Do I Find a Hair Salon?
Although there is a multitude of hair salons in Tokyo, there are only a few places with English-speaking staff. Try searching keywords such as "Tokyo Hair Salon English" on a search engine. Here, we will feature ASSORT TOKYO, where there is English-speaking staff, and show you what it is like to go to a Japanese hair salon.
How To Make A Reservation And Things To Be Careful About
Pick a hair salon based on information such as price and location, which you can find on their official website. To book early, you should make a reservation via email or complete an online reservation form. If your reservation is only a few days ahead, it would be safe to call the salon directly. Be sure to call in advance when you would like to change the time or cancel your booking. This is the cancellation policy at some hair salons.
Also, be sure to get there on time. If you come in too late, you might have your booking cancelled.
Say your name upon arrival and fill out the information card.
Ask The Staff For Advice
Once you check in, you will have time to ask the hair stylist for advice. Tell them how you would want your hair to be styled. Showing them photographs of your desired hair style would be helpful to share the specific image you have in mind.
Based on your hair type and length, the hair stylist will suggest a style that suits you the most. Of course you can let them know if you have any questions or if you are unsure about their suggestions.
From Shampooing And Haircut To Getting A Perm
First, they will wash your hair (if you are dying your hair, this will come in later). While sitting on a reclining chair, you will have your hair washed with shampoo and conditioner at a special washstand. In some hair salons, there is an optional menu to get hair treatment and massage.
Stylists will start cutting your hair before drying it. First, they will adjust the whole length. After that, they will begin to shape it nicely. The most popular hairstyle recently is to have voluminous hair on top of your head. 
If you want to dye your hair, you can choose whatever color you like from the color chart. Due to the Pharmaceutical Affairs Law, Japanese hair colors are applied lightly. Keep this in mind as they may look slightly different from what you have imagined.
As for permanent waves, foreign visitors are likely to order hair styles that are unique to Japan, such as the airwaves which gives a soft and fluffy touch to your hair, or digital perm which is a long-lasting perm.
Next, they will dry your hair and start finishing up styling. If your hair is long enough, you may be able to ask for a temporary curl. They will make the curls by using a kote, a tool that heats up to make a curl.
Lastly, they will arrange your hair with hair wax or cream and it is finished!
What Did The Customers Think?
Lola, from the U.S., dyed her hair blonde and got a stylish short cut. She looks very happy with the look and said to us with a big smile "I feel like a different person!"
Stacy, an Australian tourist, was also pleased. "They added great volume to my long flat hair. I'd like to try getting a perm next time", she said.
English-Speaking Staff
Our stylist today was MIKI (right), who has long experience of working in hair salons abroad. She speaks fluent English and is also a very friendly person. Mr. Shibuya (left), who also speaks English, says that more than half of their customers are international tourists. On the wall, we found many photographs of their foreign customers.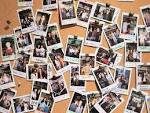 Japanese hair salons always keep up to date with the latest in styling techniques and introduce the hottest trends. When you come to Japan, why not experience their high quality service for yourself?
Information
ASSORT TOKYO
Address: Tokyo, Minato-ku, Kita-Aoyama 2-10-28 B1F
Hours:
[Tuesday-Friday] 11:00 - 21:00
[Saturdays] 10:00 - 20:00
[Sundays, Holidays] 10:00 - 19:00
Closed: Mondays *Tuesday if Monday is a holiday
Wi-Fi: Available
Credit cards: Visa, Mastercard, JCB, Unionpay, Amex, Dinners
Other Languages: Japanese and English
Nearest station: Gaiemmae Station on the Tokyo Metro Ginza Line
Price range: from 6000 yen
Website: ASSORT TOKYO

The information presented in this article is based on the time it was written. Note that there may be changes in the merchandise, services, and prices that have occurred after this article was published. Please contact the facility or facilities in this article directly before visiting.