5 Fantastic Matcha Treats You Can Buy at Convenience Stores
Matcha tea-flavored snacks are the souvenirs of choice for tourists in Japan. We selected five tasty matcha green tea treats you can pick up at any convenience store.
MATCHA green tea-flavored snacks and drinks are a souvenir staple for visitors to Japan. (*The type of matcha green tea most often used in confectionery is matcha tea powder.)
You can find them at famous old shops or in train stations, but did you know that you can find wonderful matcha green tea products at convenience stores, too? They're inexpensive, and convenience stores are everywhere, so even when you're pressed for time to buy presents — or you totally forgot about buying your friends gifts after having too much fun — there's no need to worry.
This article will introduce some matcha green tea products that we recommend buying as souvenirs or as snacks for yourself, listed according to the best times to try them.
When You Get Hungry Mid-Trip
When you wake up early and are strolling around sightseeing spots by yourself, you might suddenly get hungry, even though you just ate breakfast. There are still hours until lunchtime. Since you want to eat a proper lunch, have a light snack.
This is the perfect time for matcha green tea and chocolate. However, you don't want to get your hands dirty, right? That's why we chose chocolate which does not melt easily in the heat.
Meiji "Galbo Mini" Strong Matcha Flavor Pocket Pack
This miniature size is perfect for eating while traveling somewhere or while working. Galbo Mini chocolate will not melt easily in your hand, and it has a characteristically light, crunchy texture that sets it apart from regular chocolate. The package is made to avoid any flavor degradation from contact with air.
When You Want to Share a Cool Photo to a Social Network
Taking a stroll through Sumida Park. This place is renowned for its cherry blossoms, which can be admired in their full bloom in spring.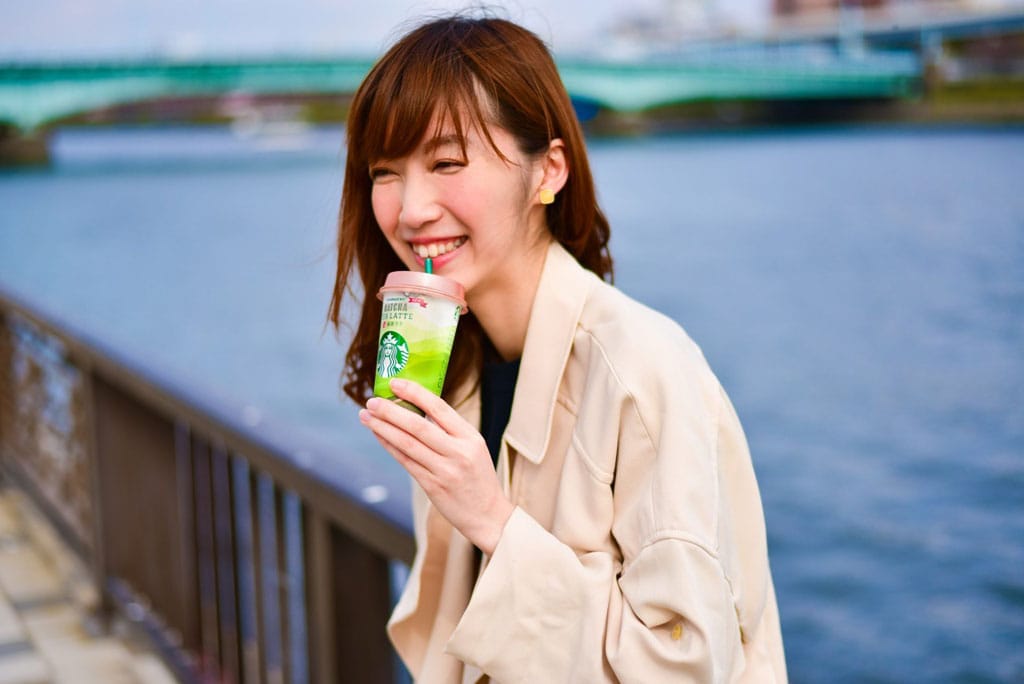 When you've walked a good distance, take a little break, relax and have something to drink.
Take a photo with the Sumida River in the background and post it. Share it along with a Starbucks Matcha Latte in a chilled cup, which you can only buy at Japanese convenience stores.
Starbucks ® Matcha Latte
Starbucks selected the tea produced by one of Japan's representative brands of tea, Uji Matcha, adding also a taste of Gyokuro tea, in order to create the authentic matcha latte.
This beverage is designed to have a short shelf-life, as it is preferable that customers enjoy the taste at its freshest. From this, you can understand how particular Starbucks is about its coffee ingredients, as well.
The first thing you will notice after taking a sip of your latte is aroma of the matcha green tea, and then the taste of milk. Afterwards the specific sweetness of Gyokuro tea gradually unfolds in your mouth. With its mild and refreshing taste, it is a drink that you won't be able to forget once you tried it, geared toward the taste of adults.
Even in Winter! Whenever You Feel Like Eating Ice Cream
On this day, surprisingly for Japanese winter, the weather was nice and warm. We'd been walking the whole time, so it didn't feel cold at all. Times like these call for ice cream. We chose a matcha green tea-flavored product that has been popular in Japan recently, the Royce Ice Dessert.
Akagi Dairy Industries ROYCE Ice Dessert Matcha
This luxurious ice cream consists of chocolate ganache from ROYCE, the famous Hokkaido chocolate manufacturer, to which a combination of matcha ice cream and crunchy chocolate pieces are added. You can enjoy this ice cream twice over: once when you open the package, as the fragrance of Uji matcha green tea wafts its way to your nostrils, and again when the ganache, enwrapped by the matcha green tea ice cream, melts in your mouth.
Don't Forget Your Friends! When Pondering on What Souvenirs to Buy
We were thoroughly focused on our travels and missed out on picking up something for our friends.
We sent them a picture of matcha green tea sweets that we bought at a convenience store, along with the message: "We didn't forget your souvenir!"
Not long after, a reply came from our friend.
"The package is cute, where did you buy it? Get me some more!"
"I knew I shouldn't have picked up the phone :)" we replied jokingly, and we had a nice exchange with them.
When going on a trip, remembering your friends and buying them presents that will delight them is part of the fun.
LOTTE Pai no Mi (Fresh Matcha, Straight From Uji)
These are mini-millefeuilles with 64 layers. Each one is bite-sized, so one person will probably end up unconsciously eating the whole box. The outer shell is flaky, and the inside is filled with matcha green tea chocolate made from tea leaves preserved at a low temperature, so that it has a concentrated aroma.
LOTTE Matcha Caramel Candy
This is caramel candy made from matcha green tea leaves selected by Kitagawa Hanbee Shōten, a well-established tea shop in Kyoto. The sweetness of the caramel softens the tea's bitterness, and the unique fragrance of matcha green tea fills the inside of your mouth as you eat.

On the shelves of any convenience store you will definitely find a matcha green tea product for you. We highly recommend the products mentioned in this article, so check them out the next time you enter a convenience store.

Sponsored by Starbucks Trading LLC

The information presented in this article is based on the time it was written. Note that there may be changes in the merchandise, services, and prices that have occurred after this article was published. Please contact the facility or facilities in this article directly before visiting.